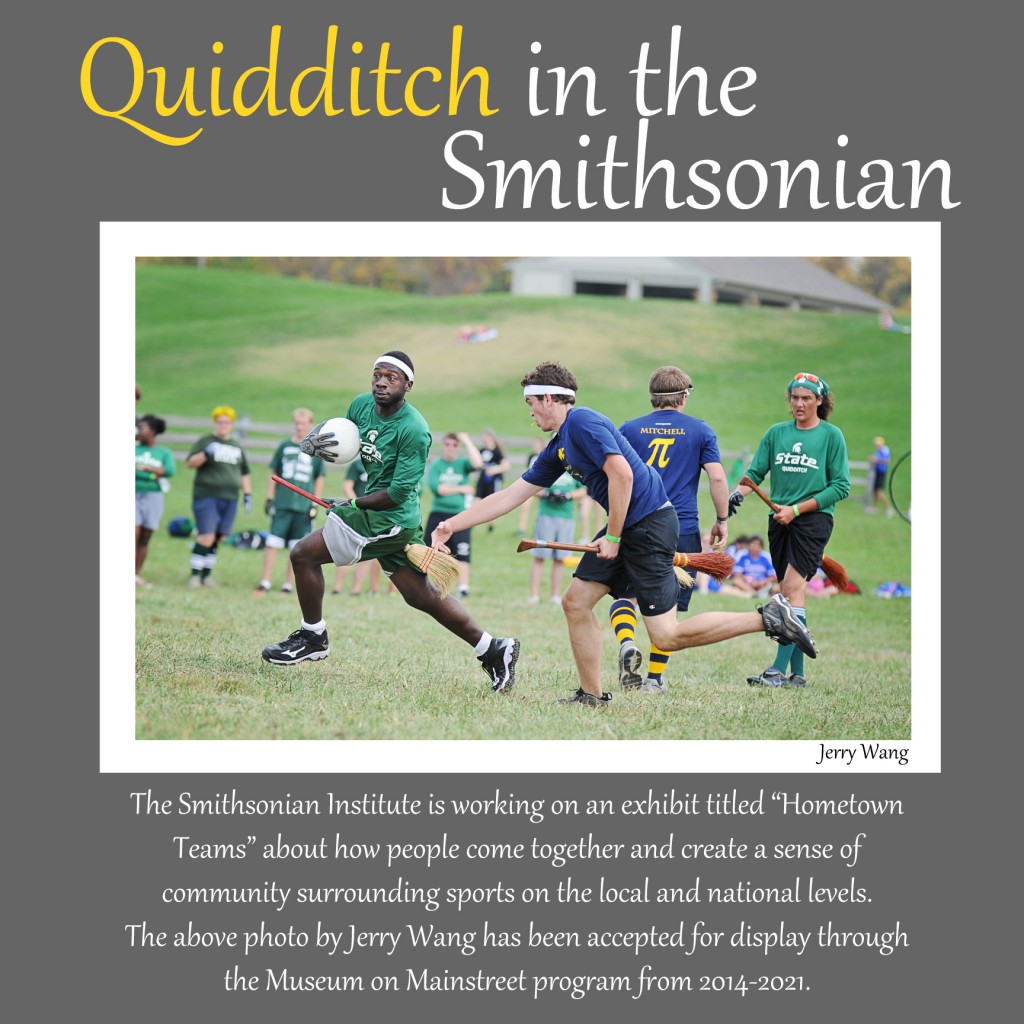 I've been waiting for the right time to make this announcement and 12/12/12 seems like the right date for some exciting news. Back in early August, a Smithsonian representative contacted me with interests in using one of my quidditch photos from the 2011 Midwest Cup in an exhibit. Needless to say, I was ecstatic about the opportunity. After confirming the details with her and signing my licensing agreement, I can proudly say that my photo will be featured in the Sports Explosion section of the traveling exhibit titled "Hometown Teams" from February 2014 – January 2021.
Here are more details about the Hometown Teams exhibit:
Hometown Teams focuses on small, local teams as well as college and professional athletics to show the spirit, diversity and love of sports all across America. The exhibit is divided into six major themes: Sports Everywhere; Fields of Glory; Take Me Out to the Ballgame; Community Pride; Playing the Game; and Sports Explosion. These themes include personal stories from players, objects, images and videos that convey the impact of sports on people throughout the United States.
And more about the Museum on Mainstreet Program:
Hometown Teams is being created by Museums on Main Street (MoMS), a program within the Smithsonian Institution of Traveling Exhibition Services. MoMS is all about supporting small museums. Our mission is to work with small museums and libraries in rural communities throughout the country. We create traveling exhibitions specifically for these museums and we do so by working with the state humanities councils. It is the Museums on Main Street mission to develop the professional capacity of small town museums and to celebrate local heritage. For more information please visit www.museumonmainstreet.org.
Jerry Wang is a class of 2012 graduate from the School of Business at the University of Kansas. He is the owner of Jerry Wang Photography LLC, specializing in wedding and portrait photography in Kansas and surrounding region. In October of 2011, Jerry founded QuidditchPhotos.com with his college roommate Howard Ting specializing in tournament coverage for the sport of quidditch. The duo was invited by the International Quidditch Association to provide coverage of the 2011 Quidditch World Cup held at Randall's Island in New York. He can be reached by email at contact@jerrywangphotography.com
Comments
comments