Photos from Adam and Lindsay's Kansas City fall wedding at Studio Dan Meiners by Kansas City wedding photographer Jerry Wang Photography.
Title | Our Story
Tell us how you first met? Who what when where why? Give us the dirty details.
L: Adam and I met in the Bahamas! I moved to Nassau in September of 2012 to be a nanny and Adam owned a bar downtown. The first time I left the house with a new found friend, was Halloween, which also happened to be a Wednesday. Wednesday was karaoke night at Adam's bar called Crazy Johnny's. My friend and I walked into the empty bar as Adam was singing Tal Bachman's "She's so High" and I was immediately smitten. He was dressed as Luigi and I didn't even think to pack a costume so I had on a navy blue dress with white polka dots and red shoes. As soon as I told people where I was from I immediately became Dorothy.  Adam played hard to get and I pursued him!
A: It was a Wednesday in humid Nassau, Bahamas and it was a special Halloween edition of karaoke night at Crazy Johnny's bar and grill. It was early in the night and the bar slowly started to fill. Dressed in my Luigi costume I was ready to captain the night's Mario Party themed karaoke, as was my responsibility as manager of the club. In an effort to encourage singers to come up I decide to sing a classic tune, "She's so high." by Tal Bachman. So mid song in walks Lindsay, easily the most beautiful woman in the place, arguably, the entire island. Absolutely smitten, I hurried through the rest of the song to get off stage. As I finished there was a decent amount of applause with a one person clapping noticeably louder than the rest. Who was this person? Lindsay Ibarra.  Thinking I was waaaay out of her league I decided to hurry off and hide for the rest of the night. However, while I was trying to make myself a drink, she cornered me at the bar and demanded I make her one as well. Dressed in a blue and white polka-dot dress and red heels everyone assumed she was Dorothy embracing her Kansas roots. So Luigi made Dorothy a drink and since then played phone tag until we could finally meet up for a lunch date.
When did you know he / she was the one? Was there something he / she did?
L: I knew Adam was the one very early on – one day we were out on Rose Island enjoying a lazy Sunday. As we were lounging in a hammock, we were discussing our favorite songs and I brought up the movie Wall-e and without hesitation Adam started singing the song "It Only Takes a Moment" originally from Hello Dolly. I sang along and immediately knew the song was true for us.
A: There was a hectic moment where Lindsay needed my help trying to find a certain place on the island that I was unfamiliar with. At the time I only owned a moped, but it was a rainy Nassau day so I enlisted the help of my best friend Michelle. Then the three of us set out to find this office Lindsay need to be at for a certain time. So we drive up and down the island for hours. Lindsay is late for her appointment and Michelle and I are late for work. I didn't care. I promised her that I was gonna get her there and eventually we did. She, noticeably frustrated with the ridiculous day, said thank you and I'll call you later.  As she walked away, I yelled out of a weird amalgamation of guilt and desperation, "Love You!" She turned around, looked at me with shock in her eyes and smile on her face.  I knew then that all I wanted to do from that moment was recreate that smile as many moments as I can for as long as I can. Yes, I did say IT first!
What is the most memorable date you've ever had?
L: Every Sunday we spent on Rose Island was so perfect. Just the two of us on a gorgeous island relaxing. There was a tiny bar with the best burgers in the world and amazing cocktails – we spent all day talking, getting to know each other and taking a little break from our hectic lives.
A: The first time I took her to Sandy Toes on Rose Island. Sandy Toes is a 20 minute boat ride from Nassau. It's a lovely beachside bar and grill. We spent all day swimming in crystal clear water, sipping on frozen cocktails, eating delicious burgers and relaxing in beachside hammocks. It was the perfect day.
Tell us about the proposal (did you see it coming, how long was it in the planning? How did you feel? Nervous, excited, freaking out?)
L: We had talked about future a lot and once we had been together for a couple of years, I was really dropping hints and even started looking at rings. I always teased Adam that I would take advantage of the old Leap Day tradition where the girl could ask the guy. But he promised it was coming – he was just so nervous to ask my Dad for permission and talk to my family. February 29, 2016 came along and it just happened to be a Monday which was our usual adventure day. I woke up feeling stressed about work and decided I needed to get some work done before I could relax for the day. At the time we were living next door to the venue I was managing. Adam was insistent that I stick to the plan and take the day off. Well, I'm stubborn and said no…I HAVE to work. So Adam went to run an errand while I got ready for the day. He called me from the car and said someone had dumped some trash in the fountain and I needed to come check it out. I was so irritated to deal with a mess that early in the morning, I stormed over to the Courtyard next door. There was Adam standing next to a table, with flowers and a painting of our dog. I was so excited to see the painting (I had been wanting one for a long time) that I didn't notice the ring box sitting on the table. Adam asked me if I like my flowers and I said yes, they're beautiful…but this painting is amazing! Again, Adam said take another look and then I finally saw the ring sparkling. I immediately started crying as he got down on one knee and words came out of his mouth. I honestly have no idea what he said and I'm pretty positive my response was of course. We celebrated with champagne and brunch then spent the day celebrating with family and friends. Turns out Adam had originally planned to propose around Christmas but didn't because I mentioned in passing once how lame it was – everyone gets engaged at Christmas. Oops. So he had spoken to my family a long time ago and was plotting for months without me knowing! It was so romantic and absolutely perfect. I couldn't wipe the smile off my face!
A: After months of planning and scrapping I locked down a solid plan. I bought a lovely ring with the help of Mrs. Ibarra and after asking Mr. and Mrs. Ibarra for their permission I began to set the plan in motion. I am very proud to be an Irish-Bahamian and Lindsay would always tease me that if I didn't ask her to marry me soon, she would ask me on Leap day. Knowing she was only joking, I thought it would be funny to turn that plan on her. So I asked a very talented artist, Matt Ibarra, Lindsay's brother to paint a picture of our lovely dog Remi. It was amazing! So I had organized a lovely dinner at one of our favorite restaurants and was going to tape the ring to the back of the painting.. However, Lindsay, needing to be the master of her own fate became too inquisitive and on the eve of Leap day I called an audible. So I chose the courtyard of the building that Lindsay worked at instead. It had a lovely rose garden around a beautiful fountain. The idea was to trick her into believing something happened at the building and needed her attention. So I set up a table with a nice linen and cooler with champagne and glasses hiding below in the middle of the courtyard. I took the painting and leaned it against a vase full of flowers. I then hid the ring between the painting and vase, cued our favorite song and then called her over to the courtyard. She excitedly picked up the painting and in her excitement completely ignored the shiny ring lodged in the box behind it.  So after some prompting, I got down on one knee and popped the question. After waiting for what seemed like forever, she said yes and I then I popped the bubbly.   So on February 29th, 2016 the love of my life agreed to take me on for the rest of hers…
Tell us the one thing you love most about each other.
L: Adam has the biggest heart – he gave up a lot to be with me. He moved away from his family, his friends and a successful job to move in with me in Lawrence. His family and friends have been nothing but supportive and everyone he meets here loves him, including my family who totally adores him.
A: The way she supports me in all my passions. She takes on all my sports teams with same passion as if she was a lifelong diehard. She always takes the time to get involved in my activities whether it is soccer or hurling. She always wishes me luck and if she can make it out, is the loudest one cheering. She's also not afraid to jeer the ref or an opponent she feels fouled me too hard. She saw how important being involved in the Irish community of KC was to me and so she took it on as well. Just an absolute trooper. My life's best partner and I absolutely love her for it and try reciprocate to the best of my ability.
If you feel comfortable, share with us something silly or quirky the other person does
L: When Adam finds a new song he likes he listens to it on repeat – over and over and over so he can learn the words. Thankfully we have several sets of headphones at our place 🙂
A: She has a habit of impersonating my most embarrassing moments and sneaking them into conversations- whether in private or in front of others. It's so hilarious to share our little funny moments especially when we are the only ones in on the joke. She's definitely the queen of the "sneak diss," and I love it.
Describe the theme or décor for your wedding.
Ivory, dusty blue, navy blue and silver. Simple and elegant!
Vendors List
Photography | Jerry Wang Photography
Hair & Makeup | Hello Lovely – Ashely 
Transportation | Legacy Limo 
Ring | Helzberg Diamonds
Florist | Studio Dan Meiners
Ceremony Venue | Holy Trinity Stone Chapel
Reception Venue | Pennway Place – Studio Dan Meiners
Wedding Planner | Syl Sichko
Catering | Olive Events 
Cake | Polkadotte Cookies
Dress Designer | Top – BHLDN    Skirt – Victoria Whiteshirt
Groom and Groomsmen Attire | Menguin 
Wedding Planner / Coordinator – Syl Sichko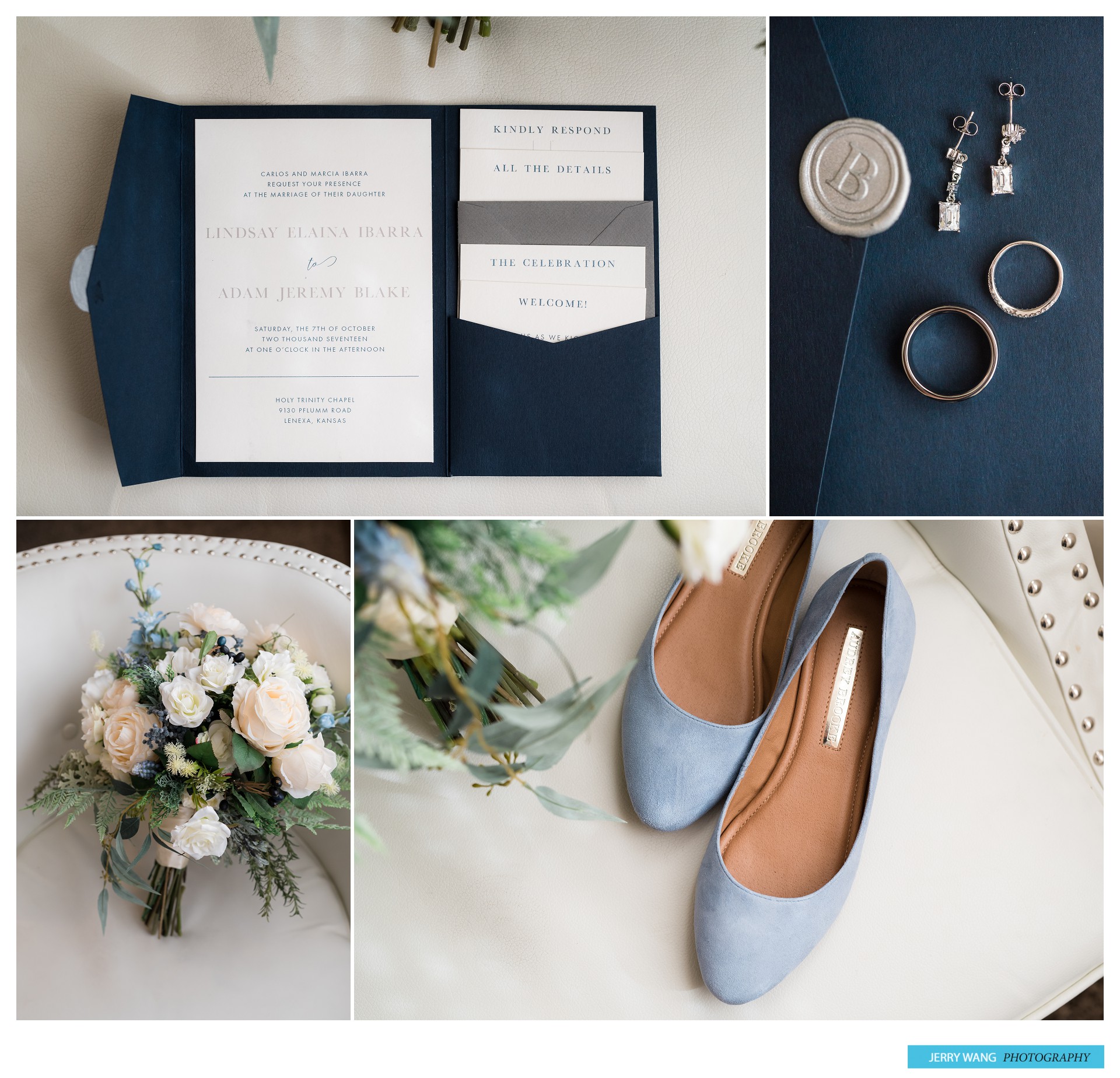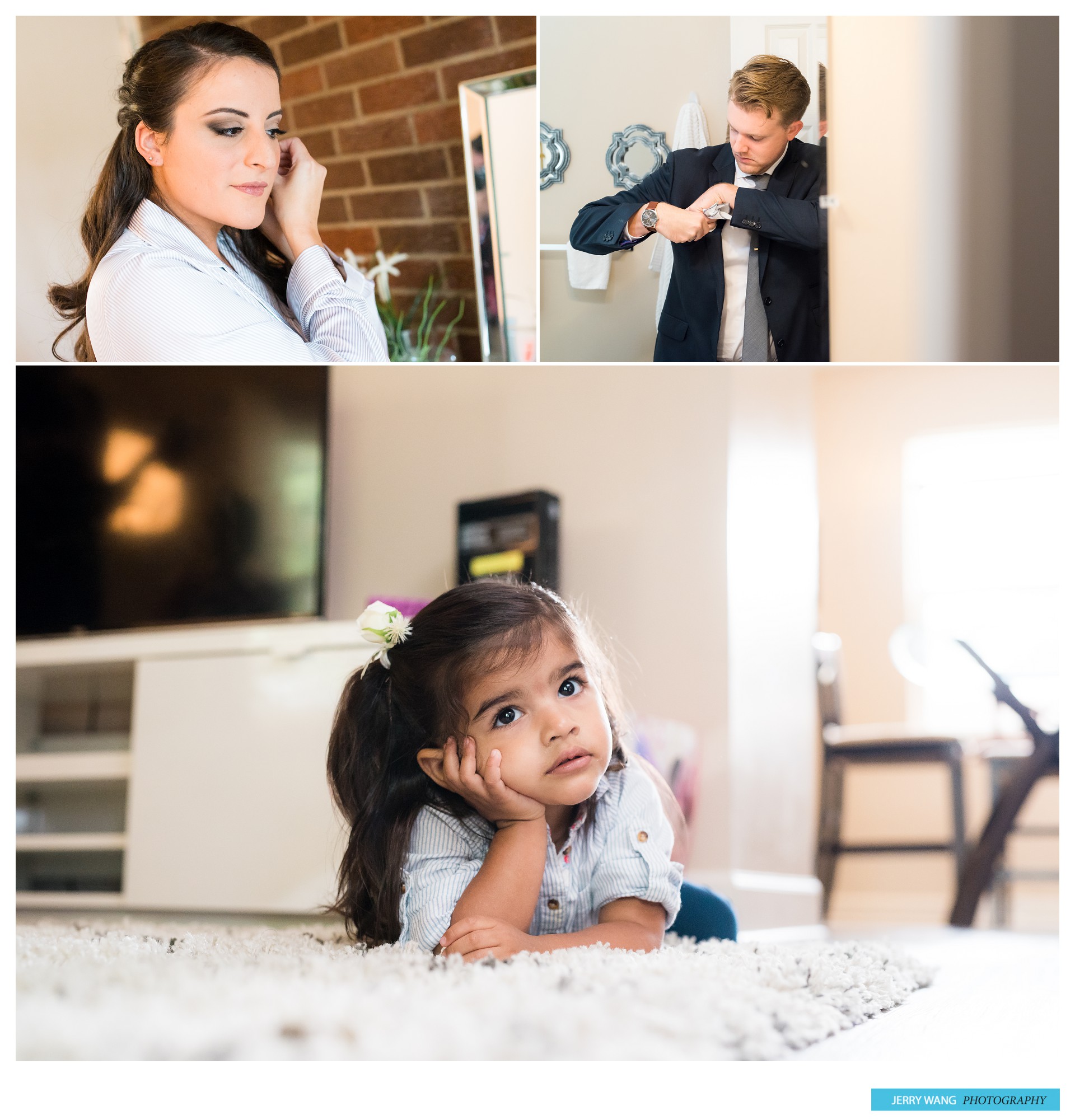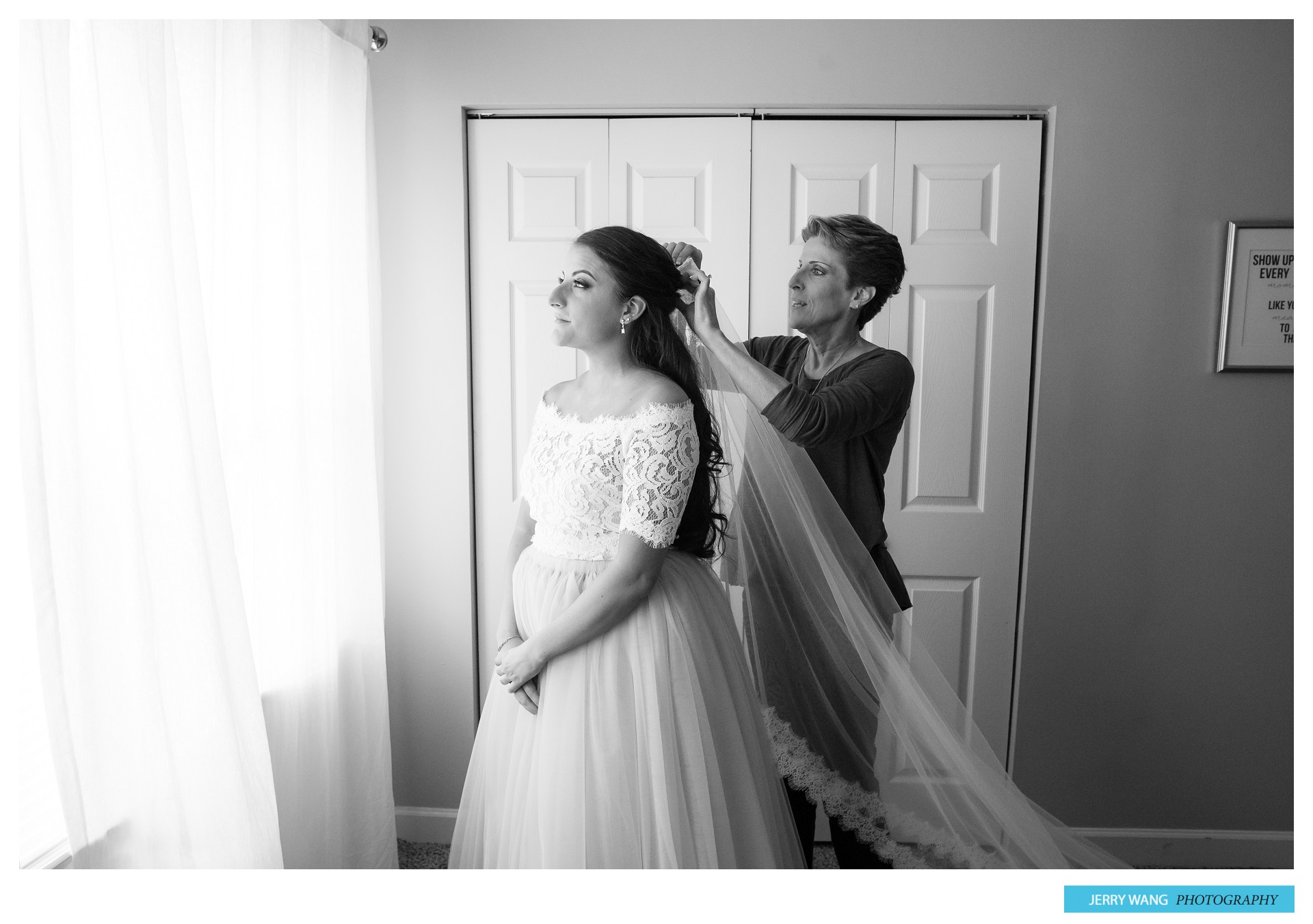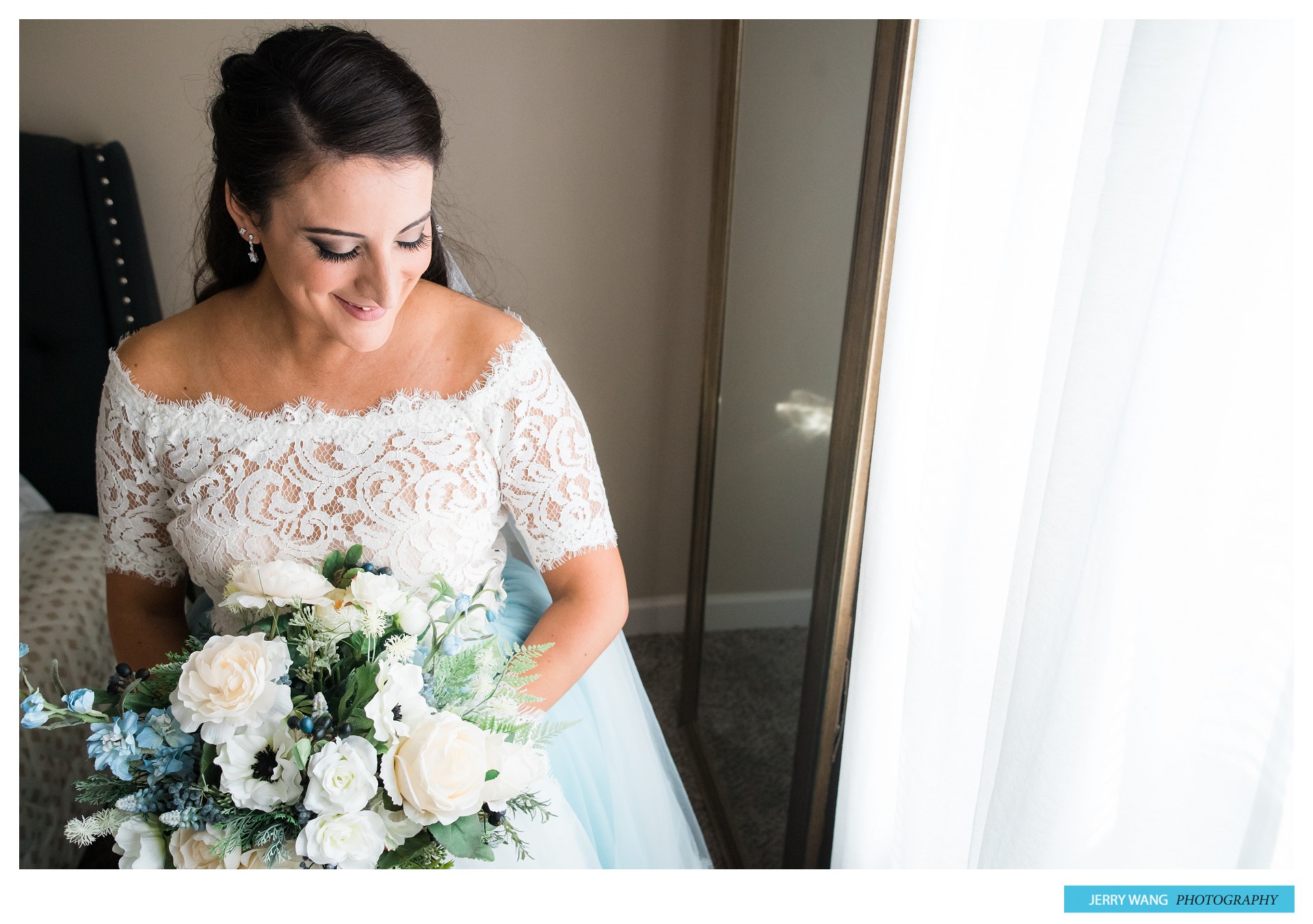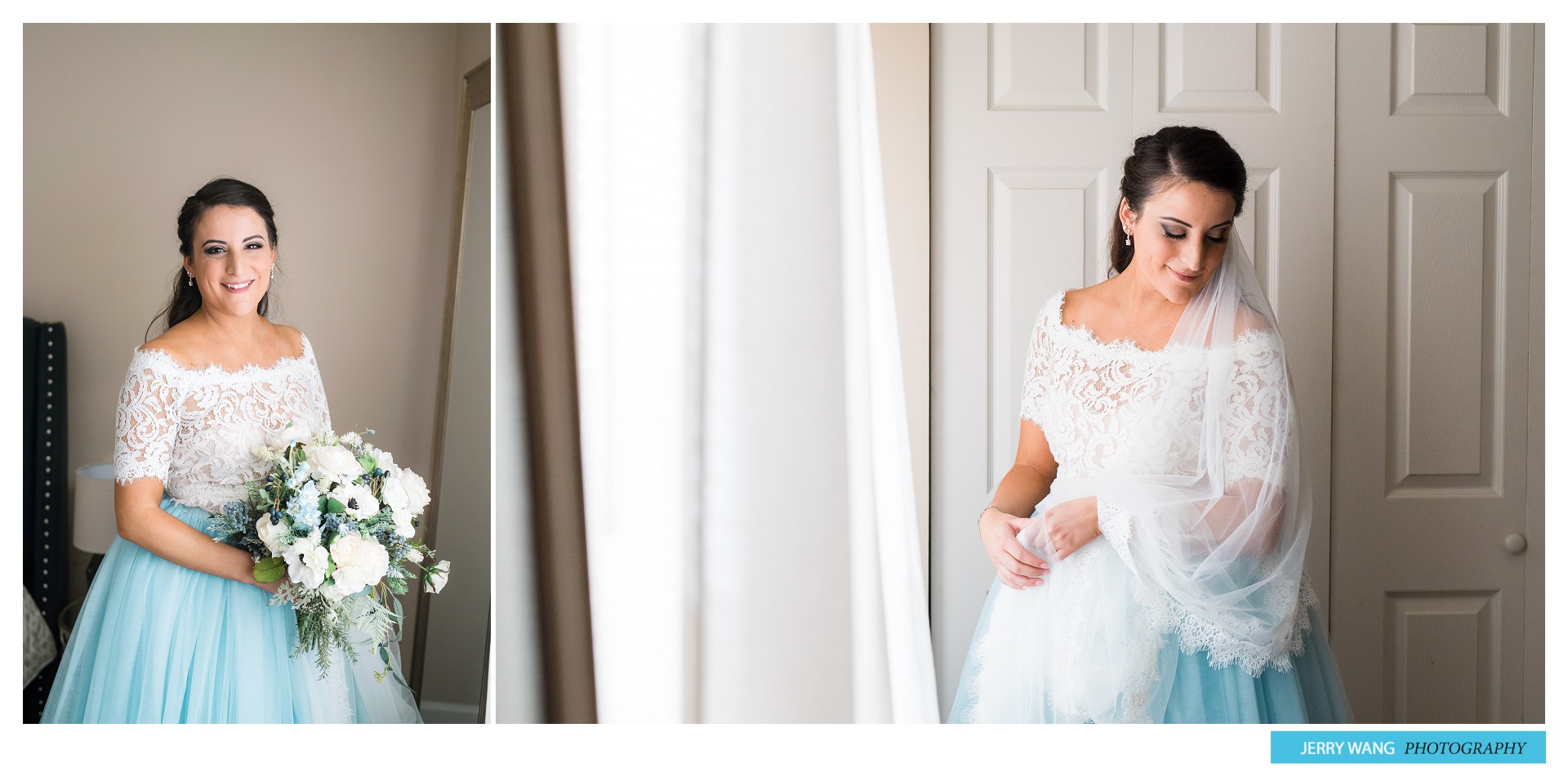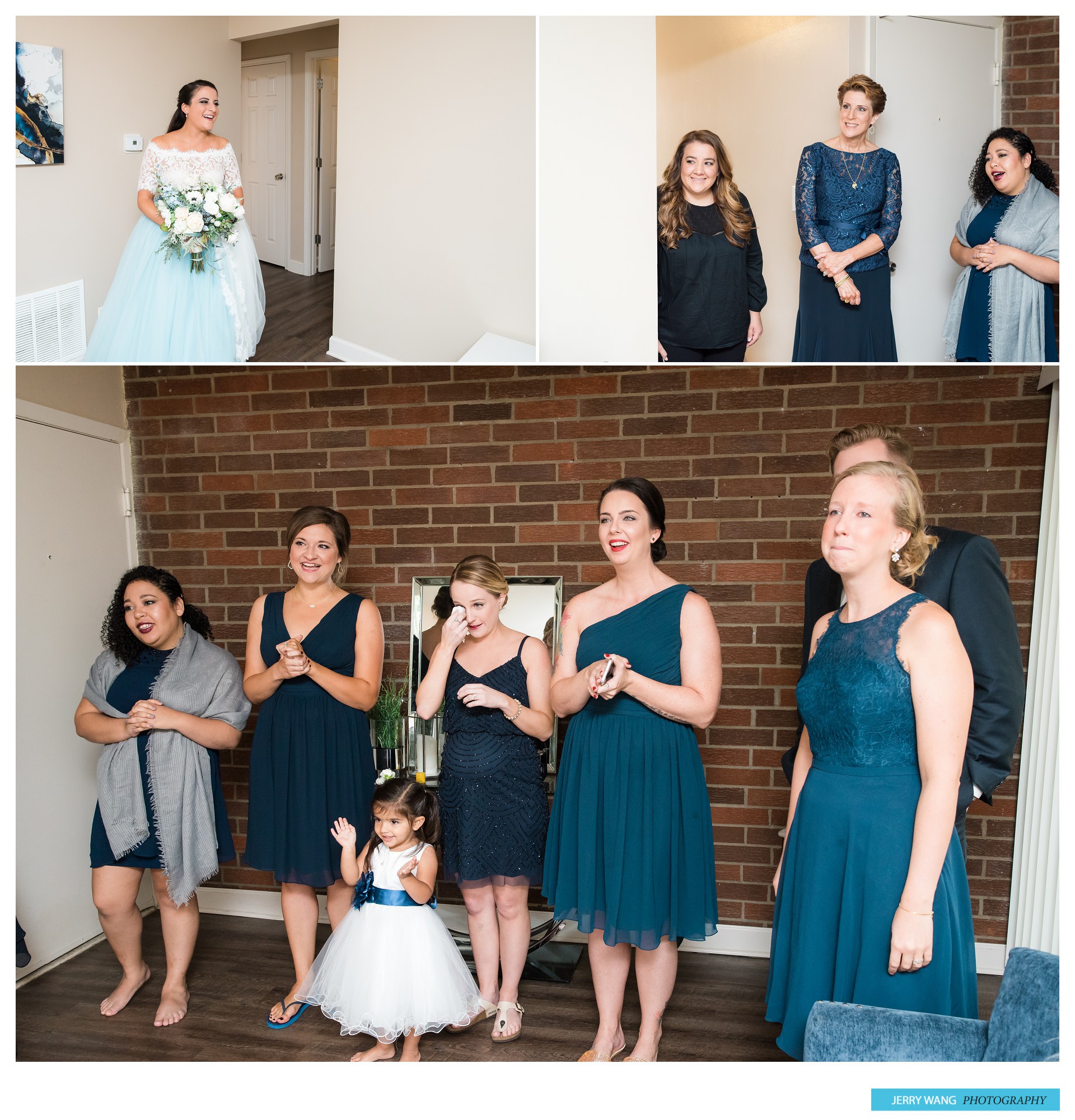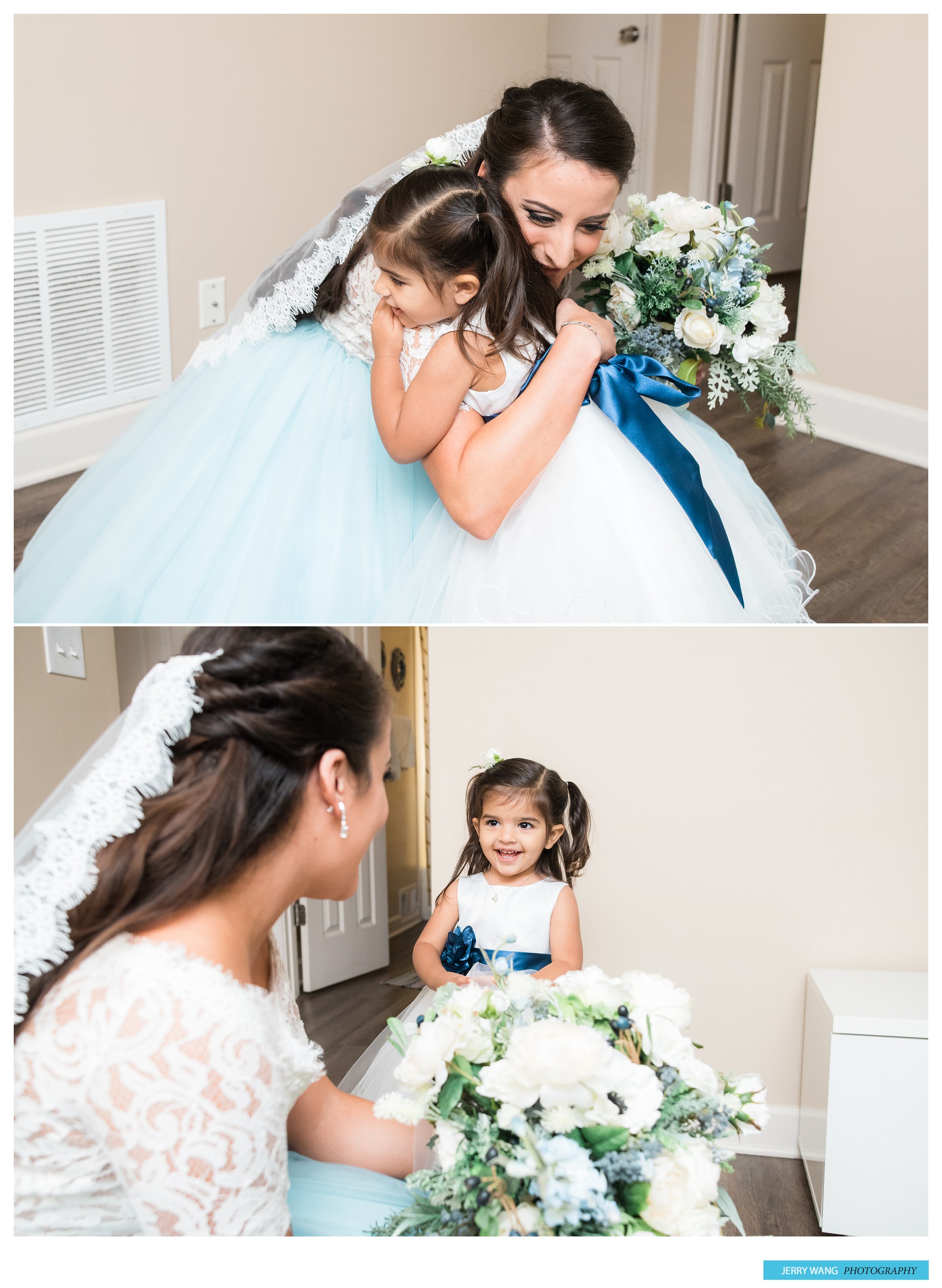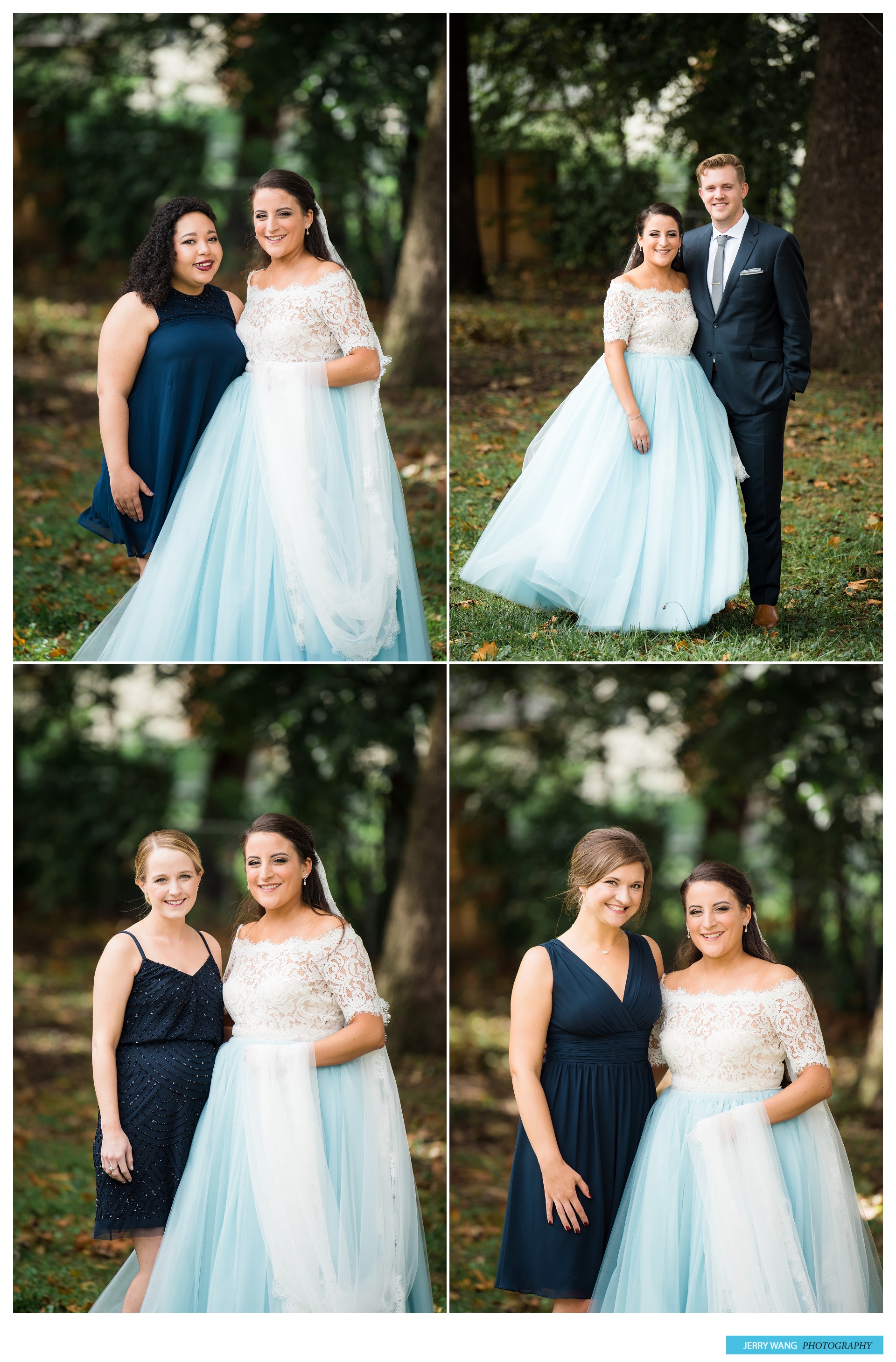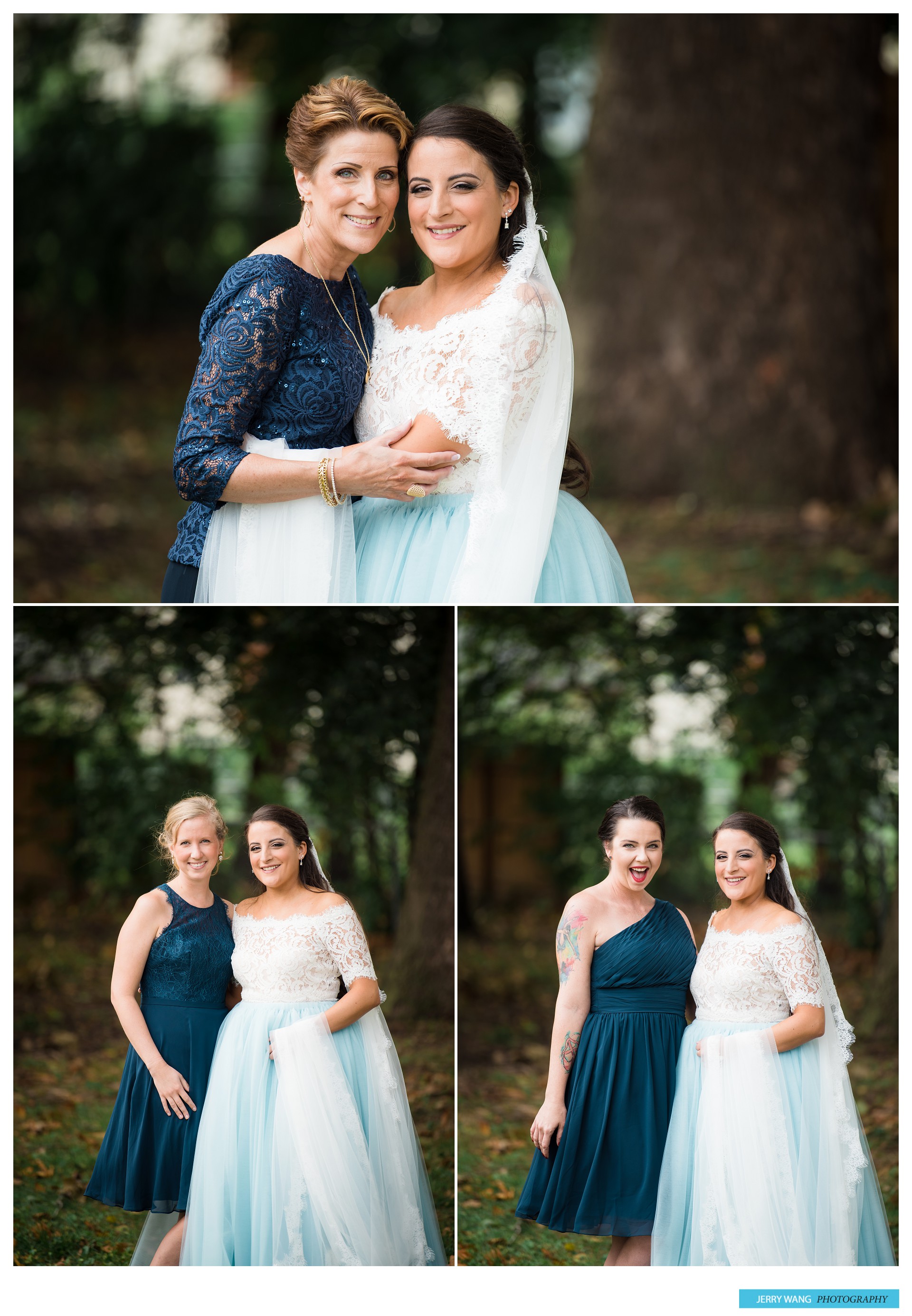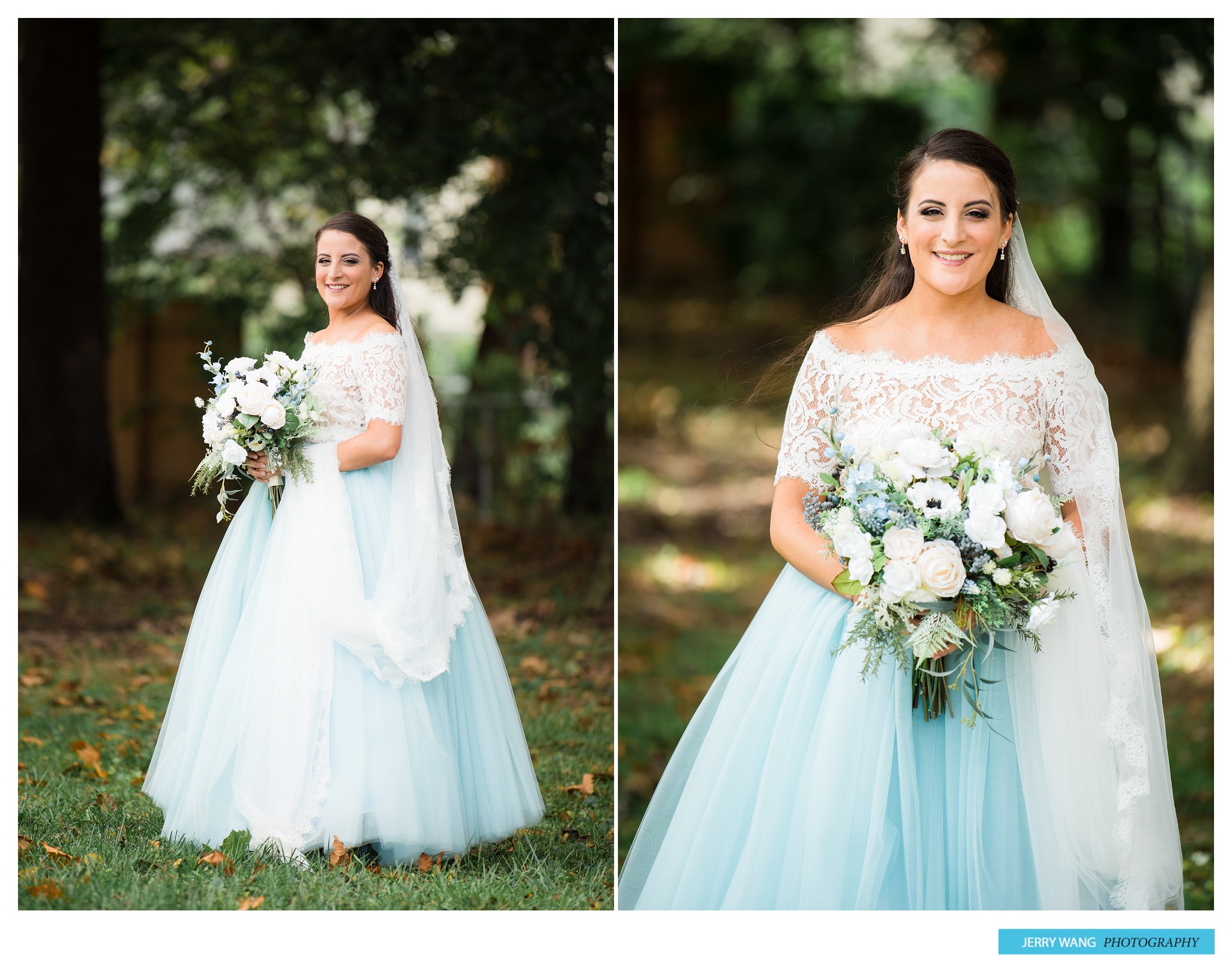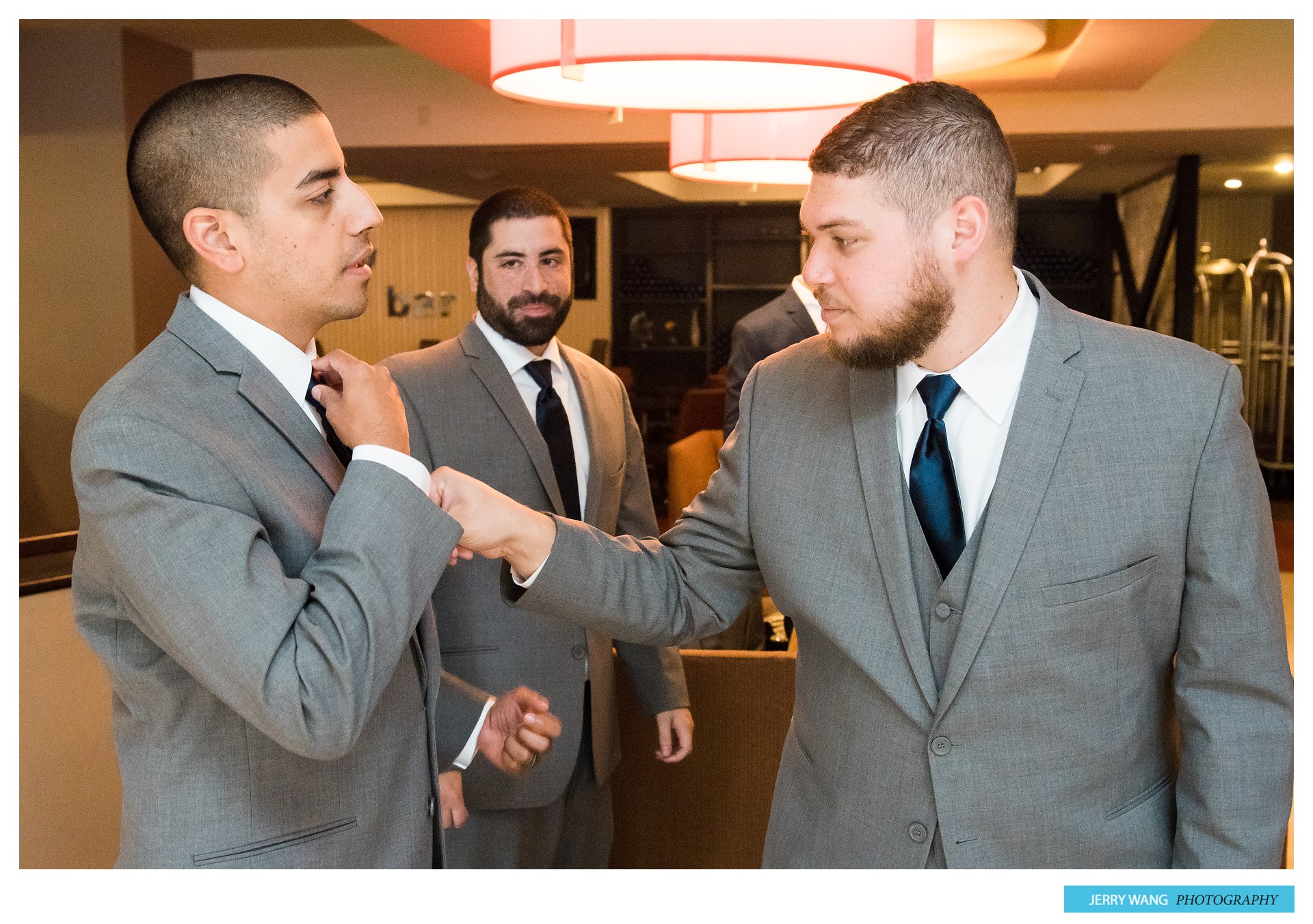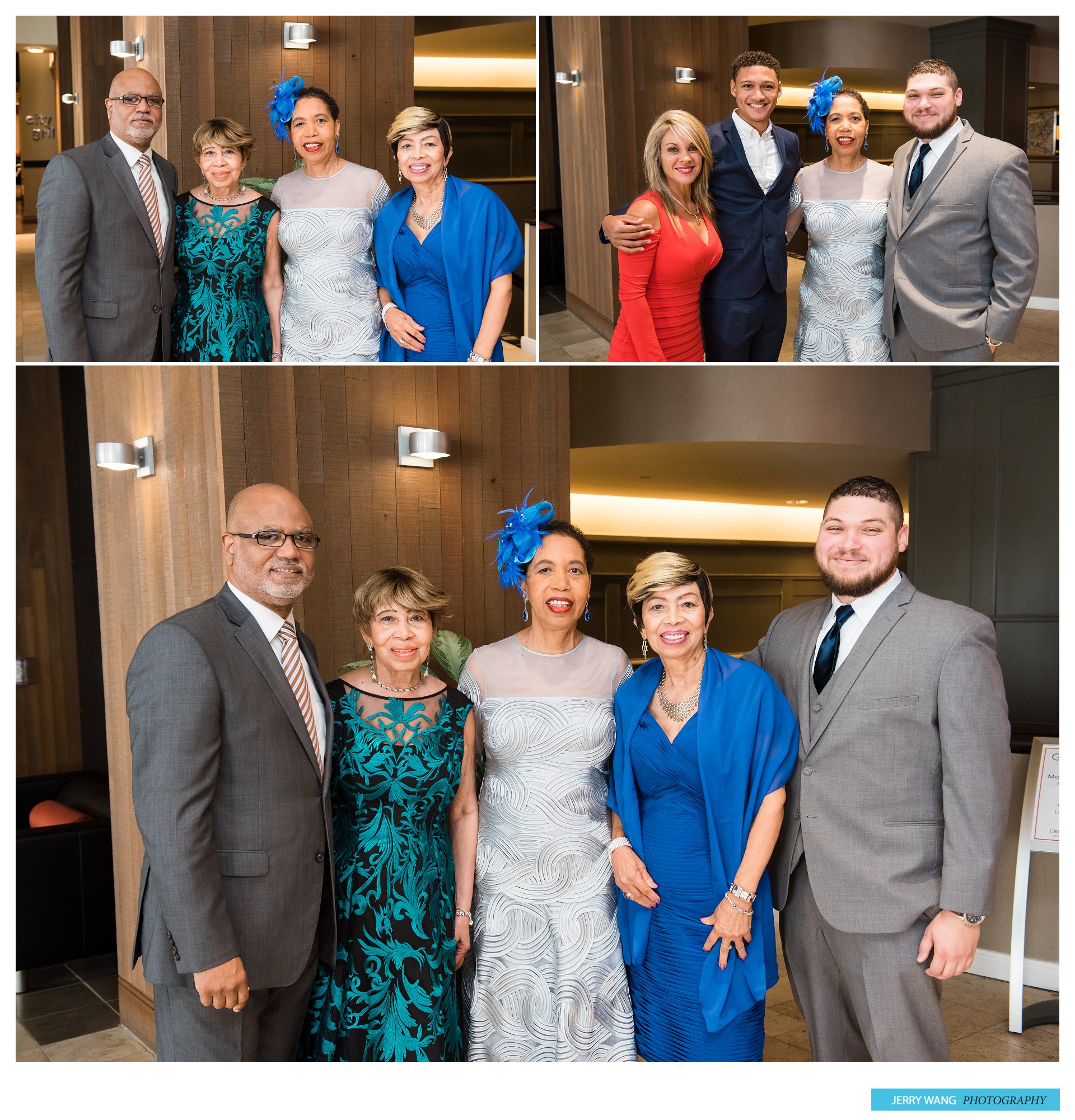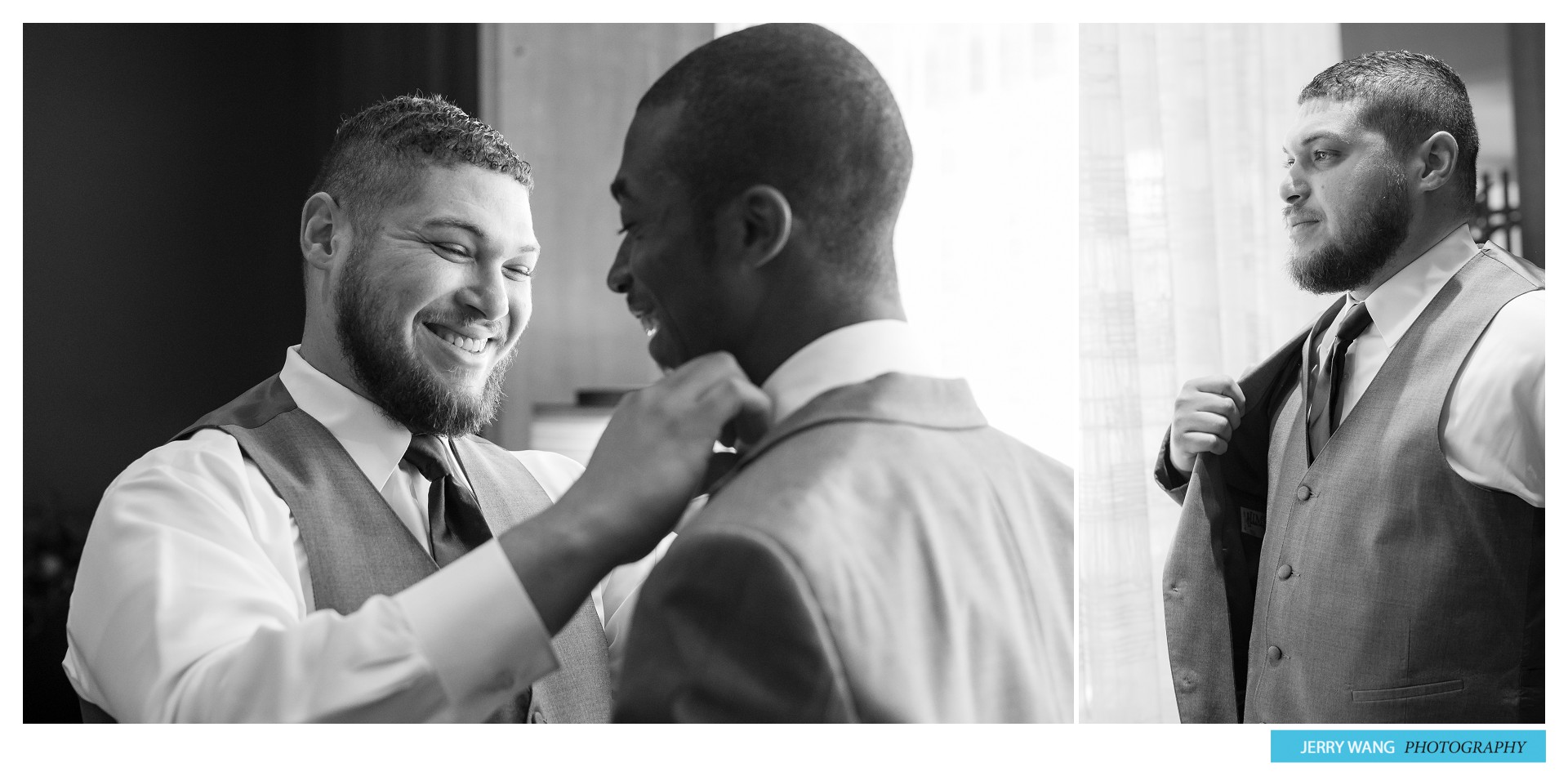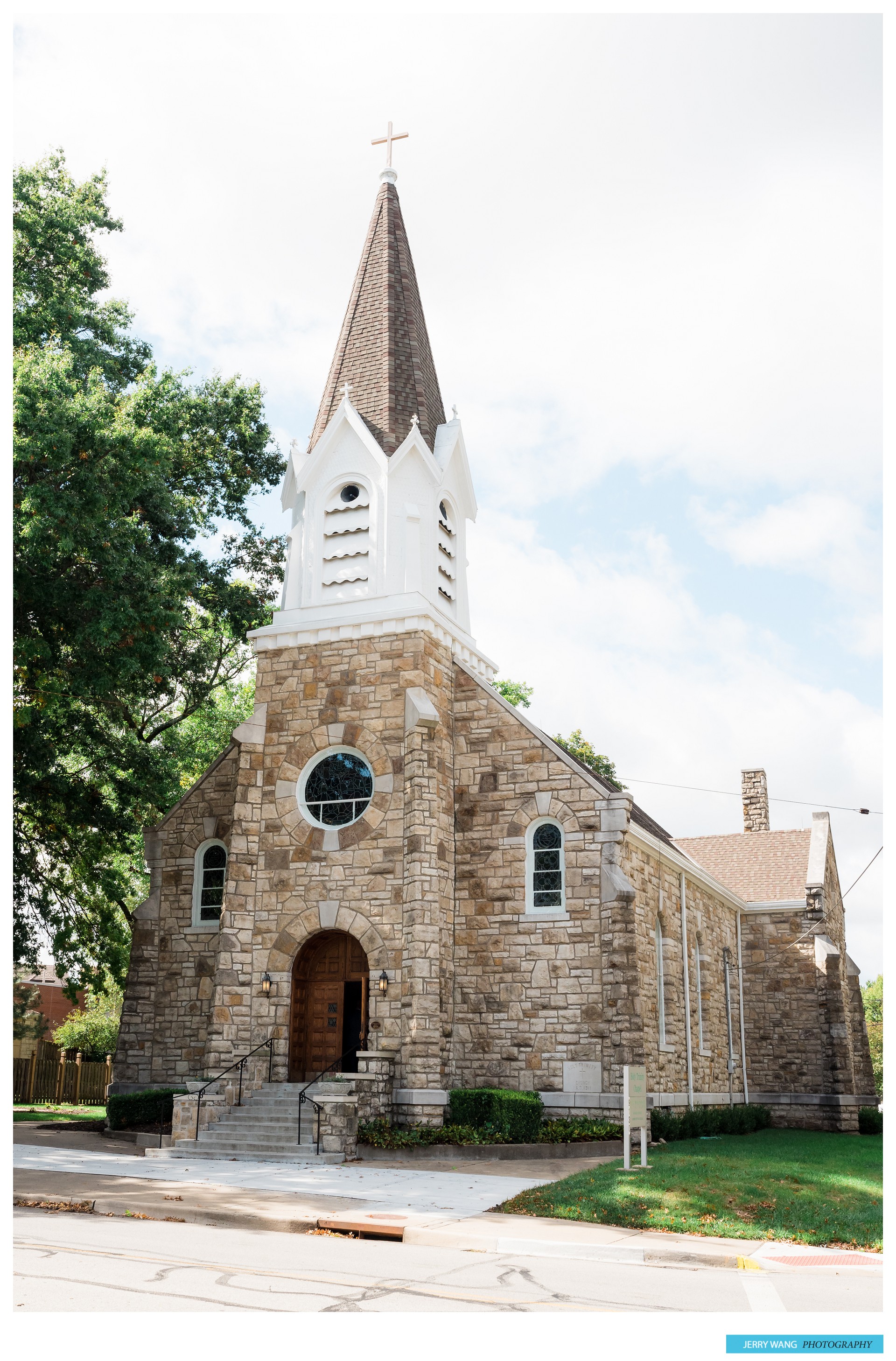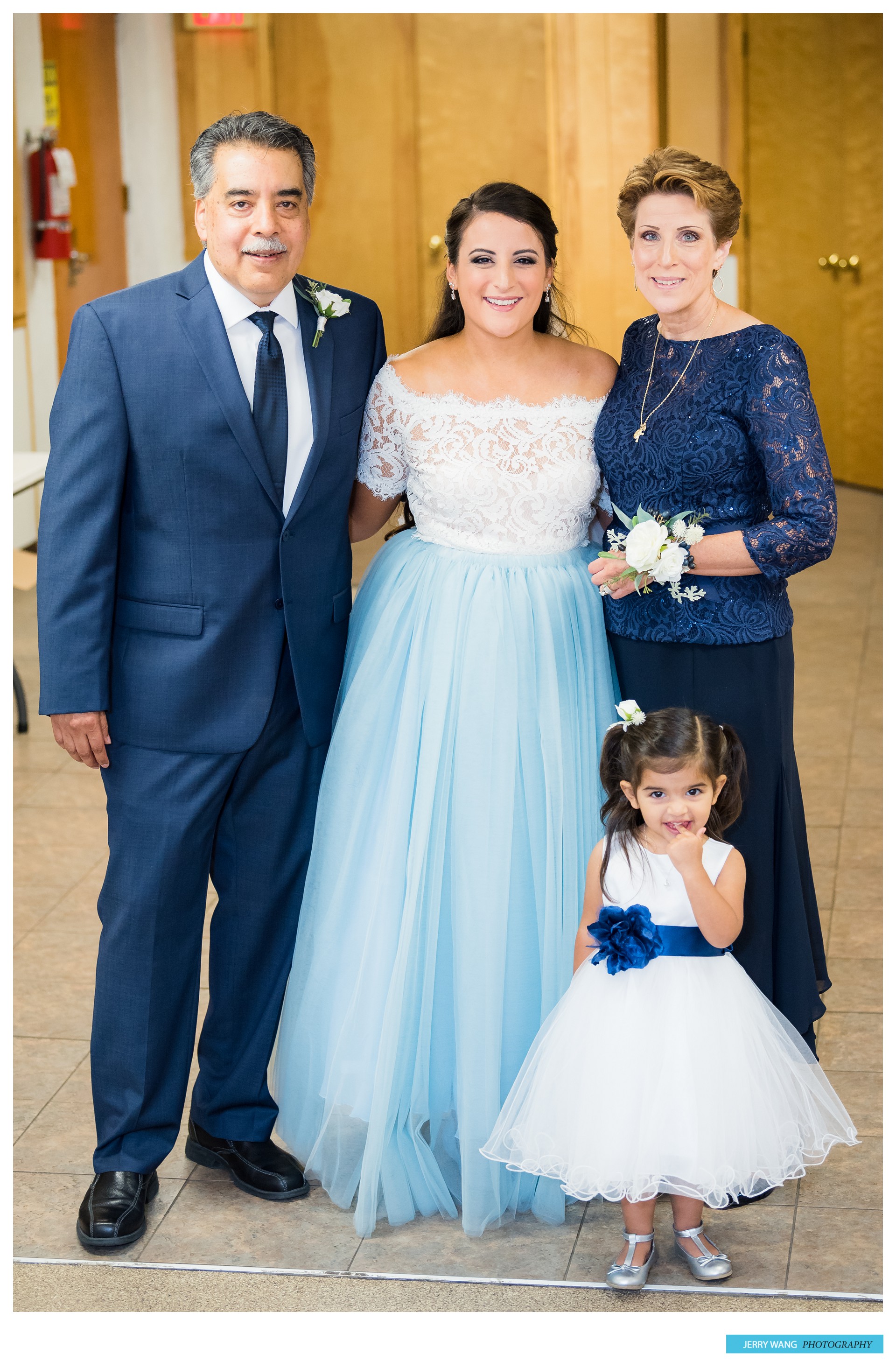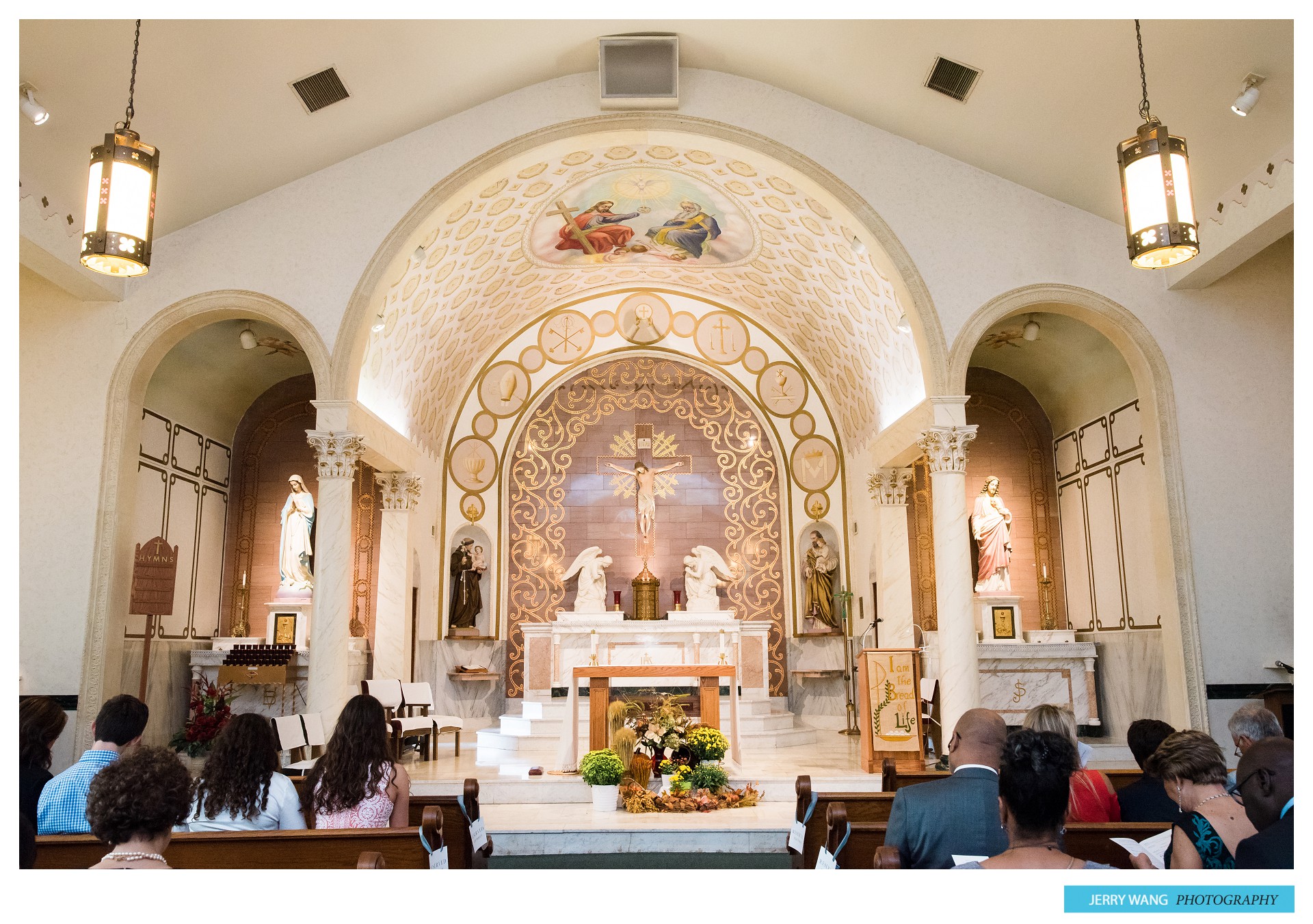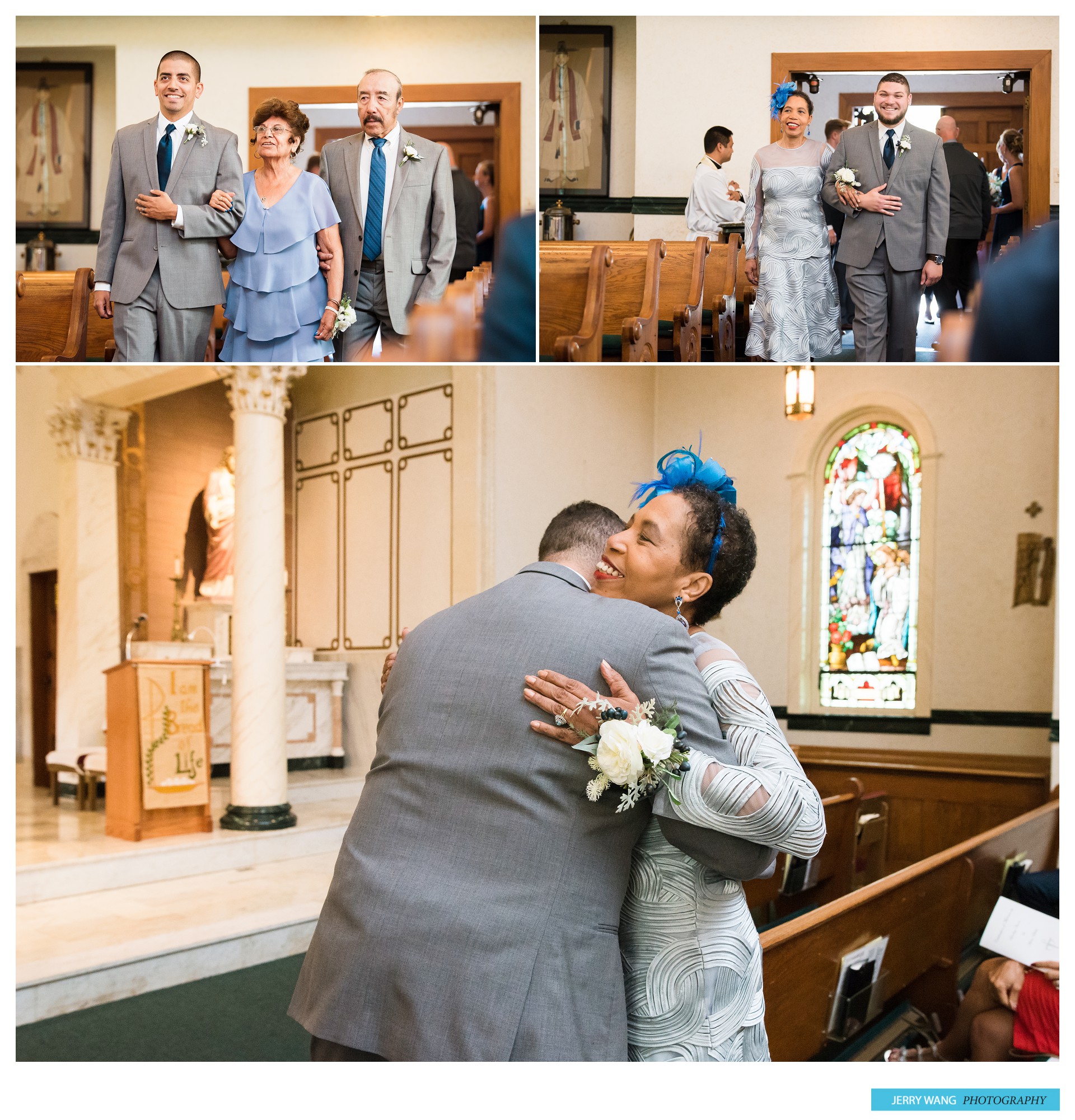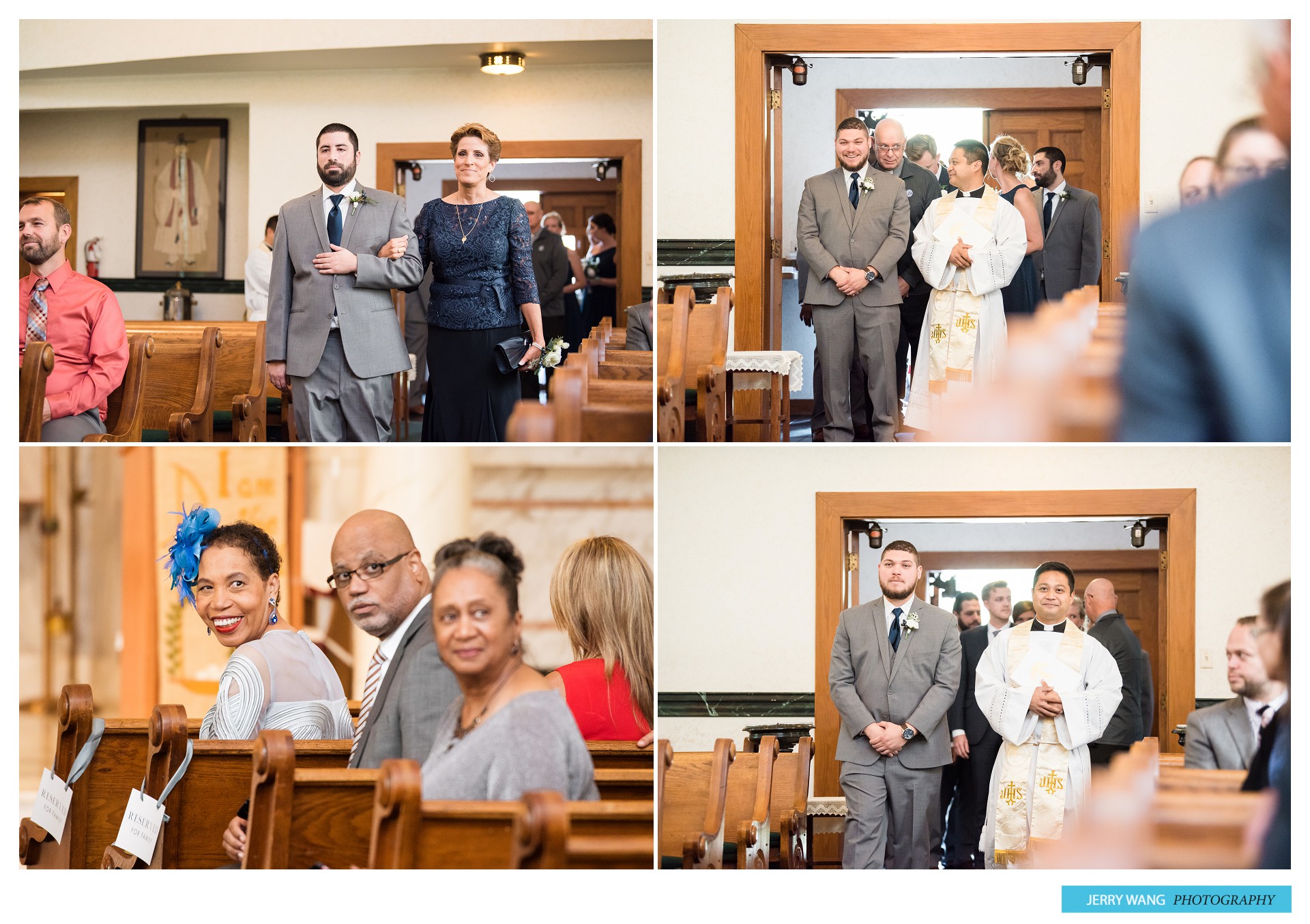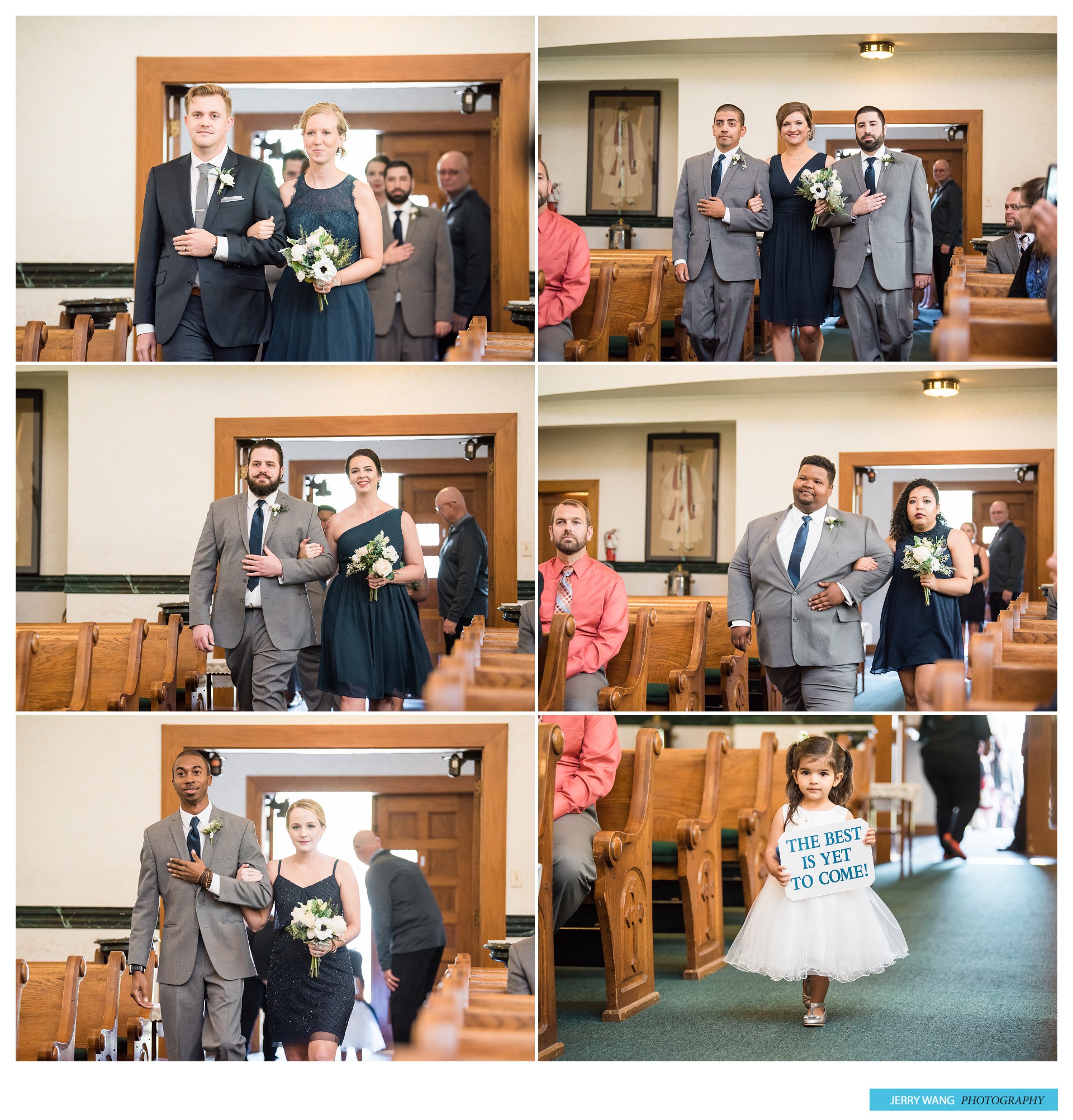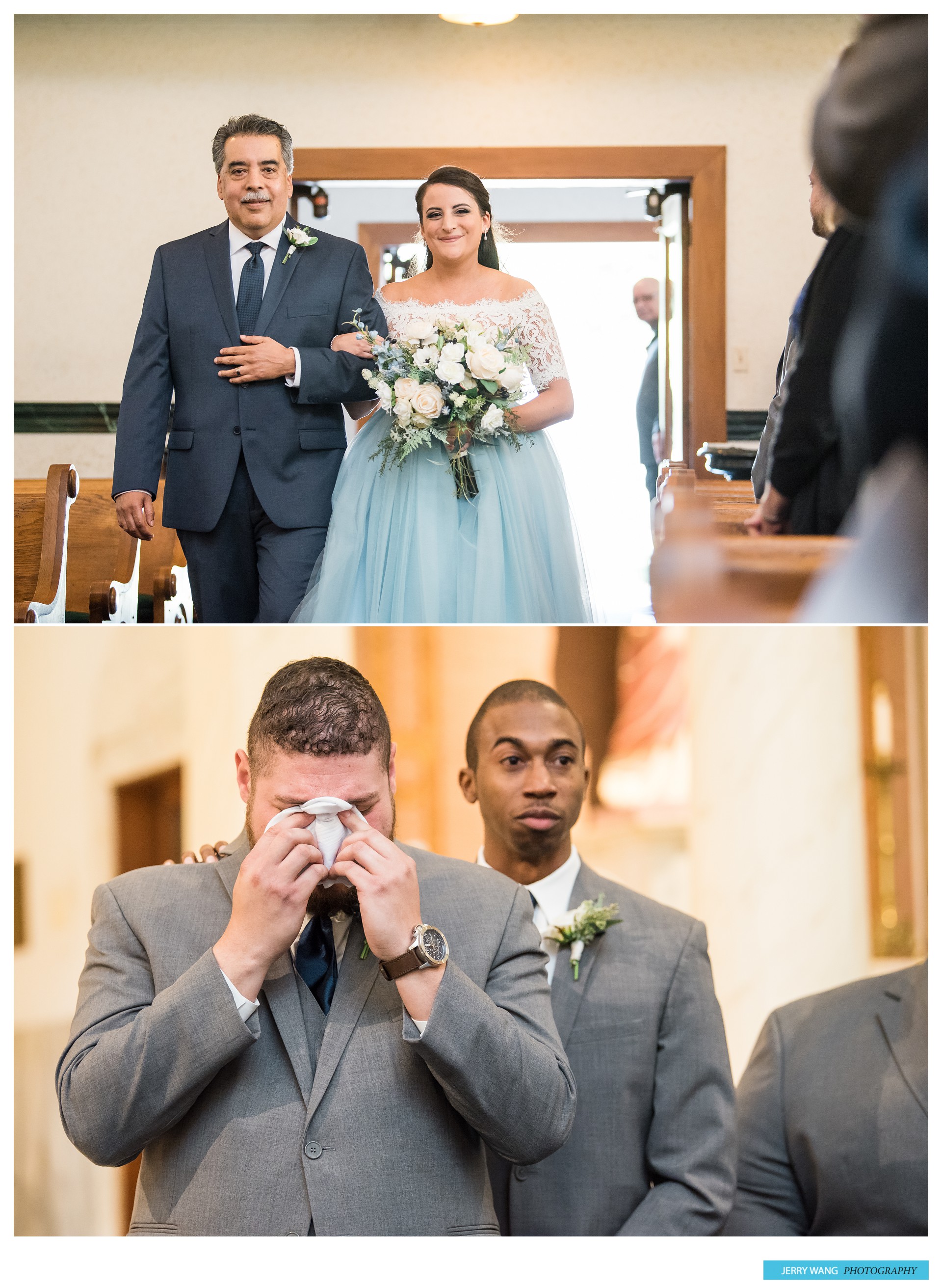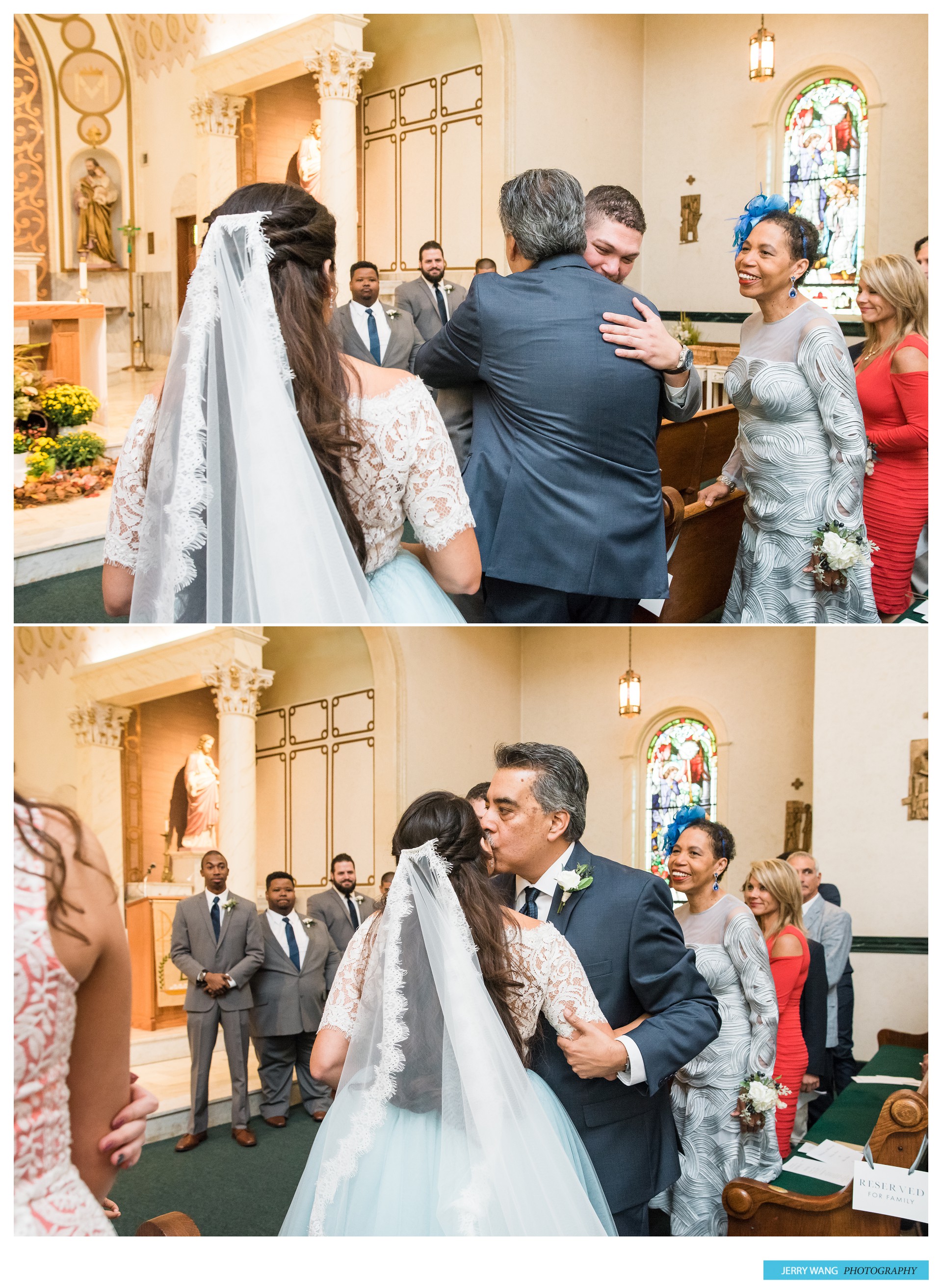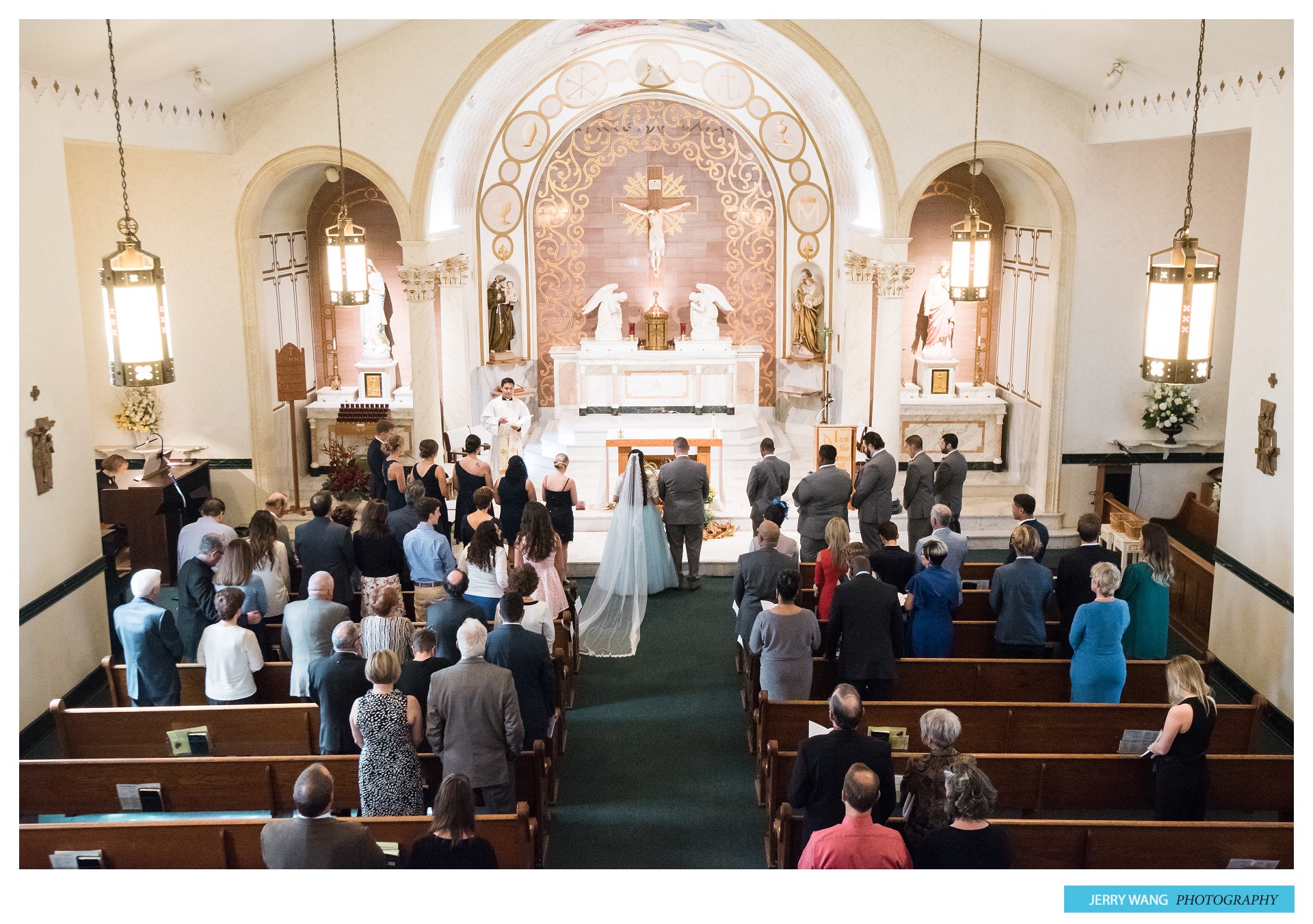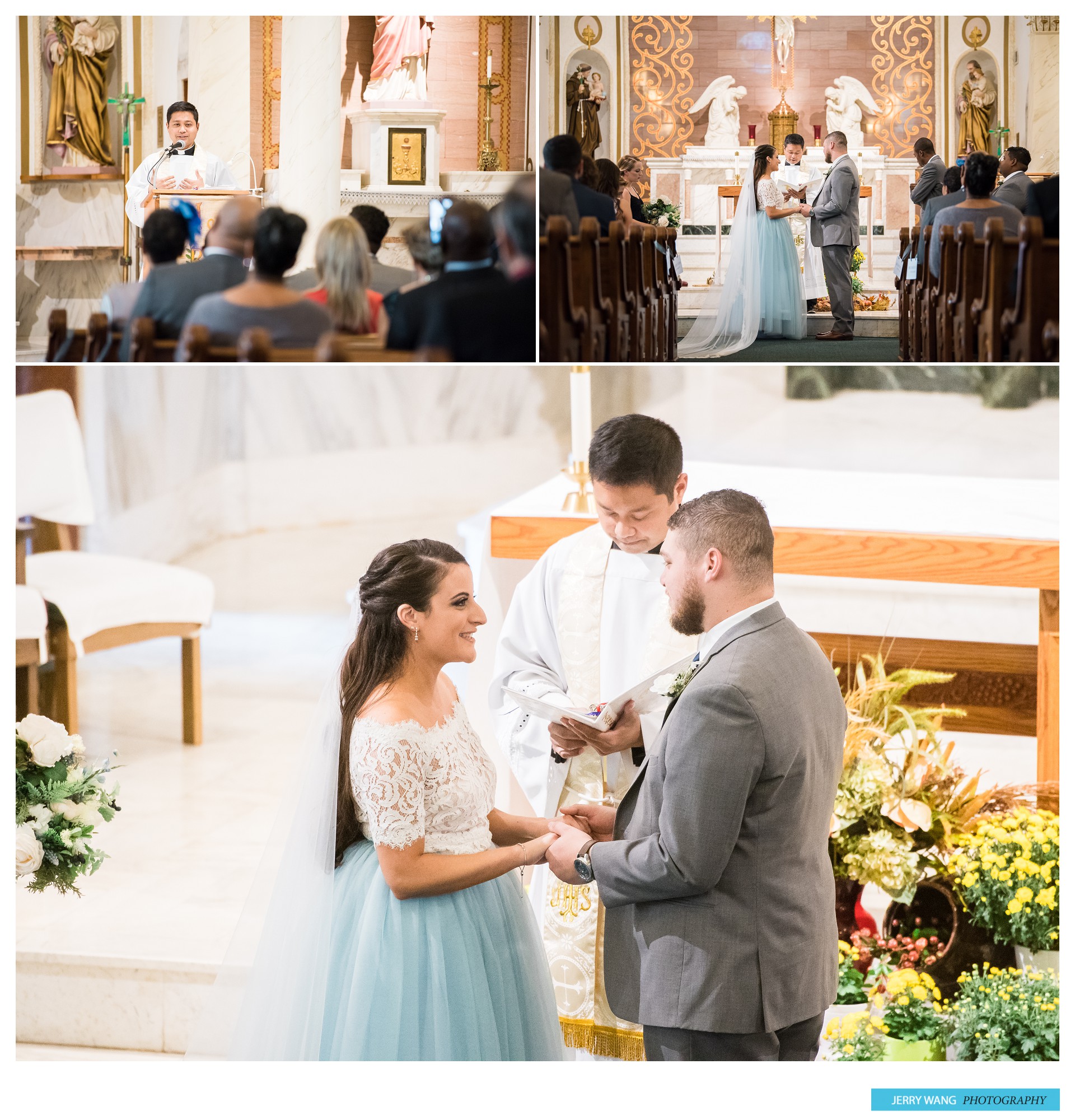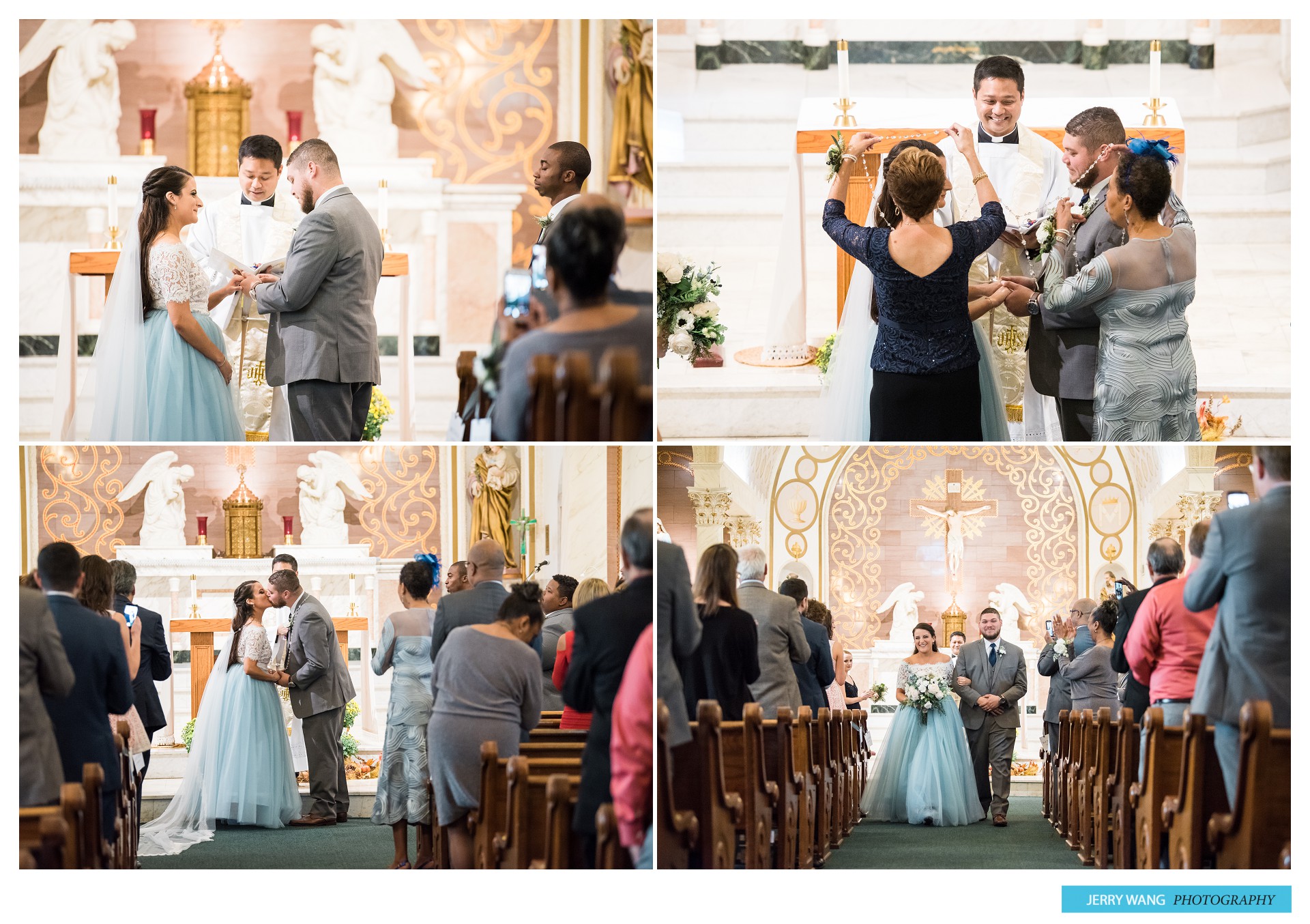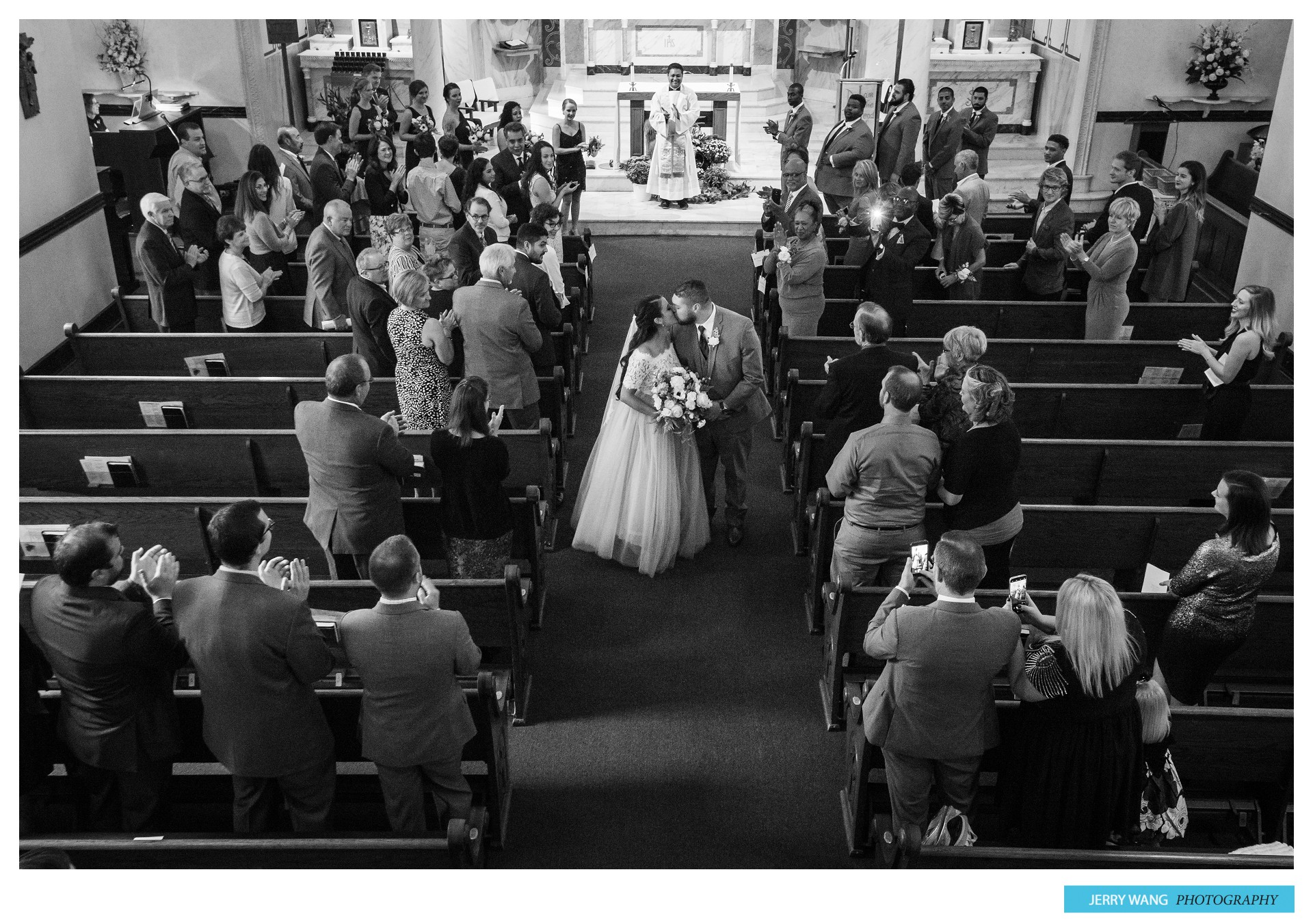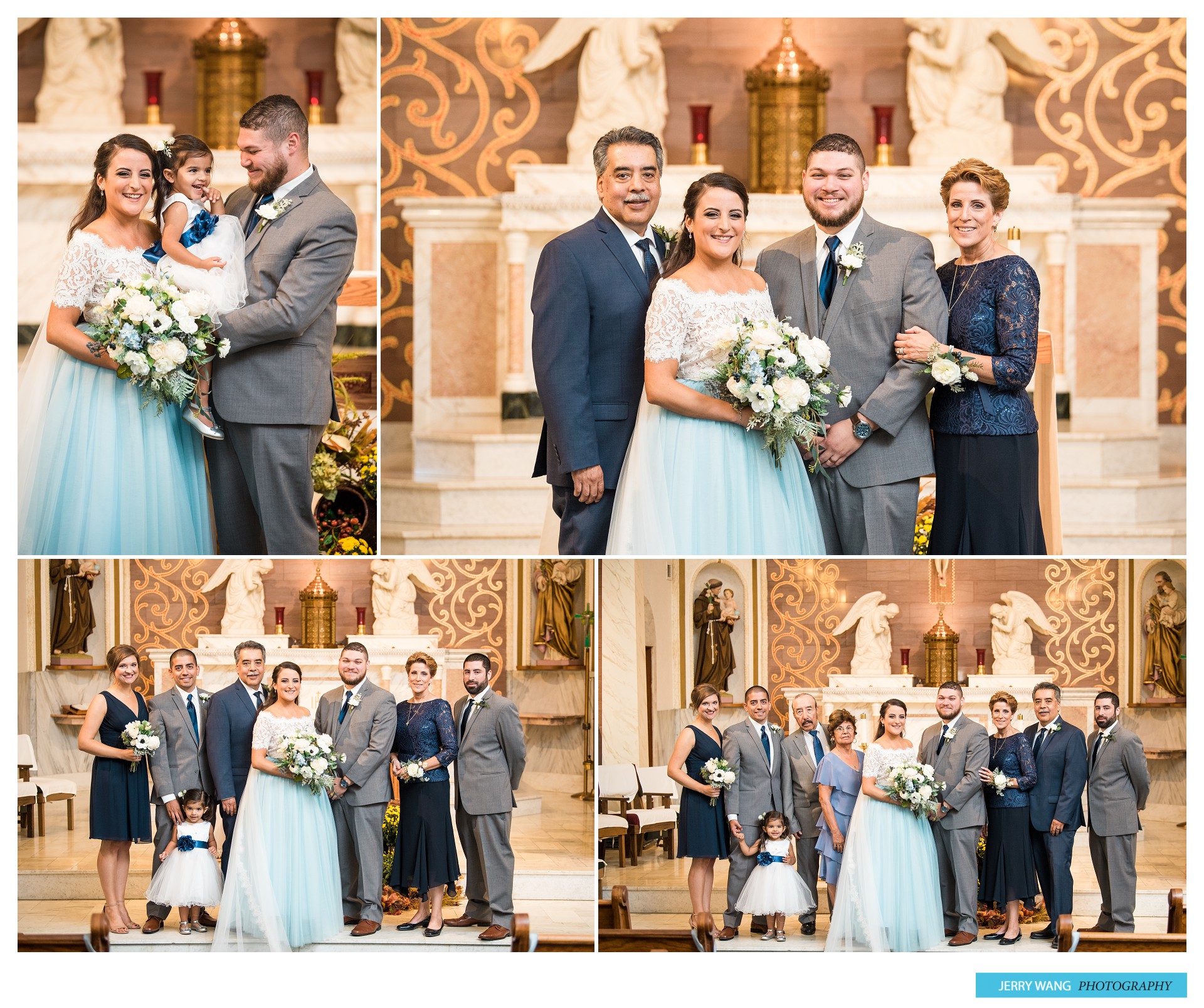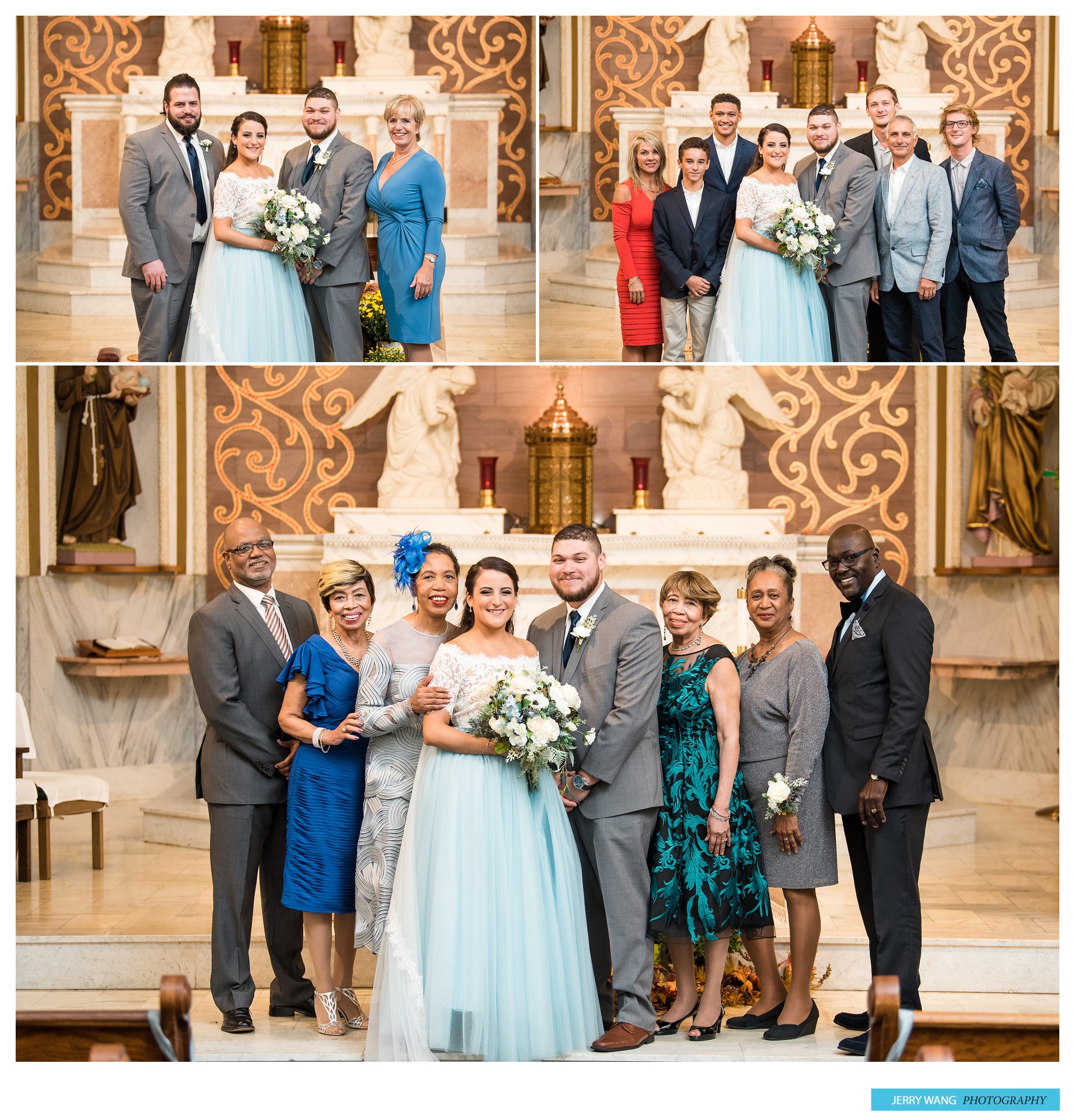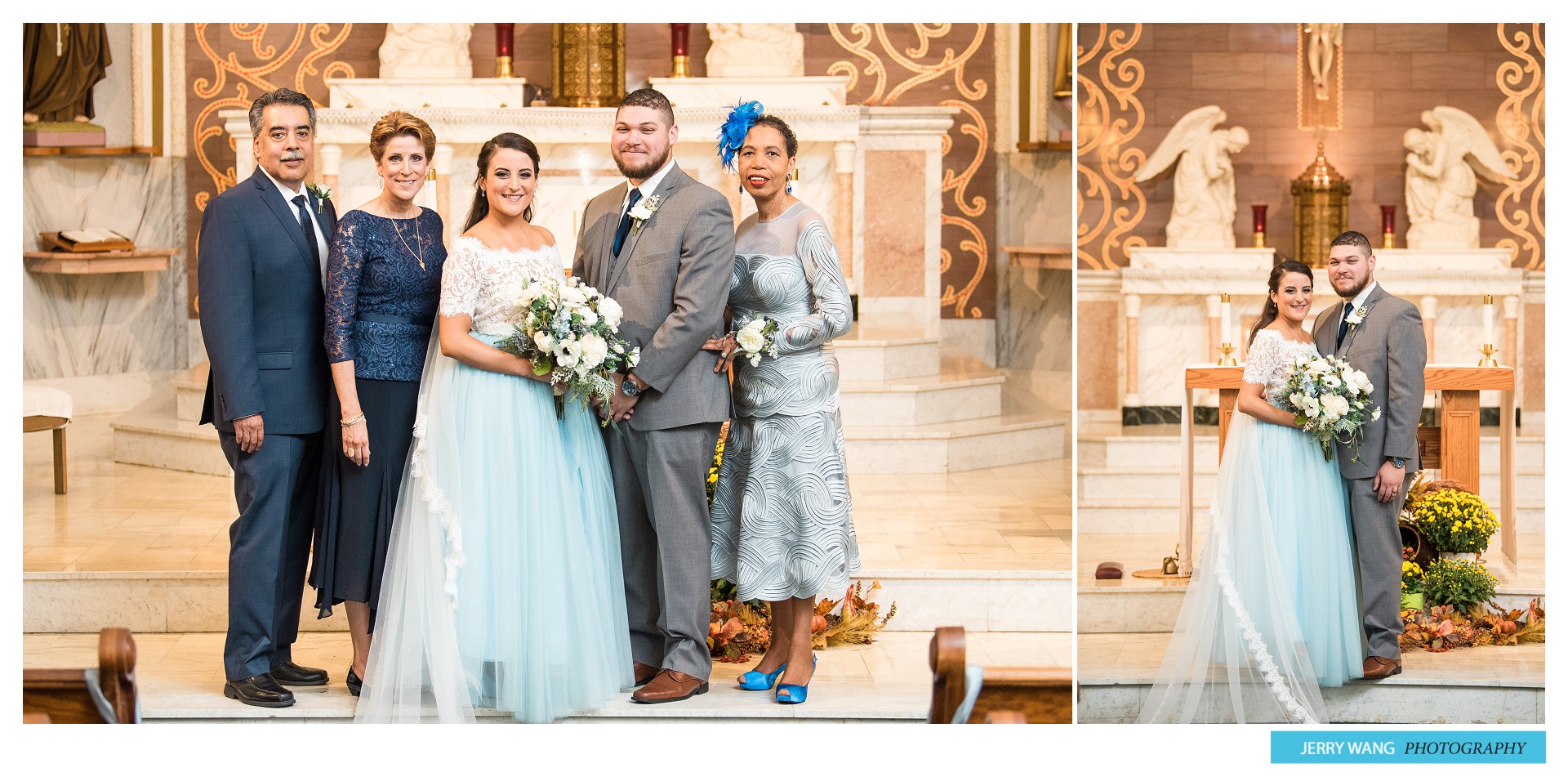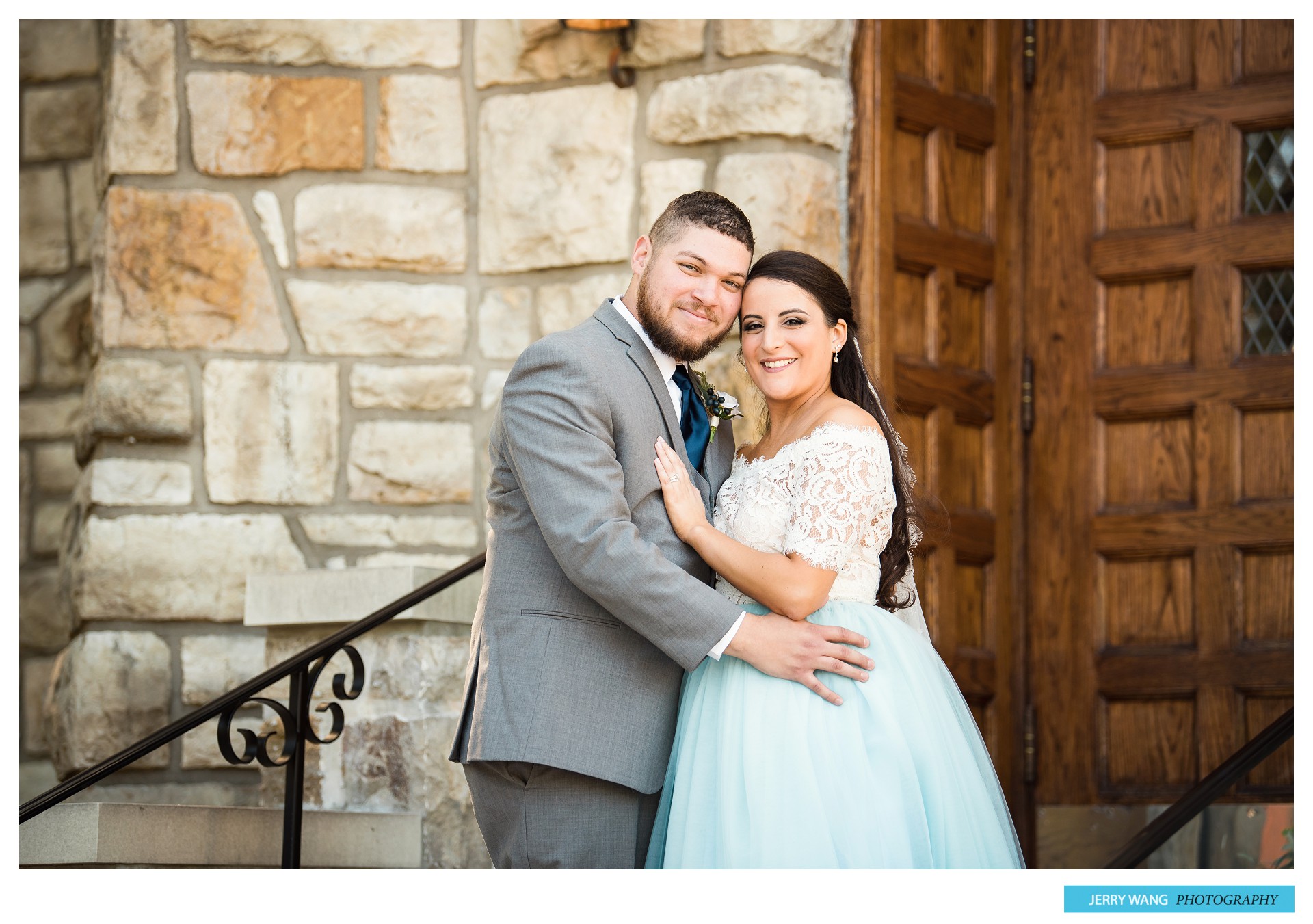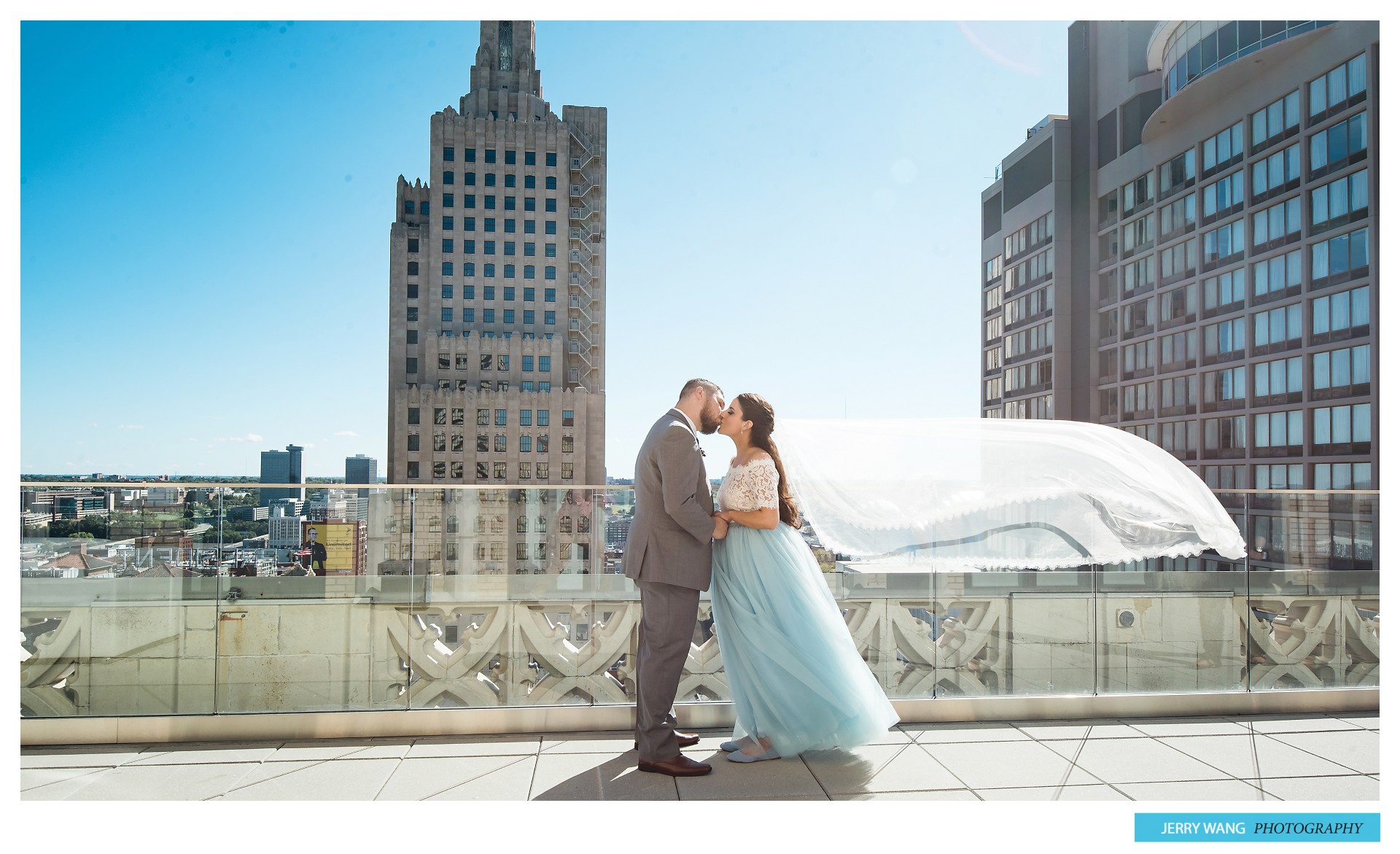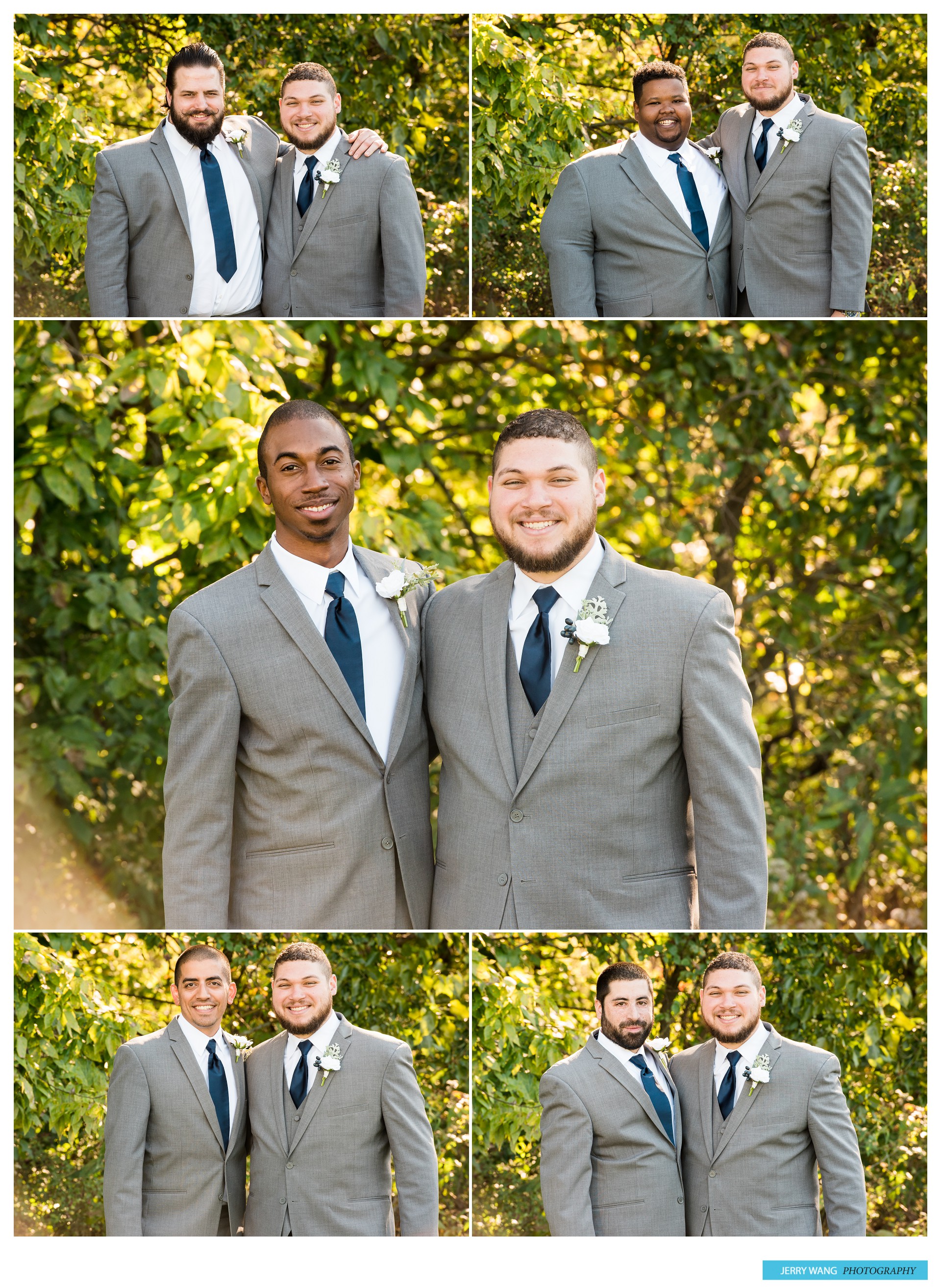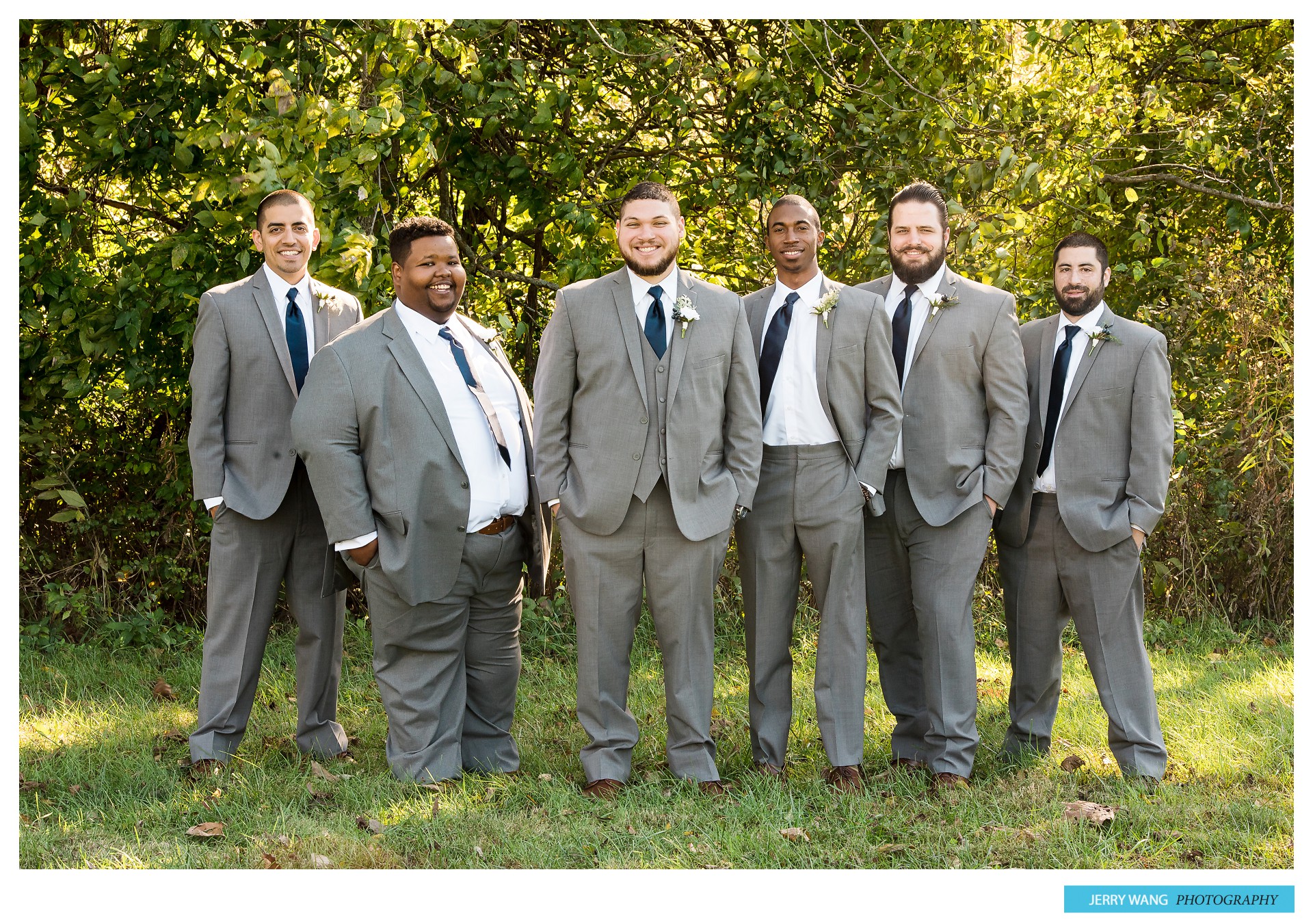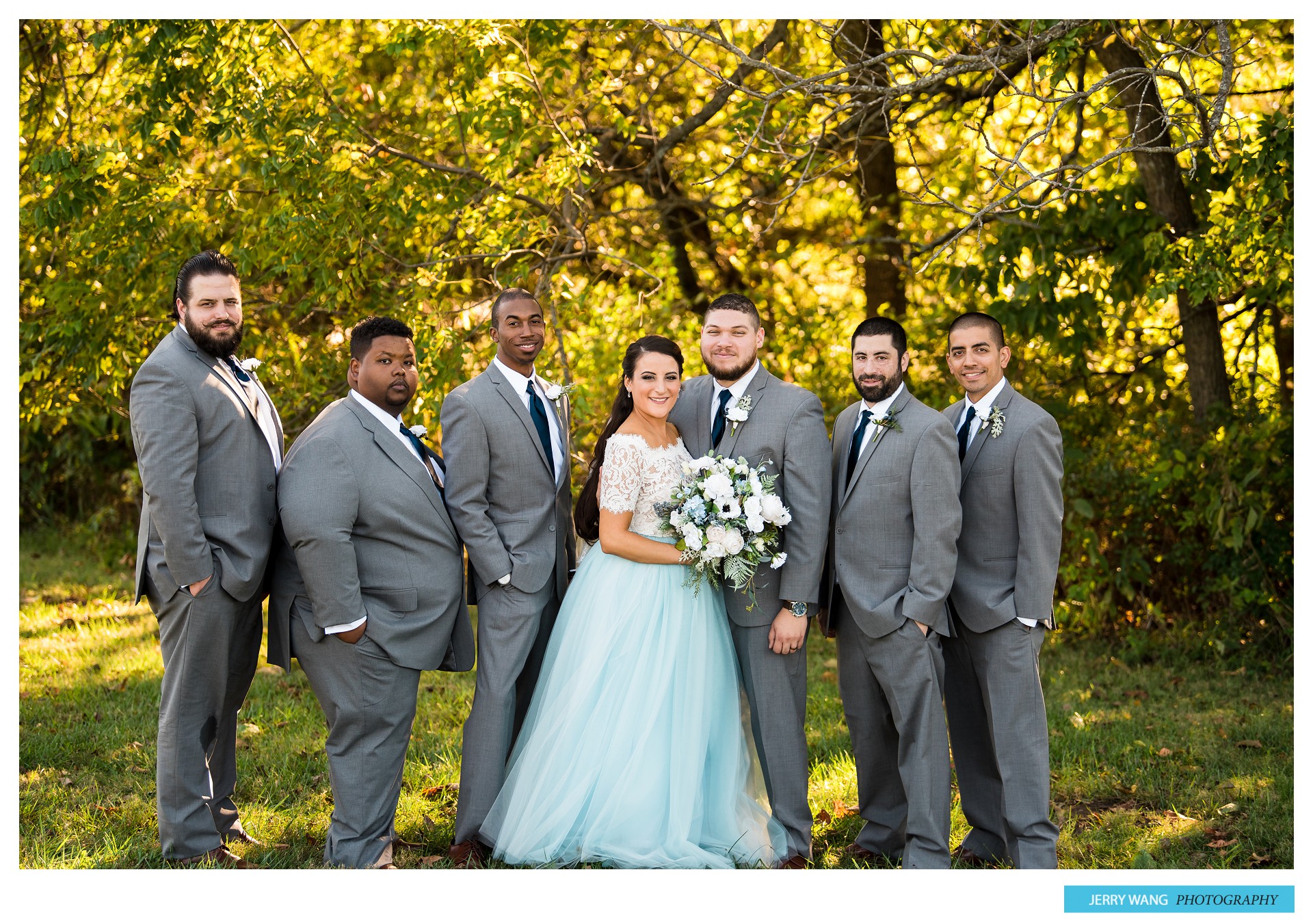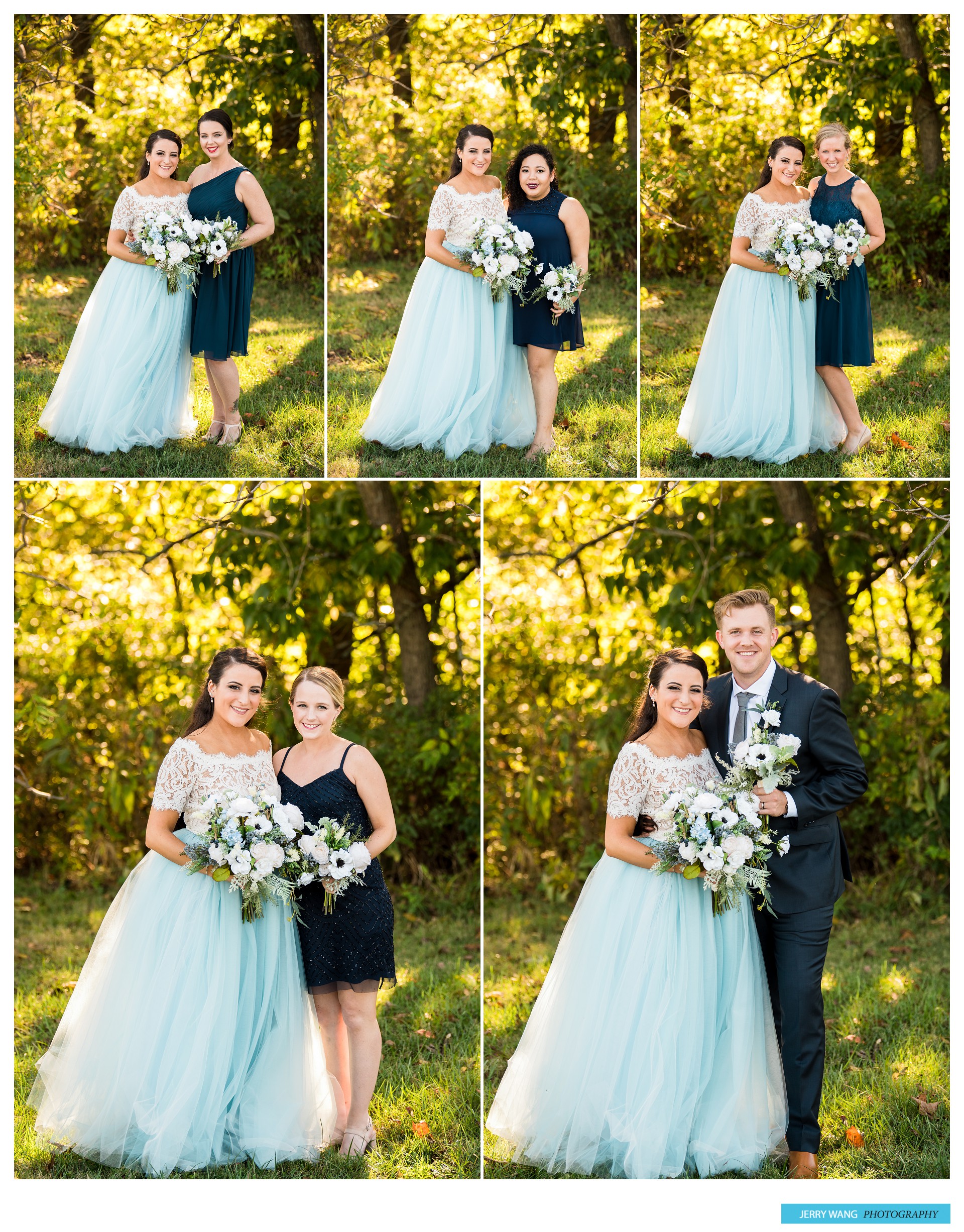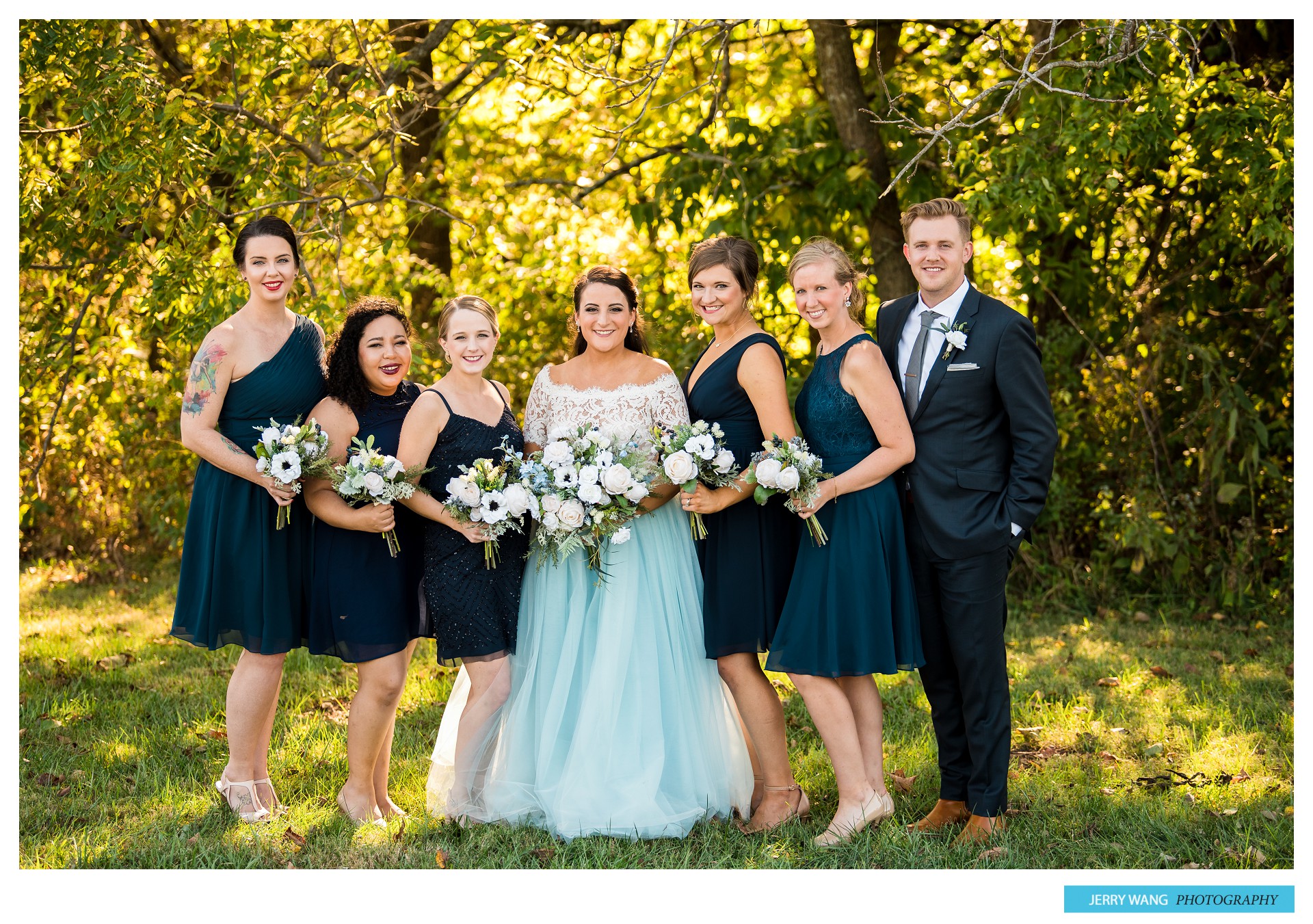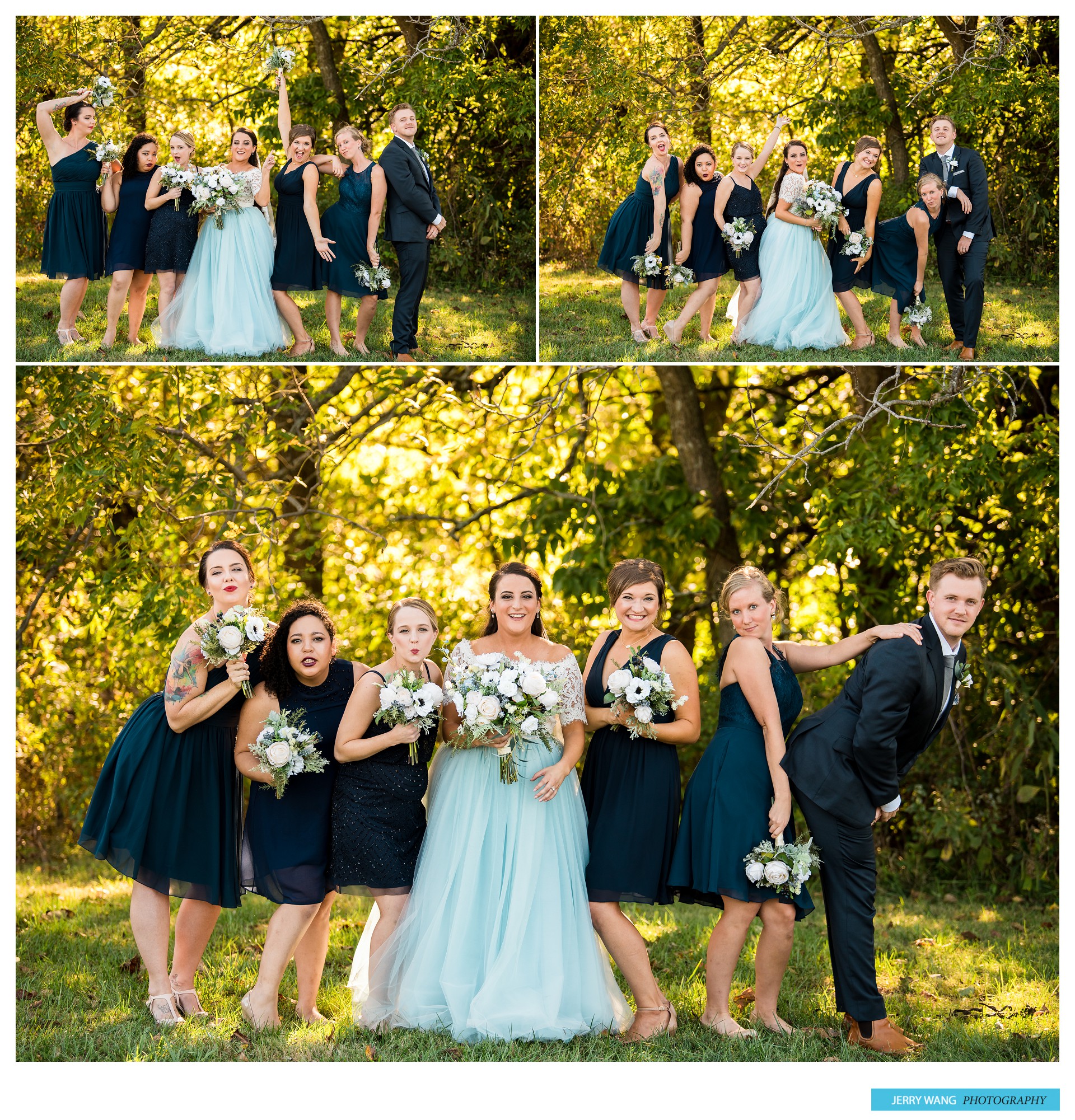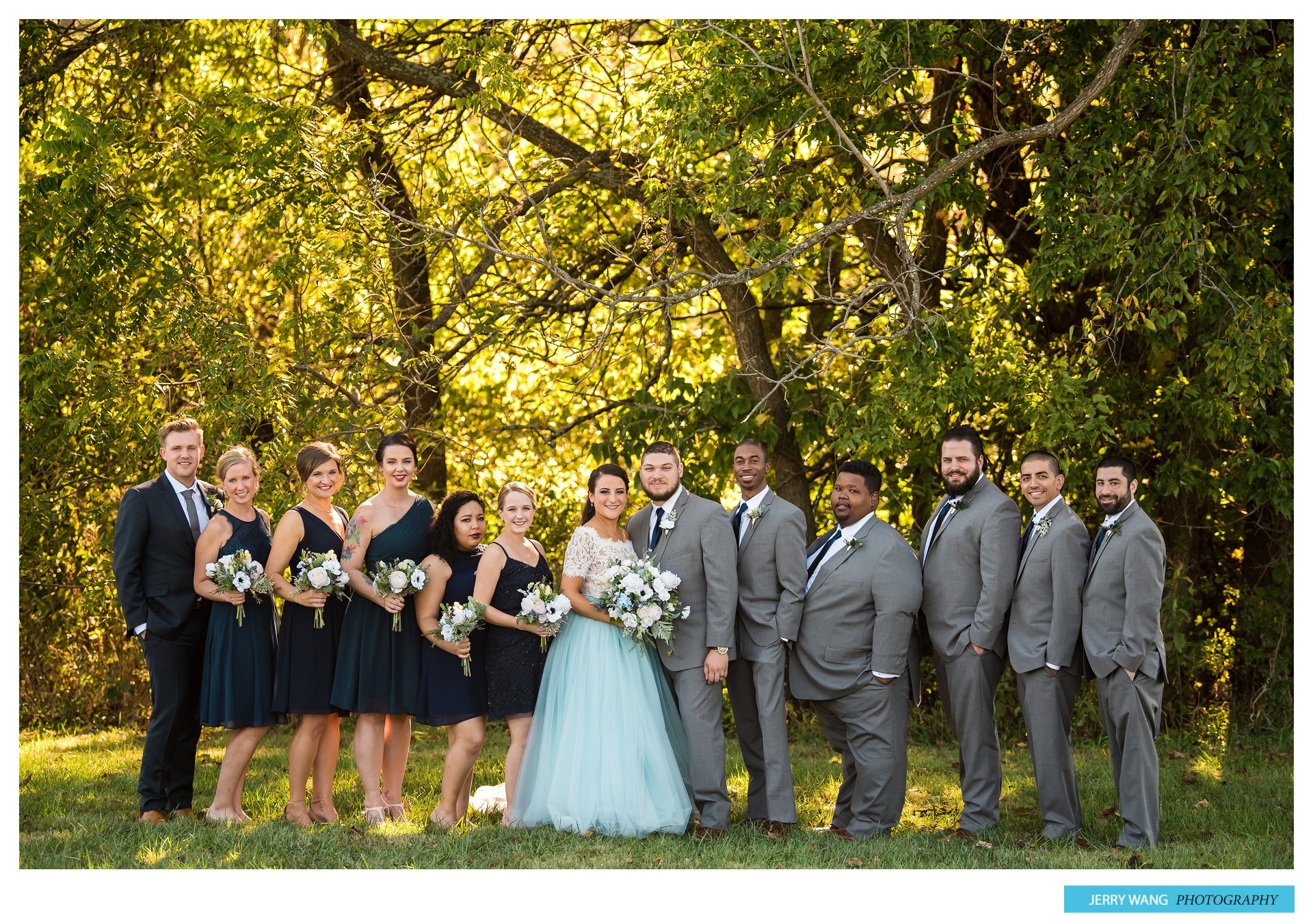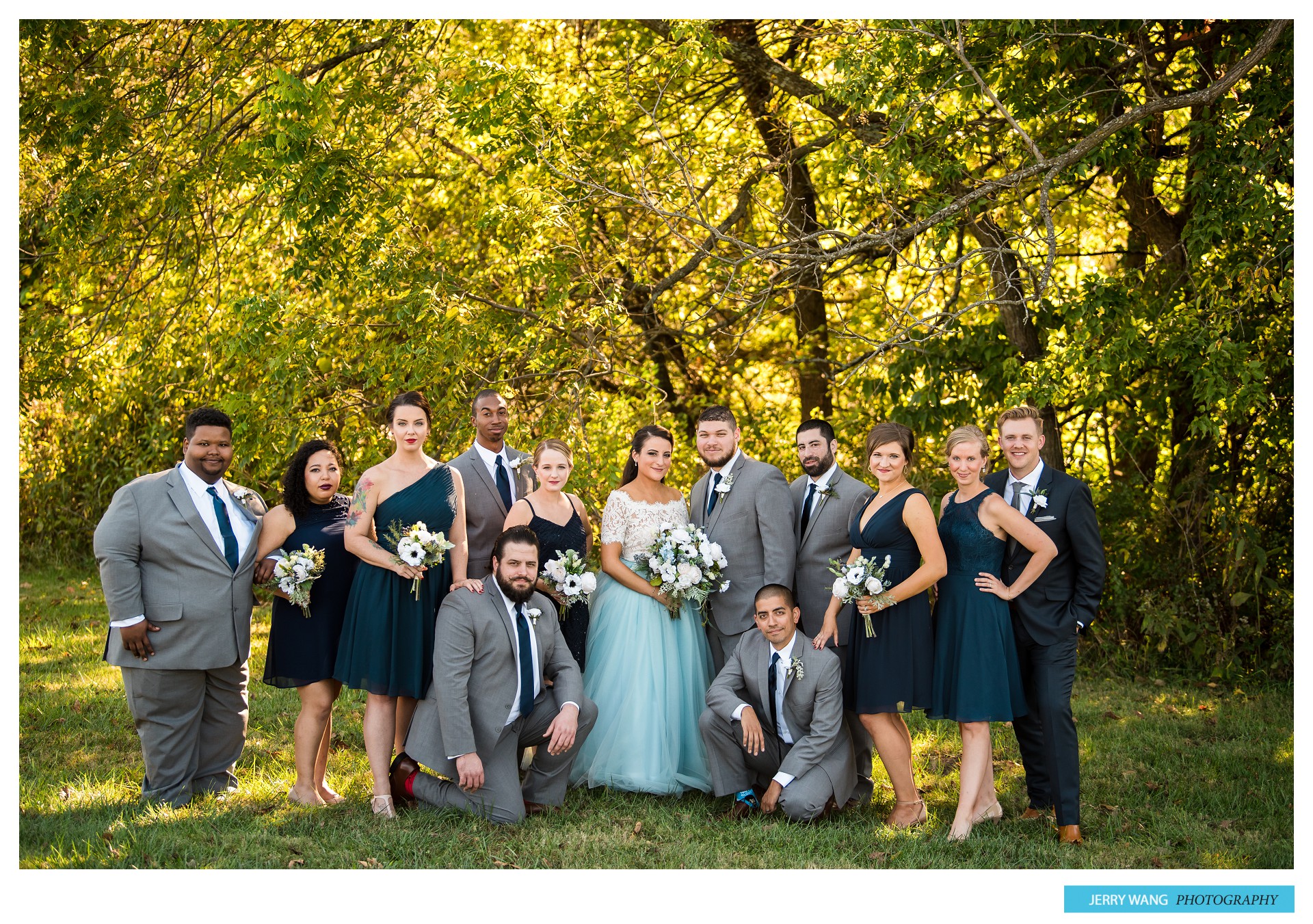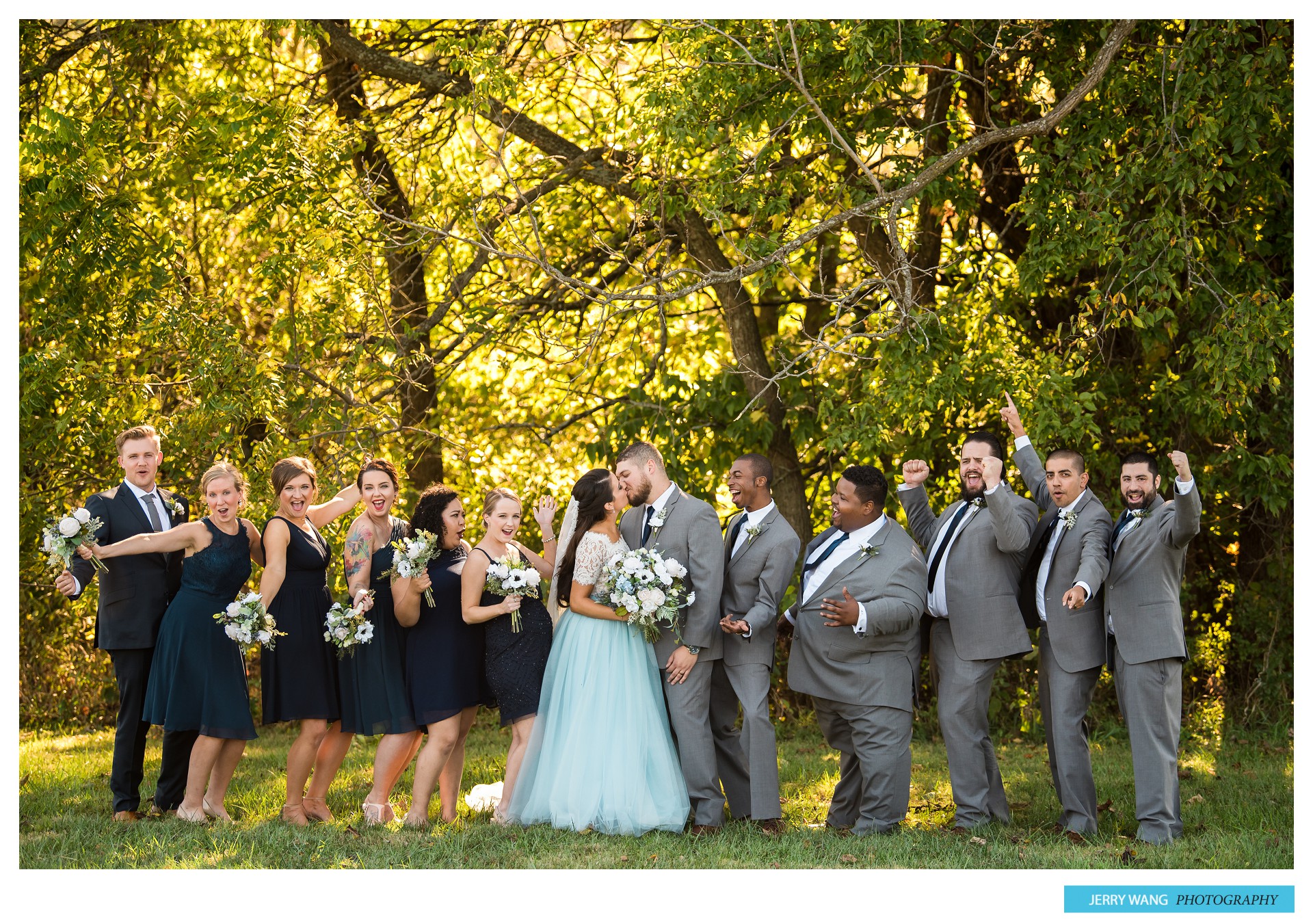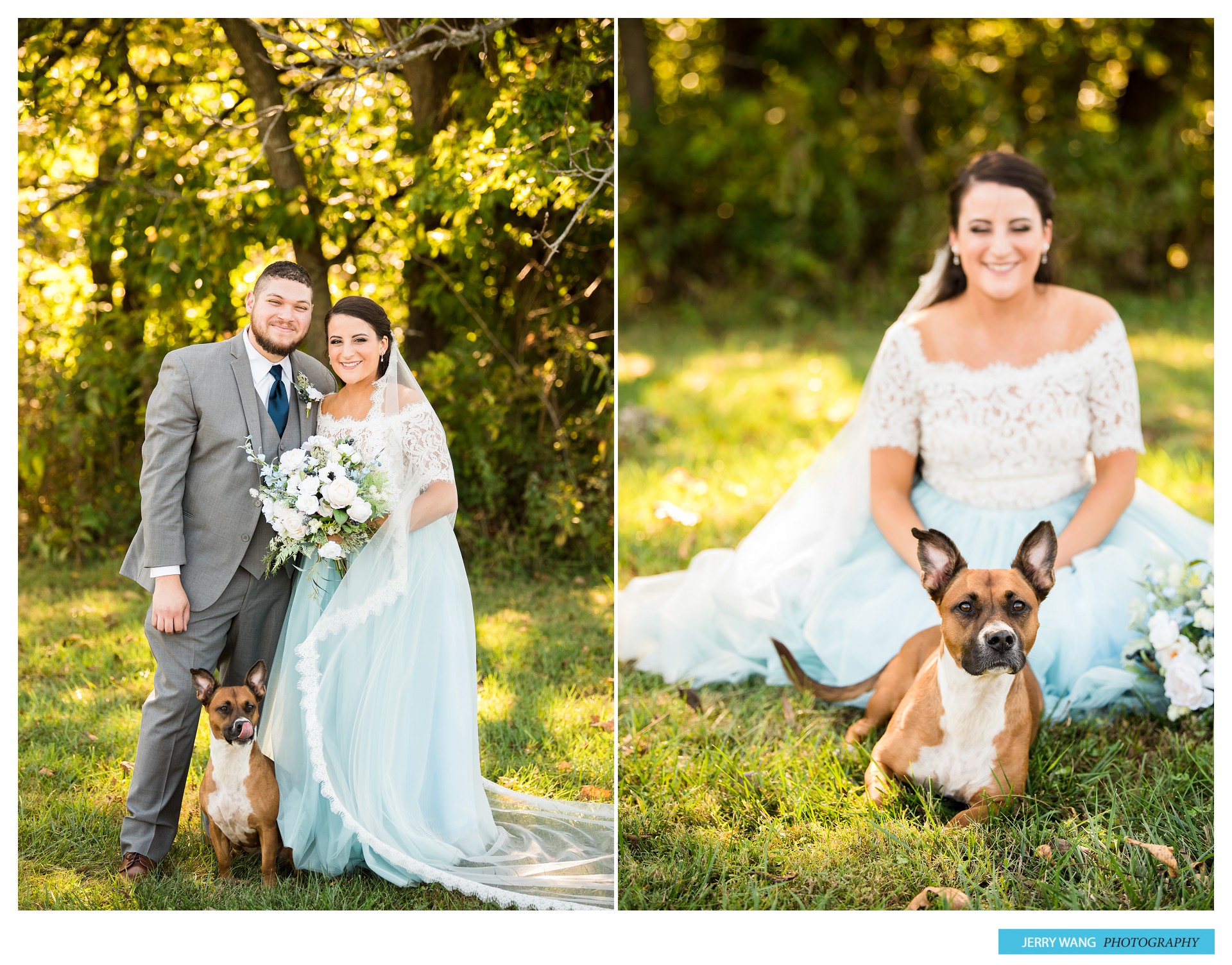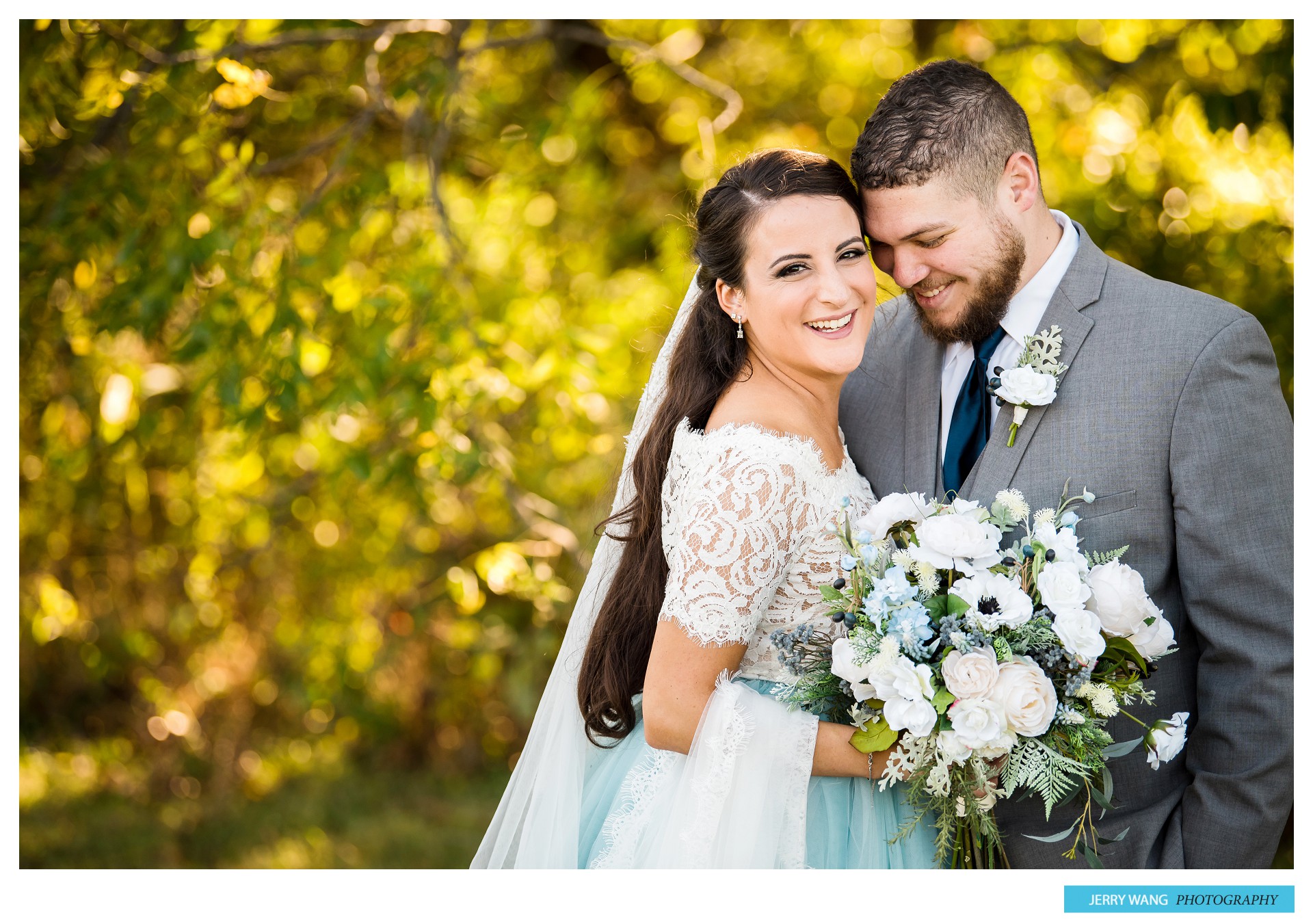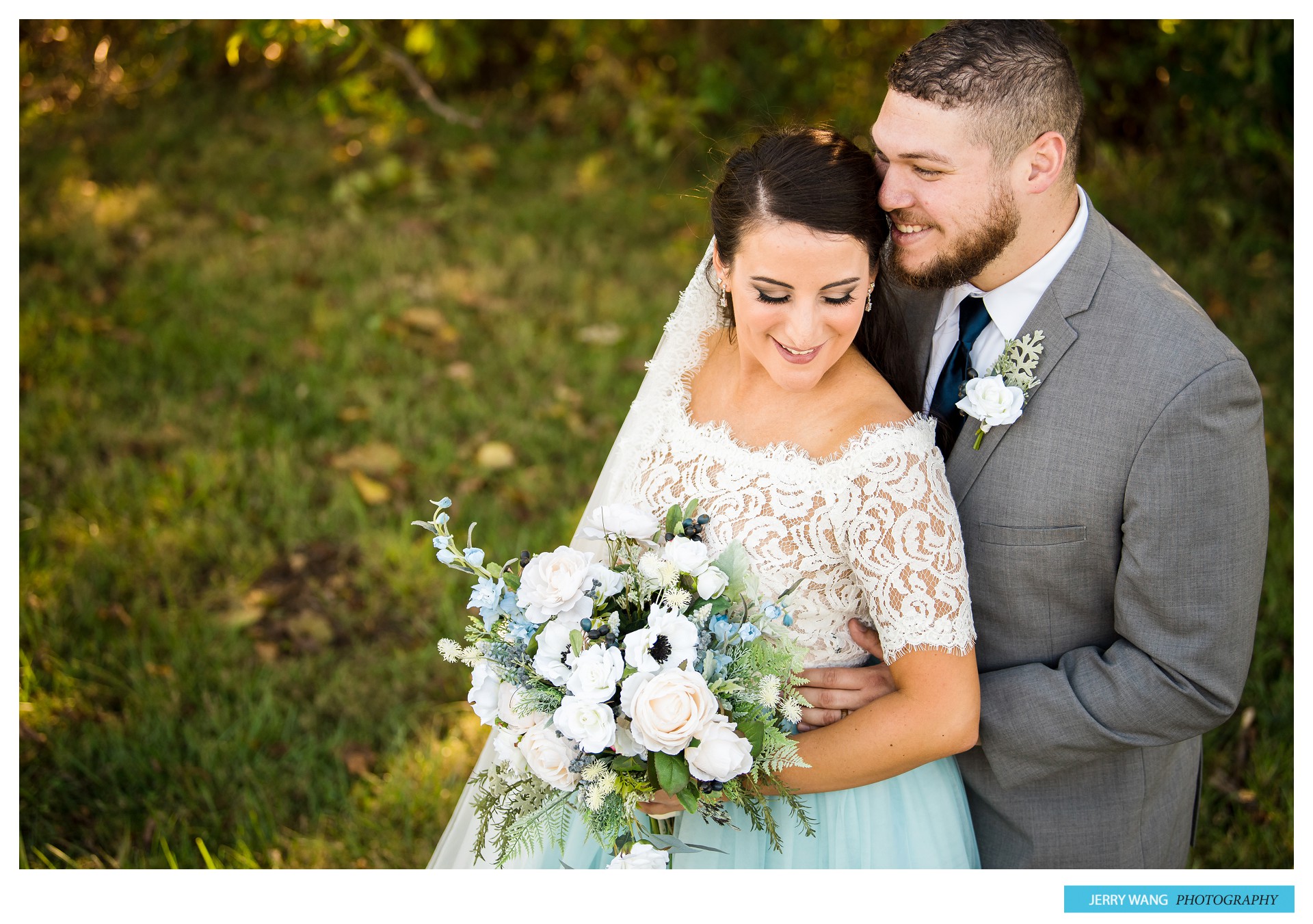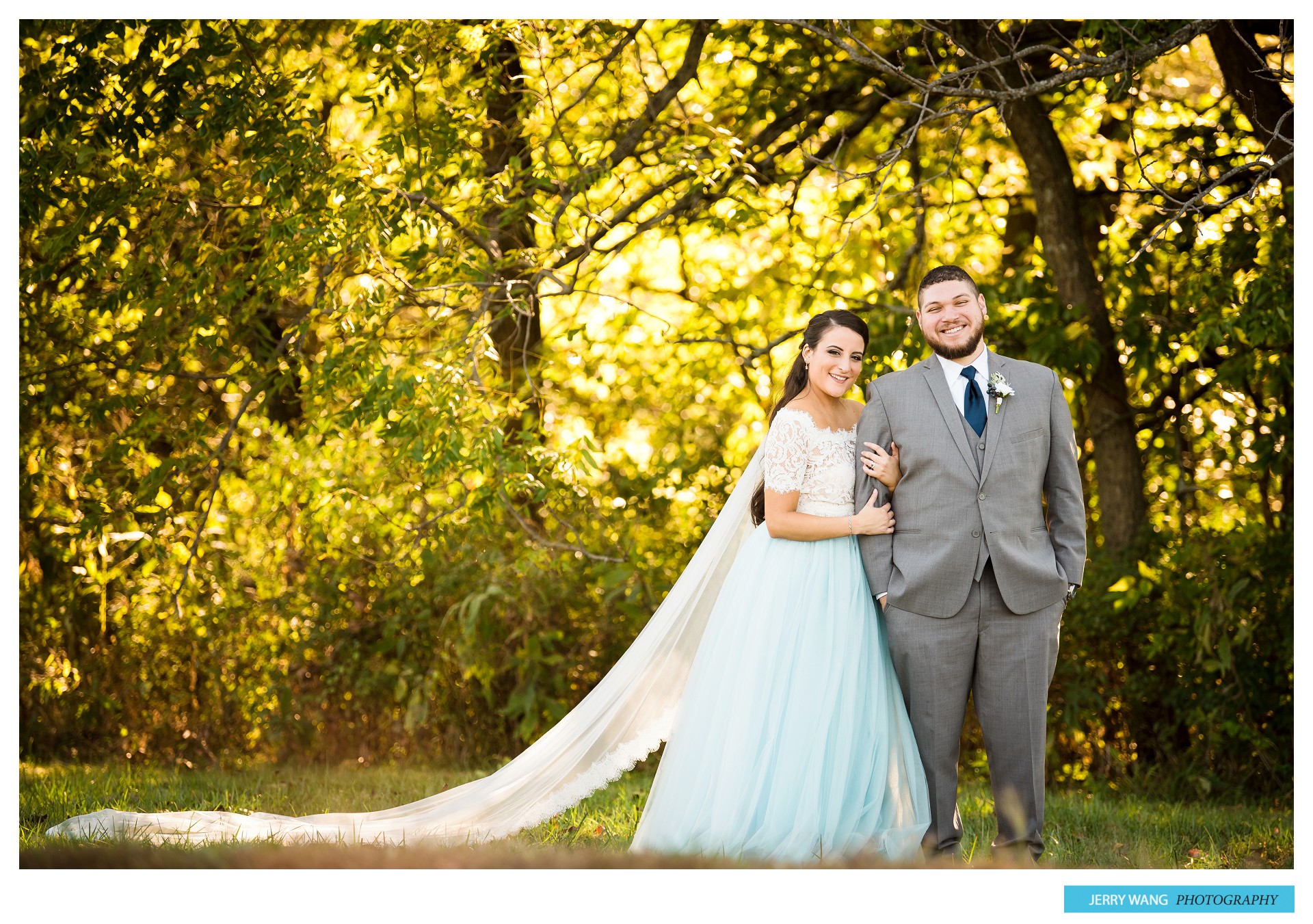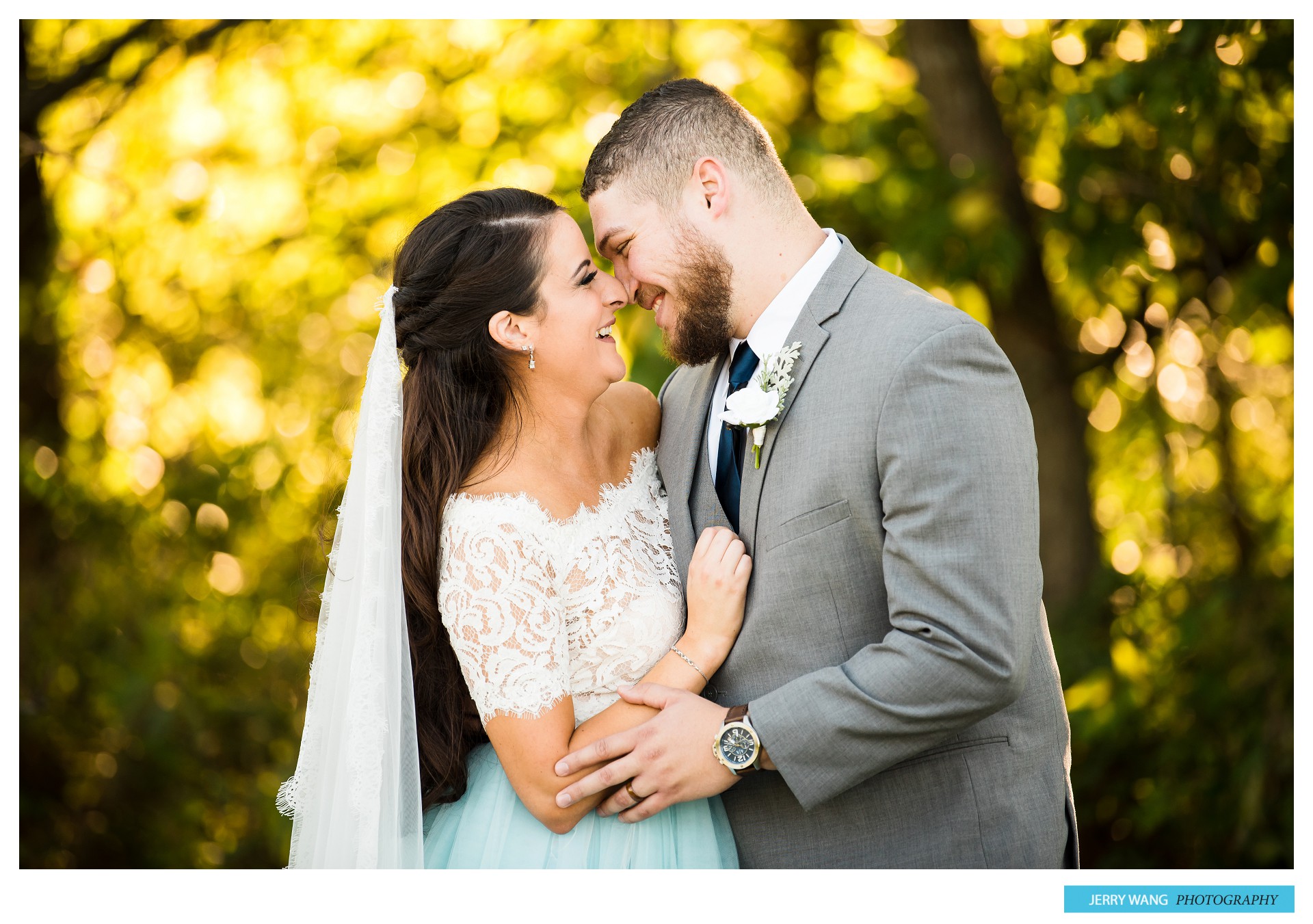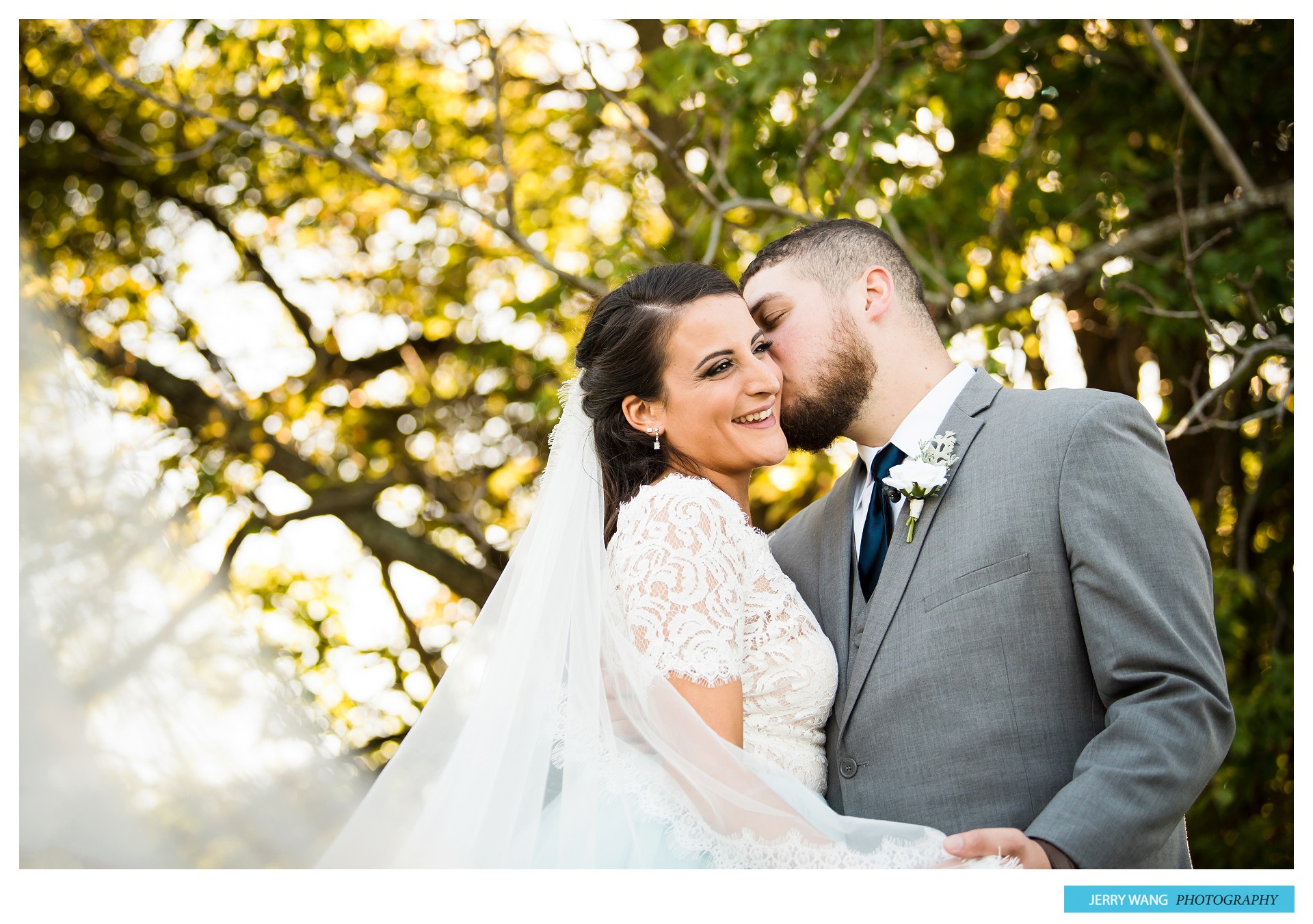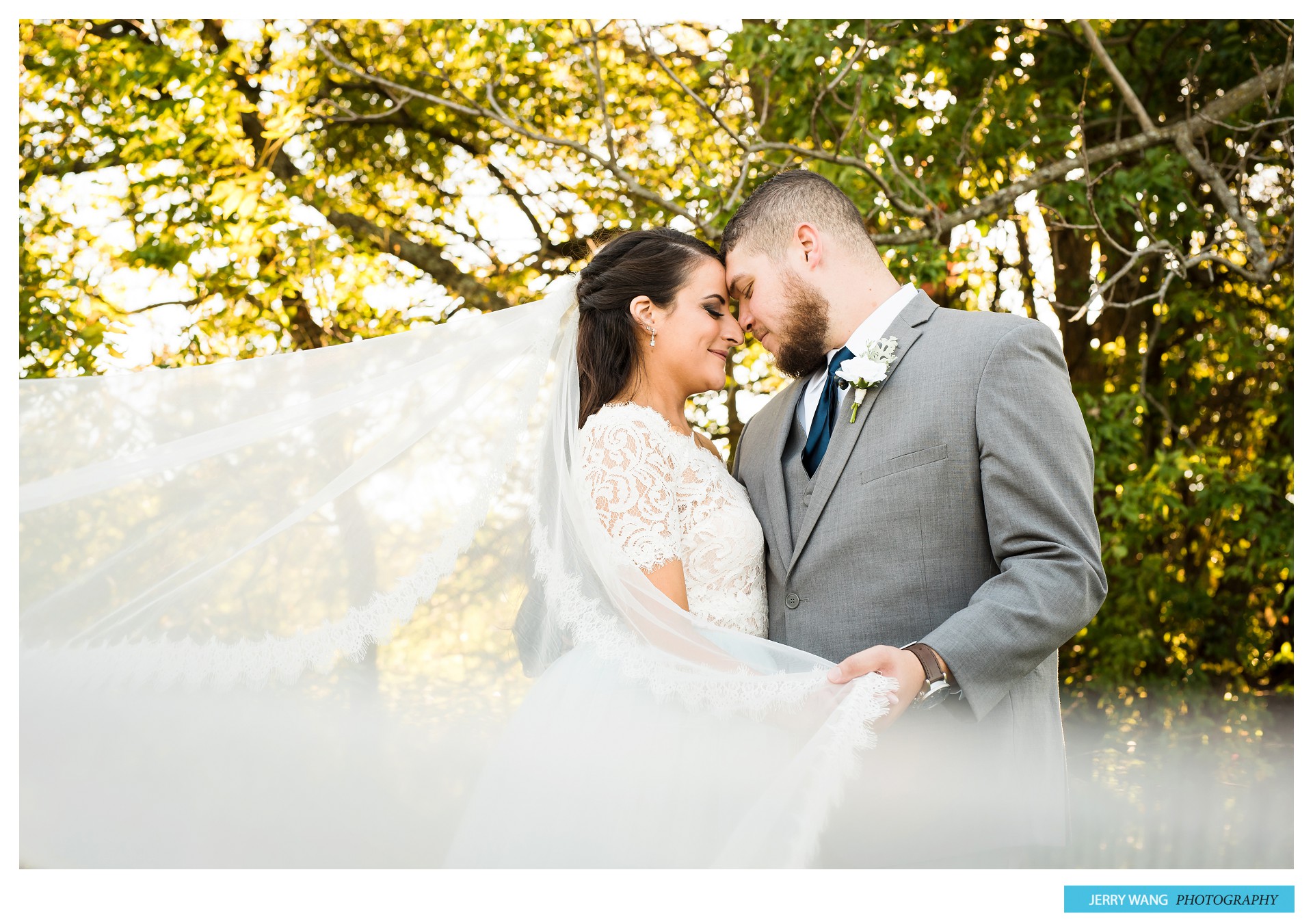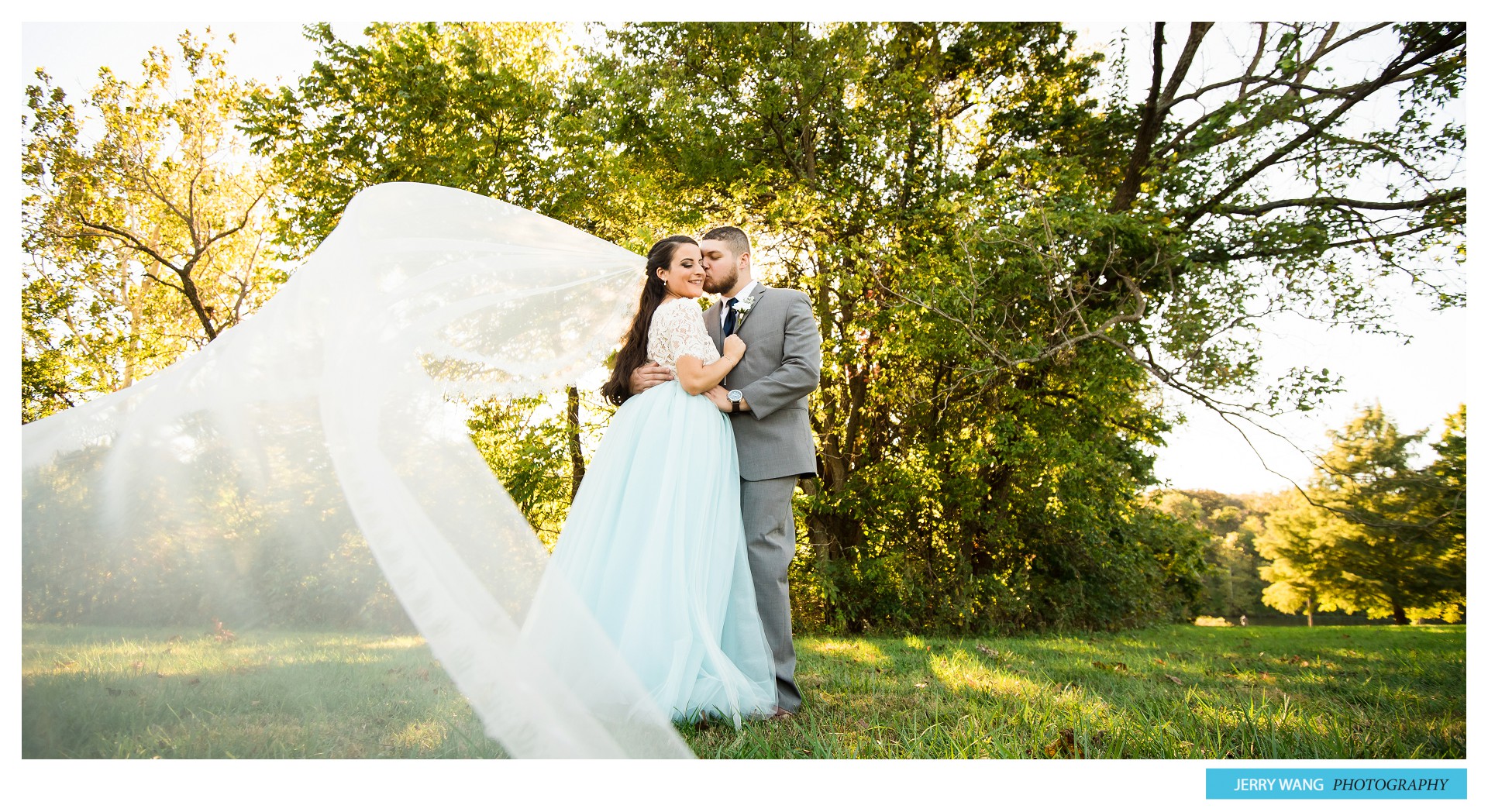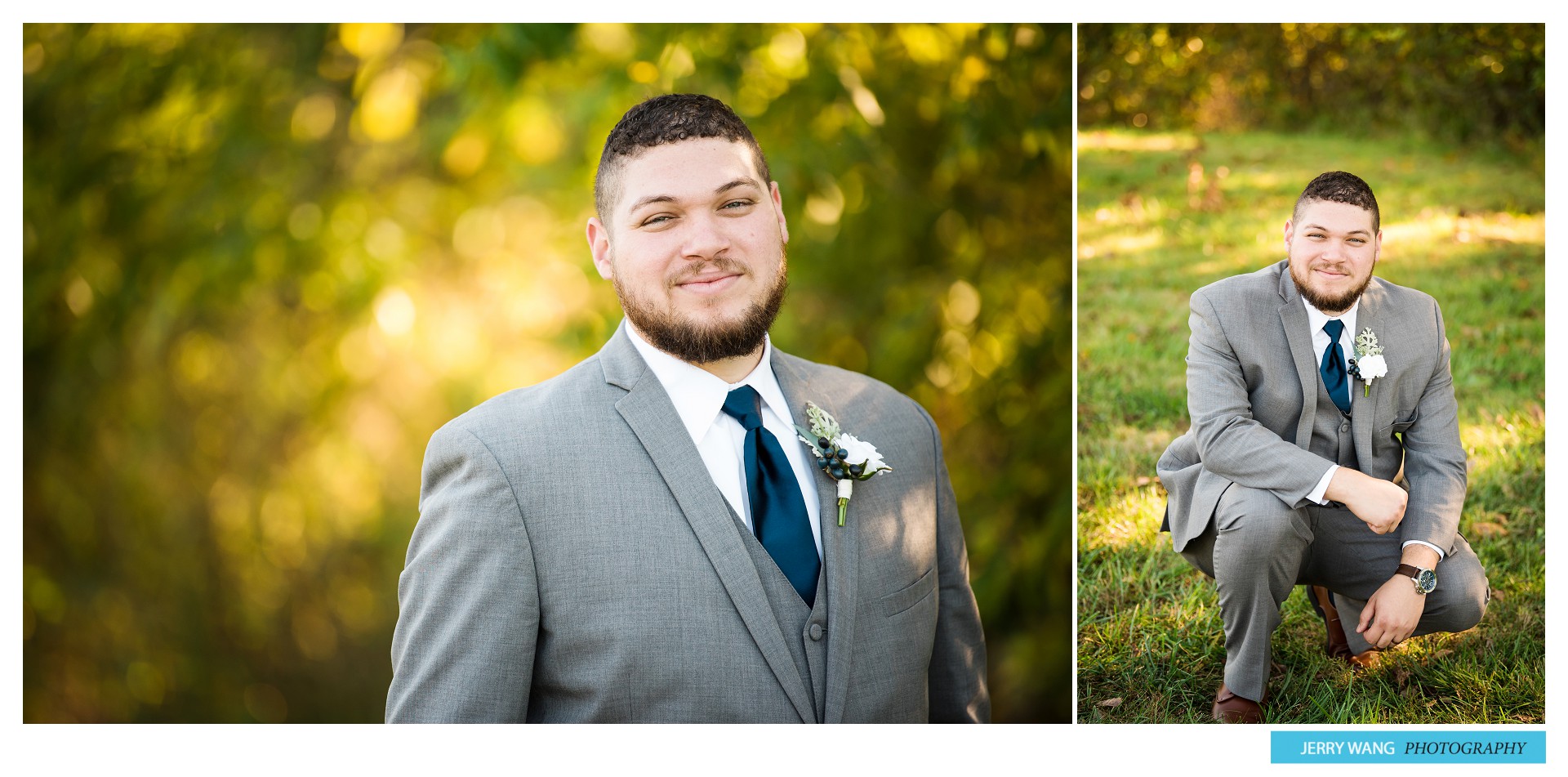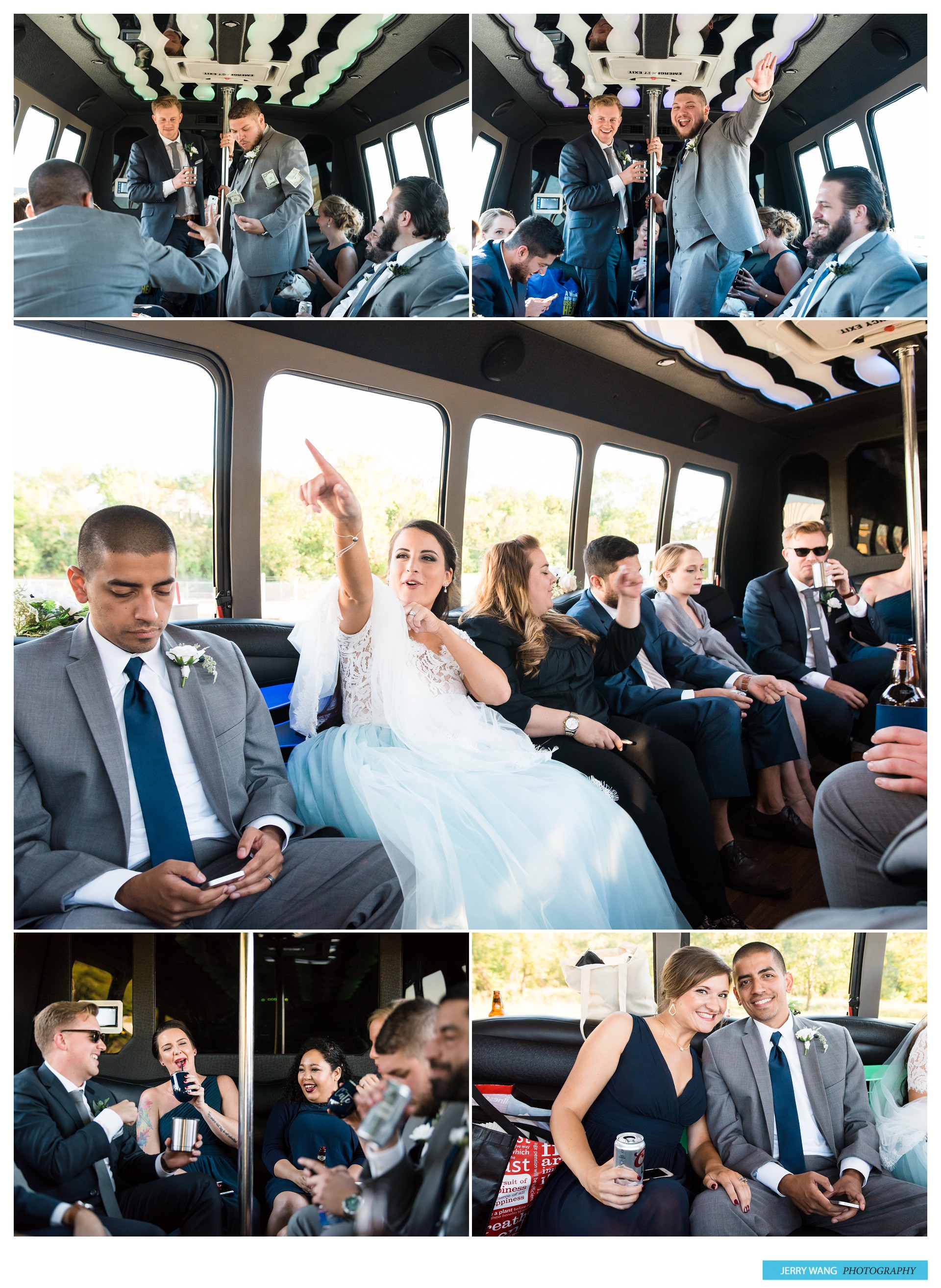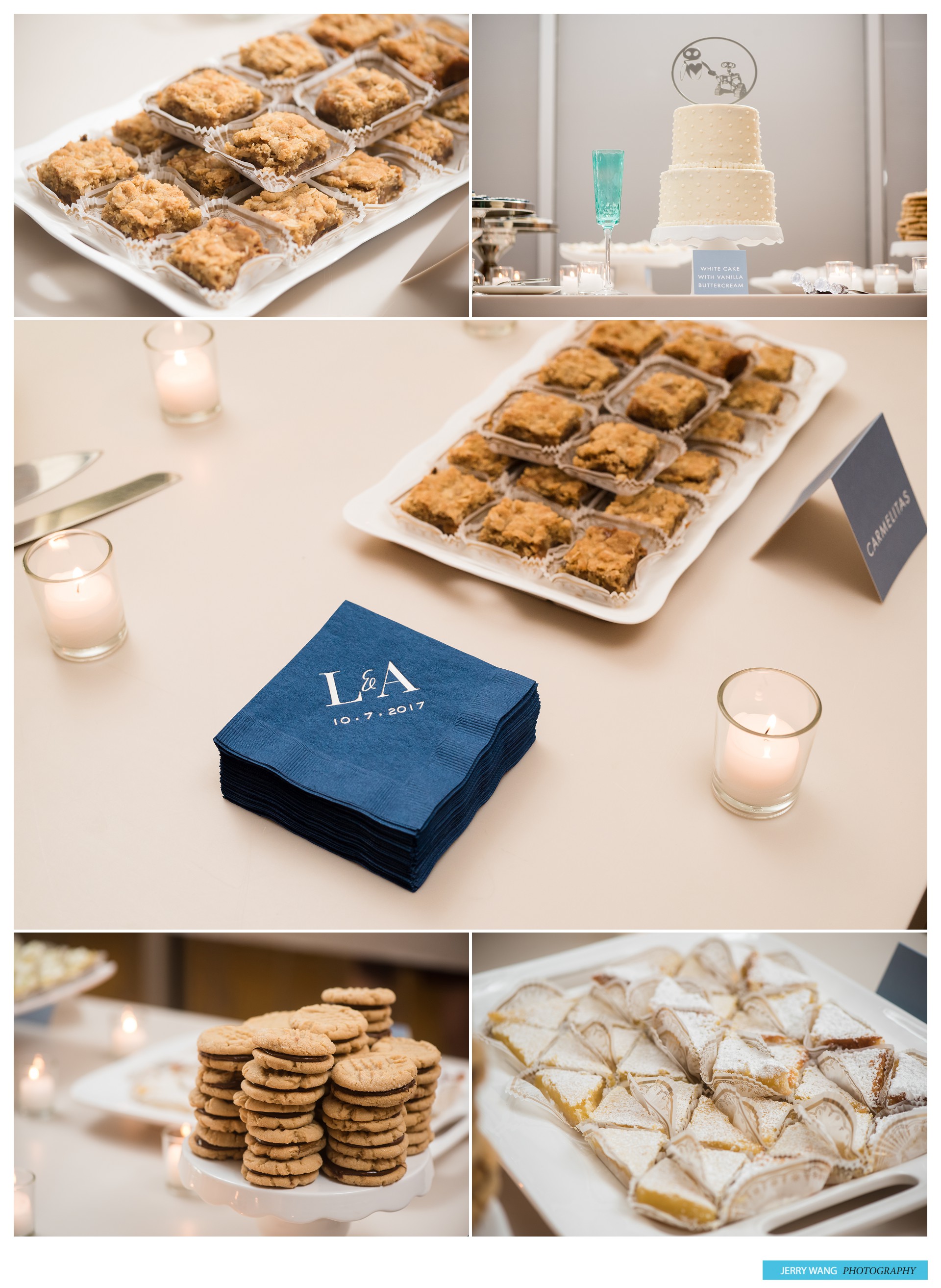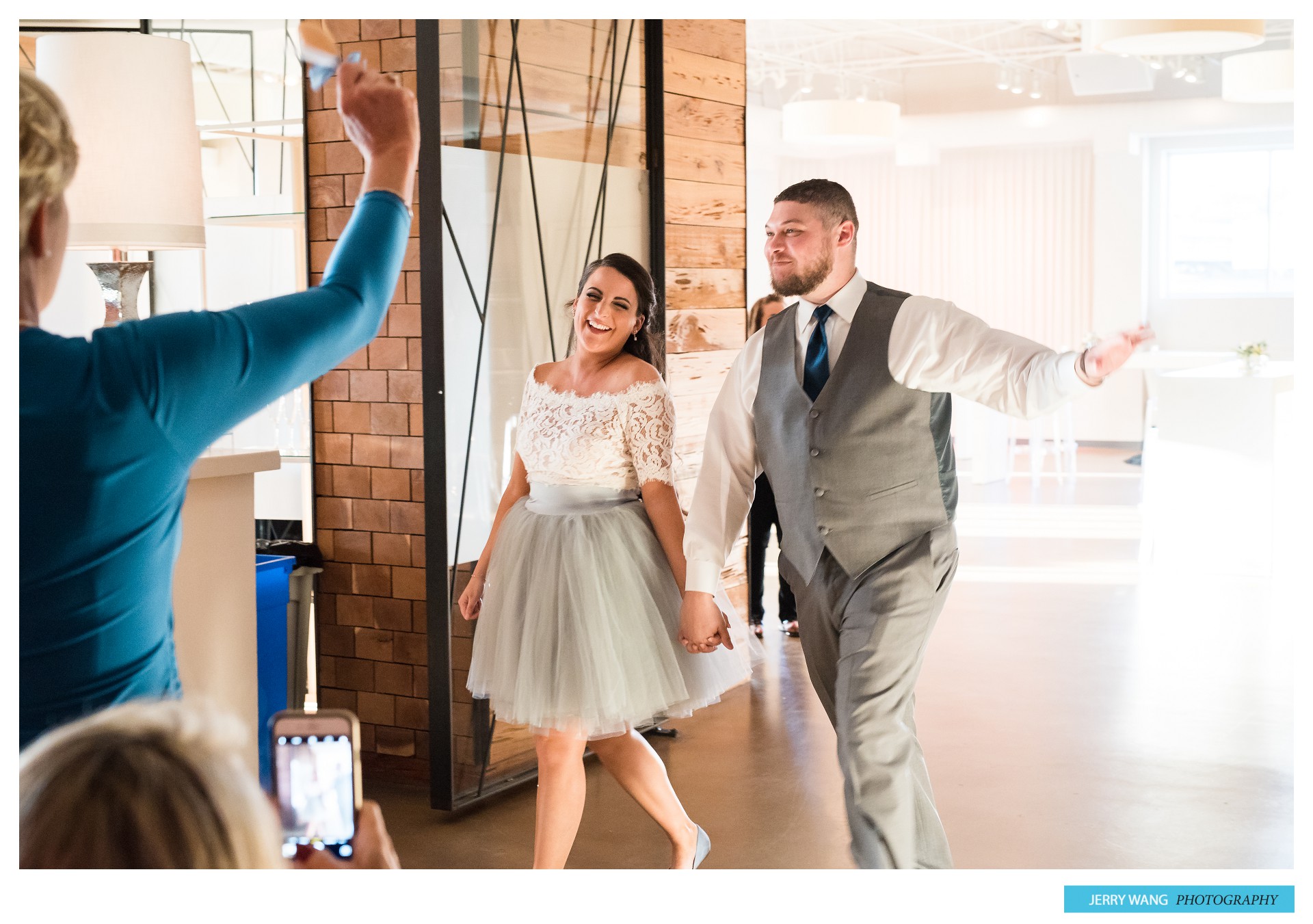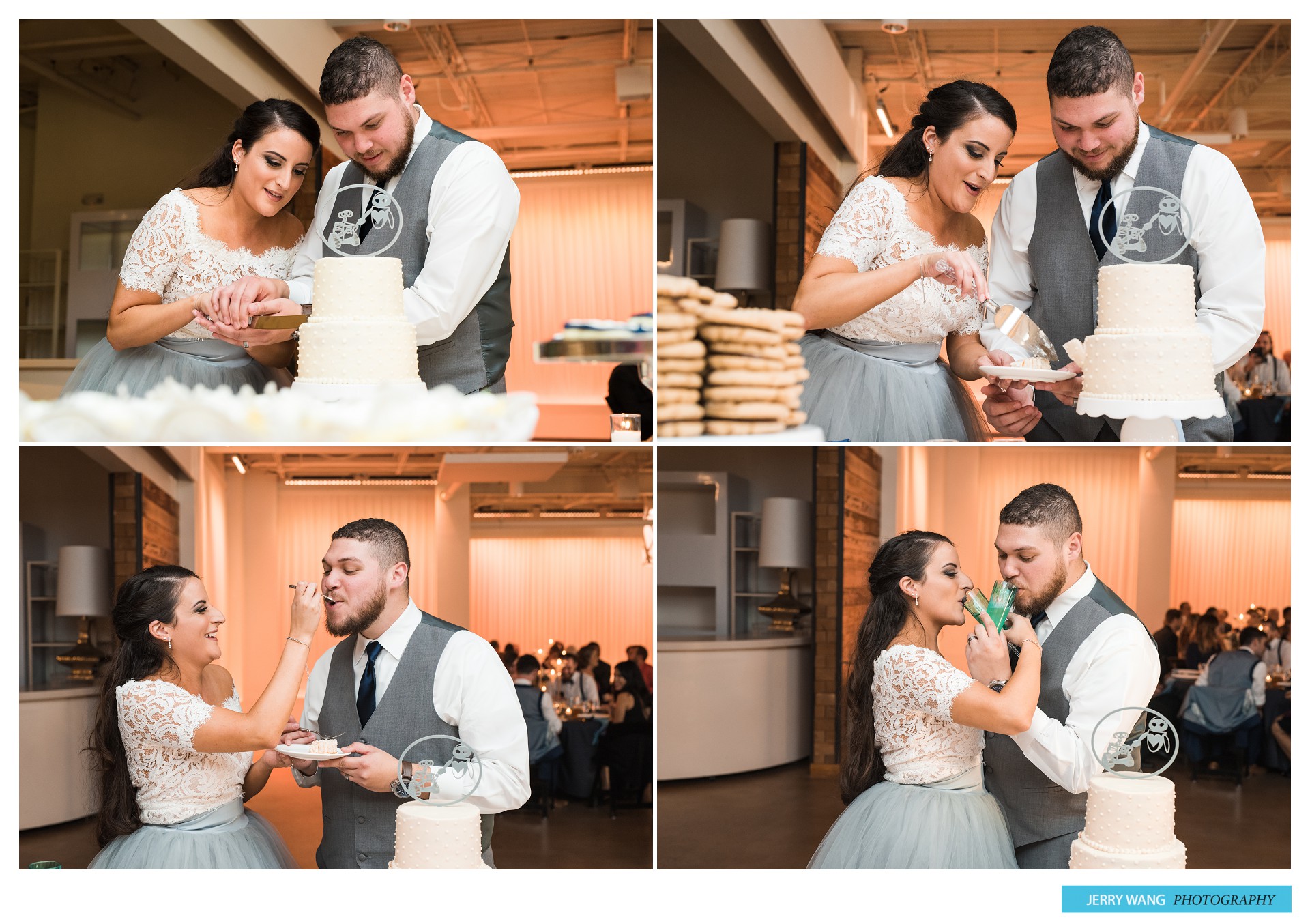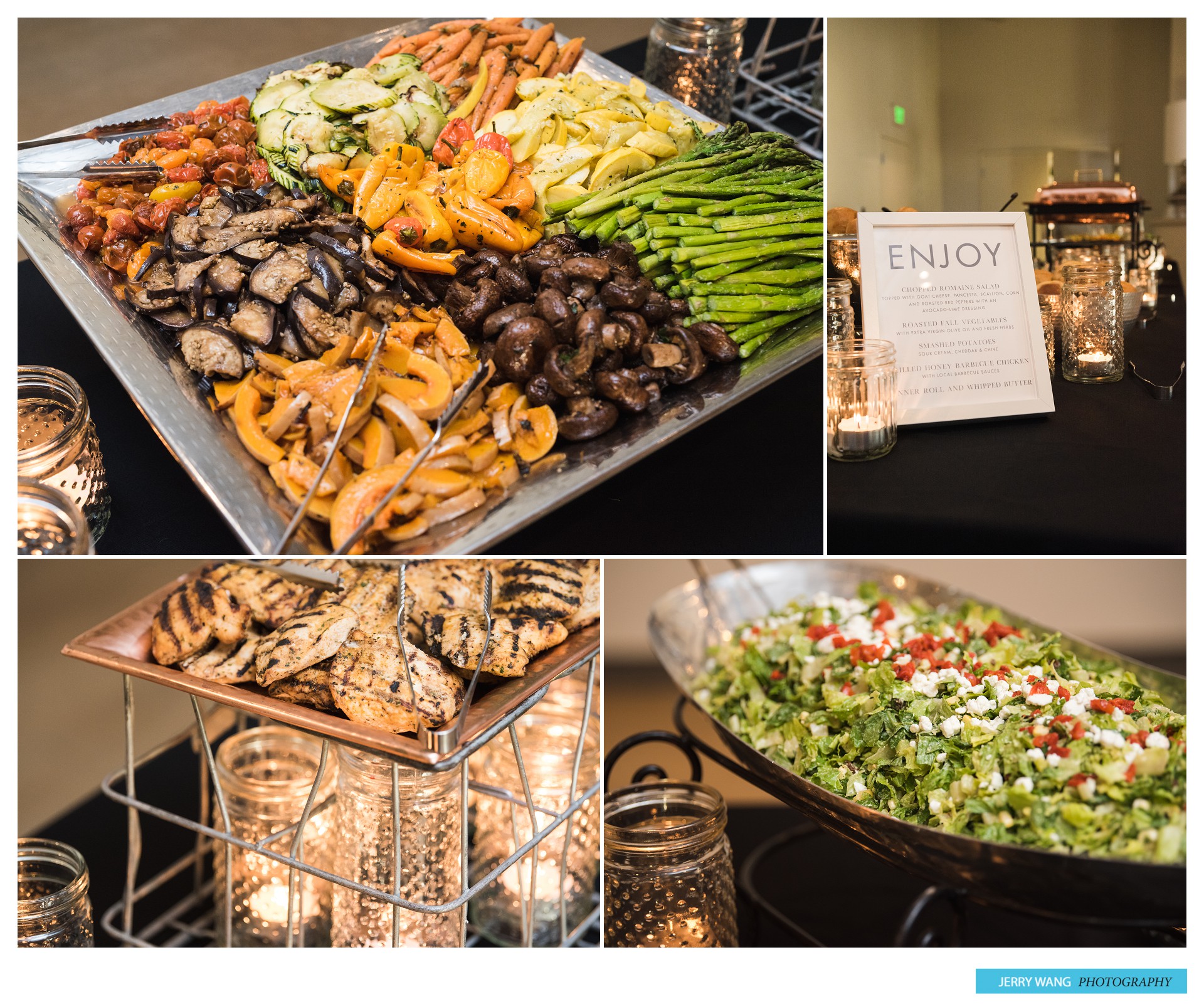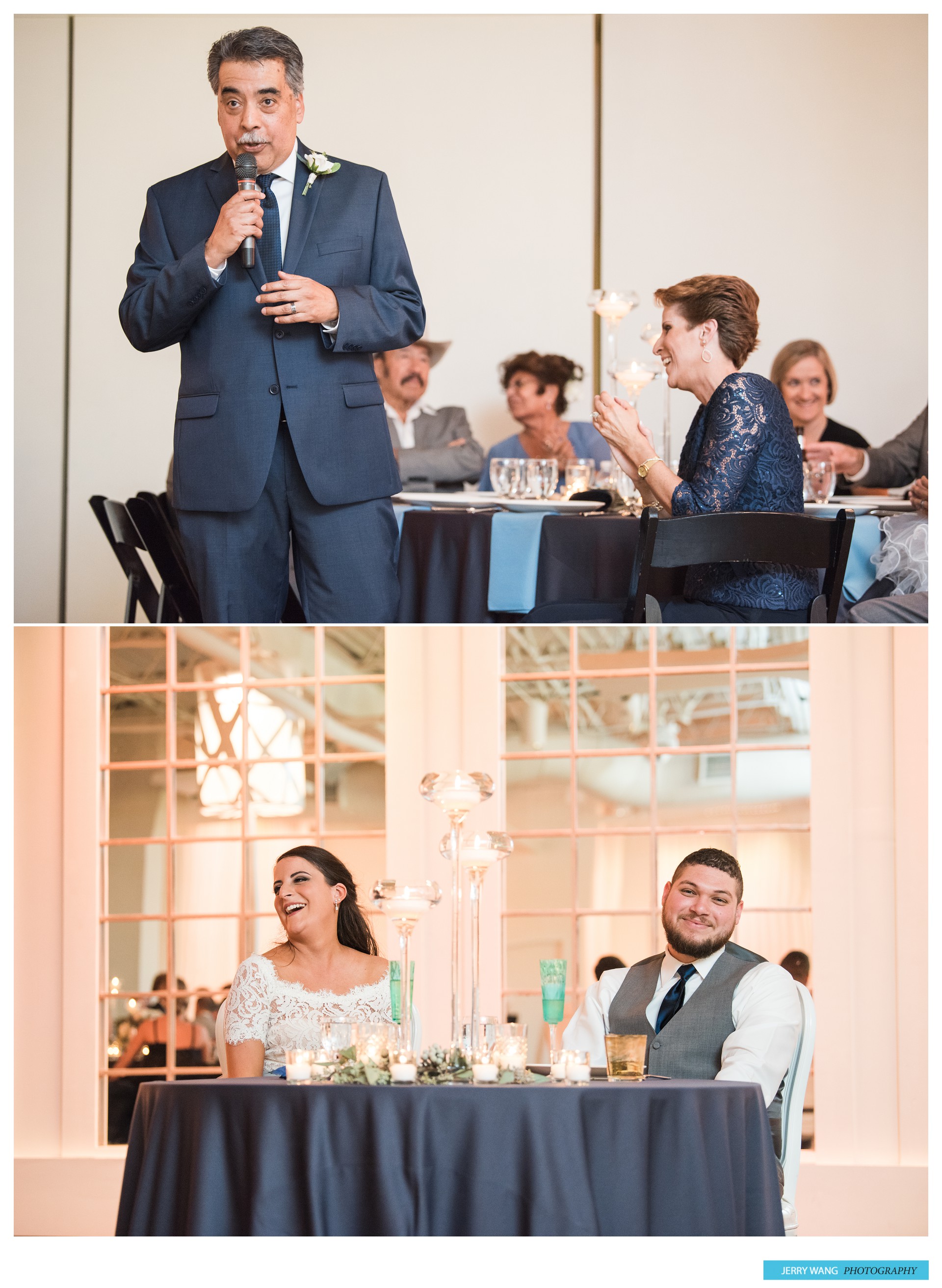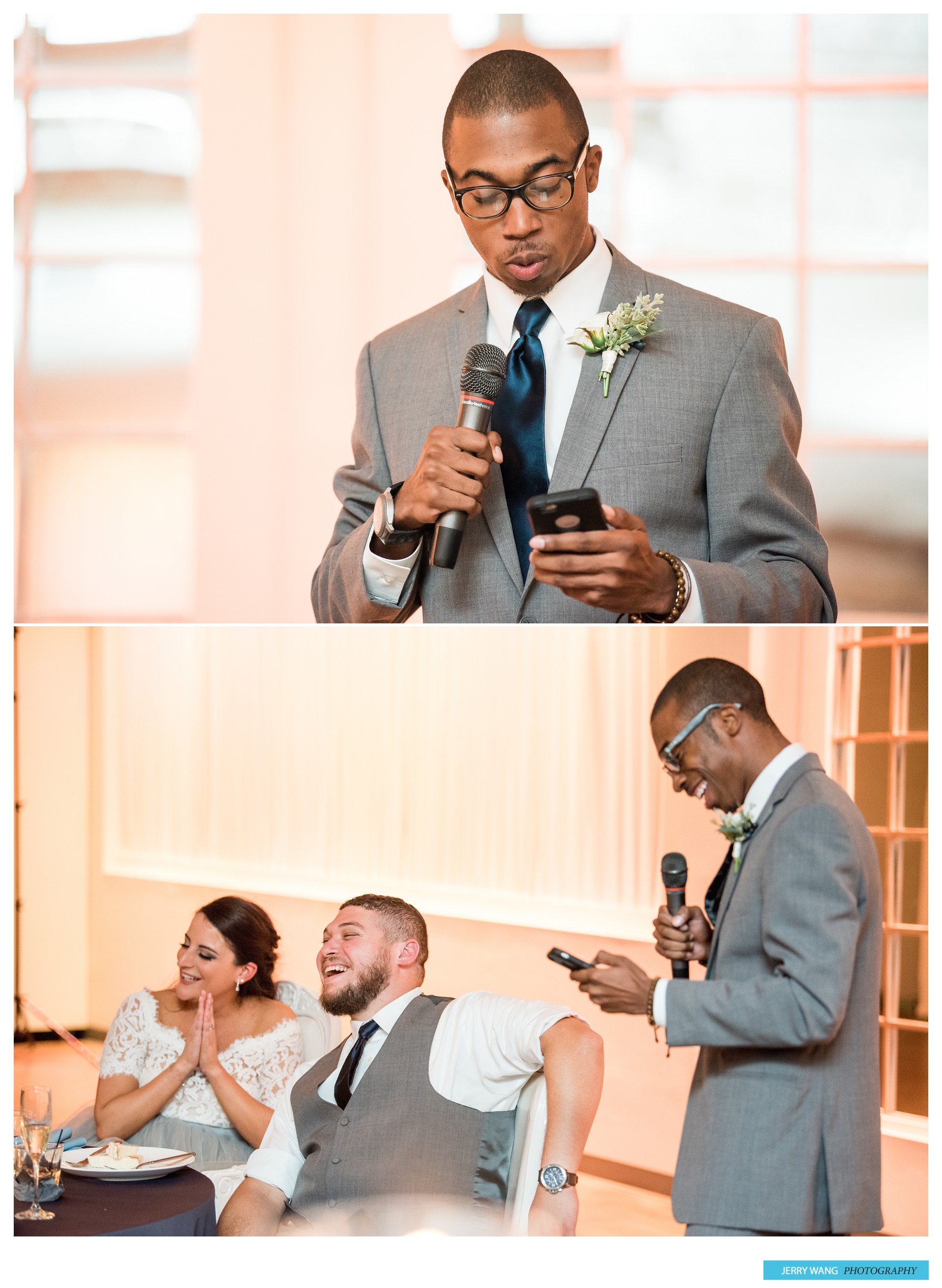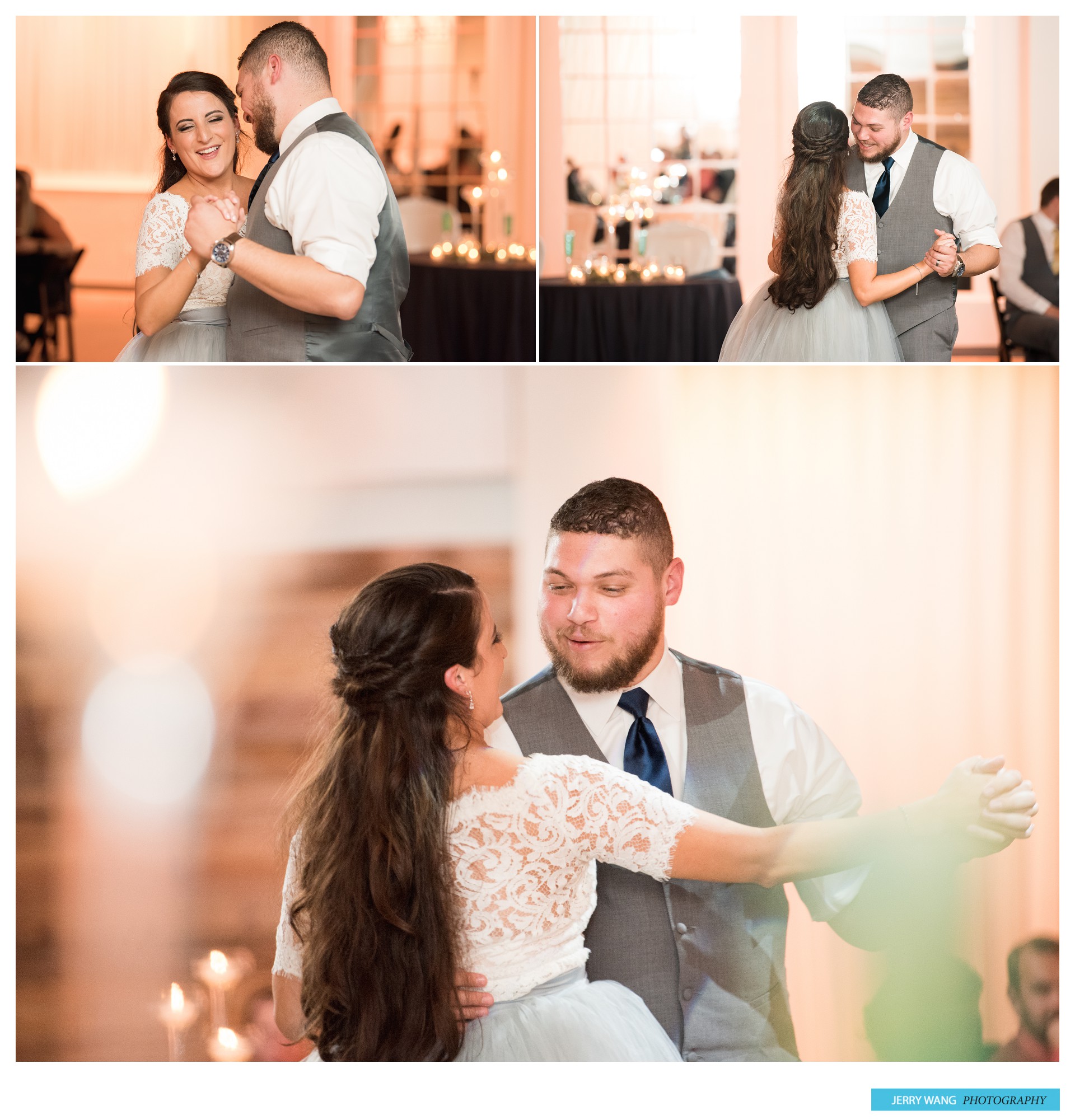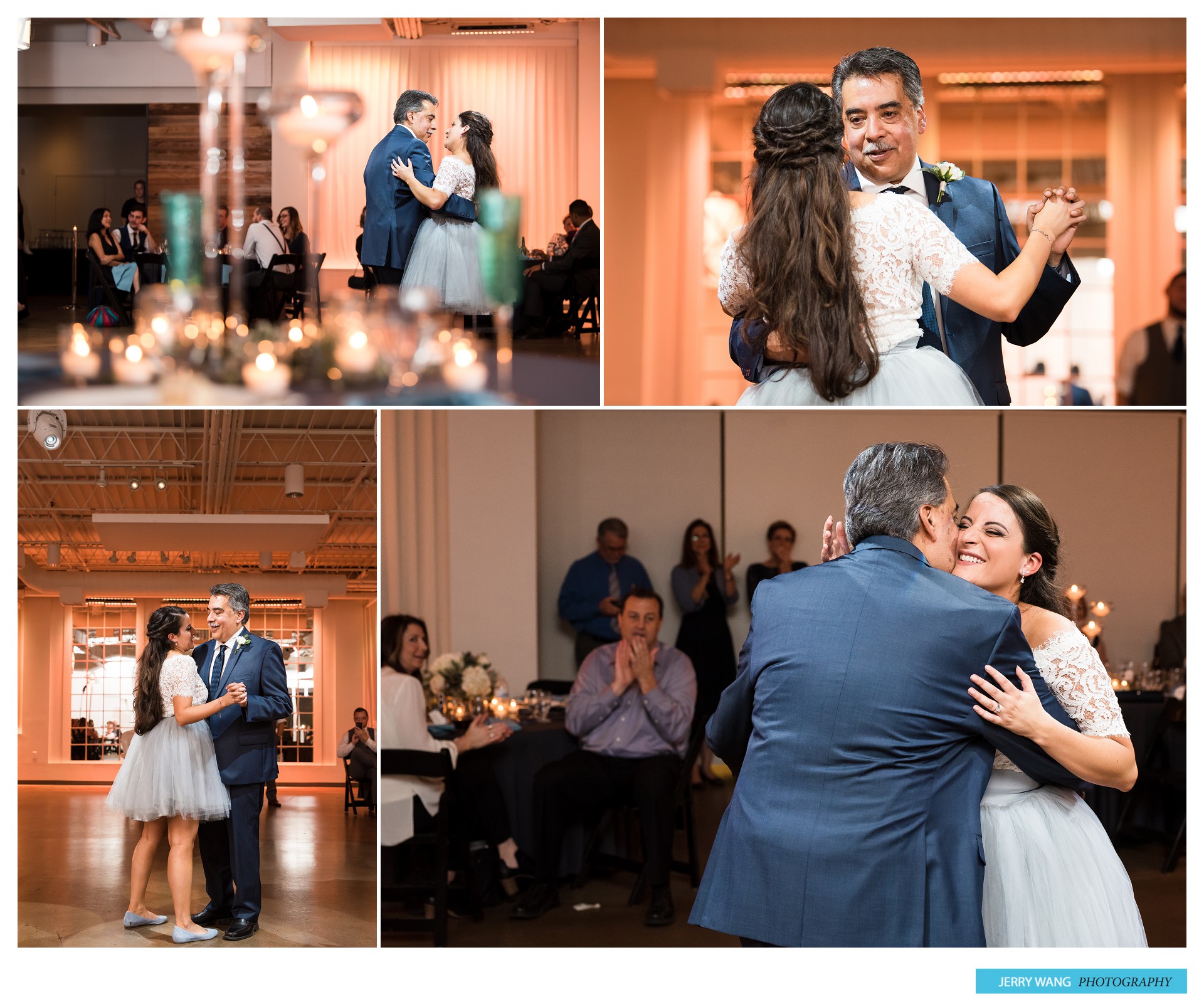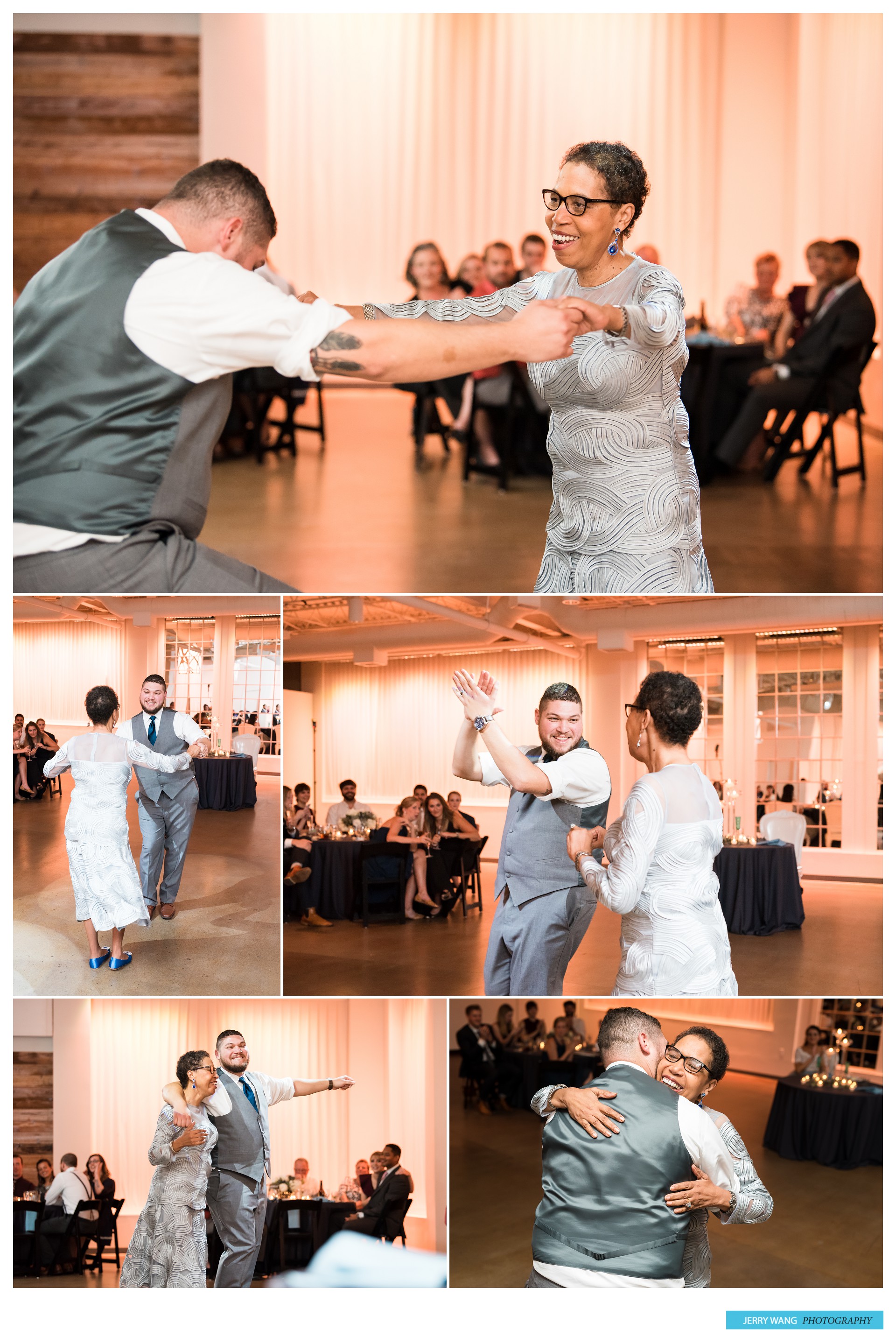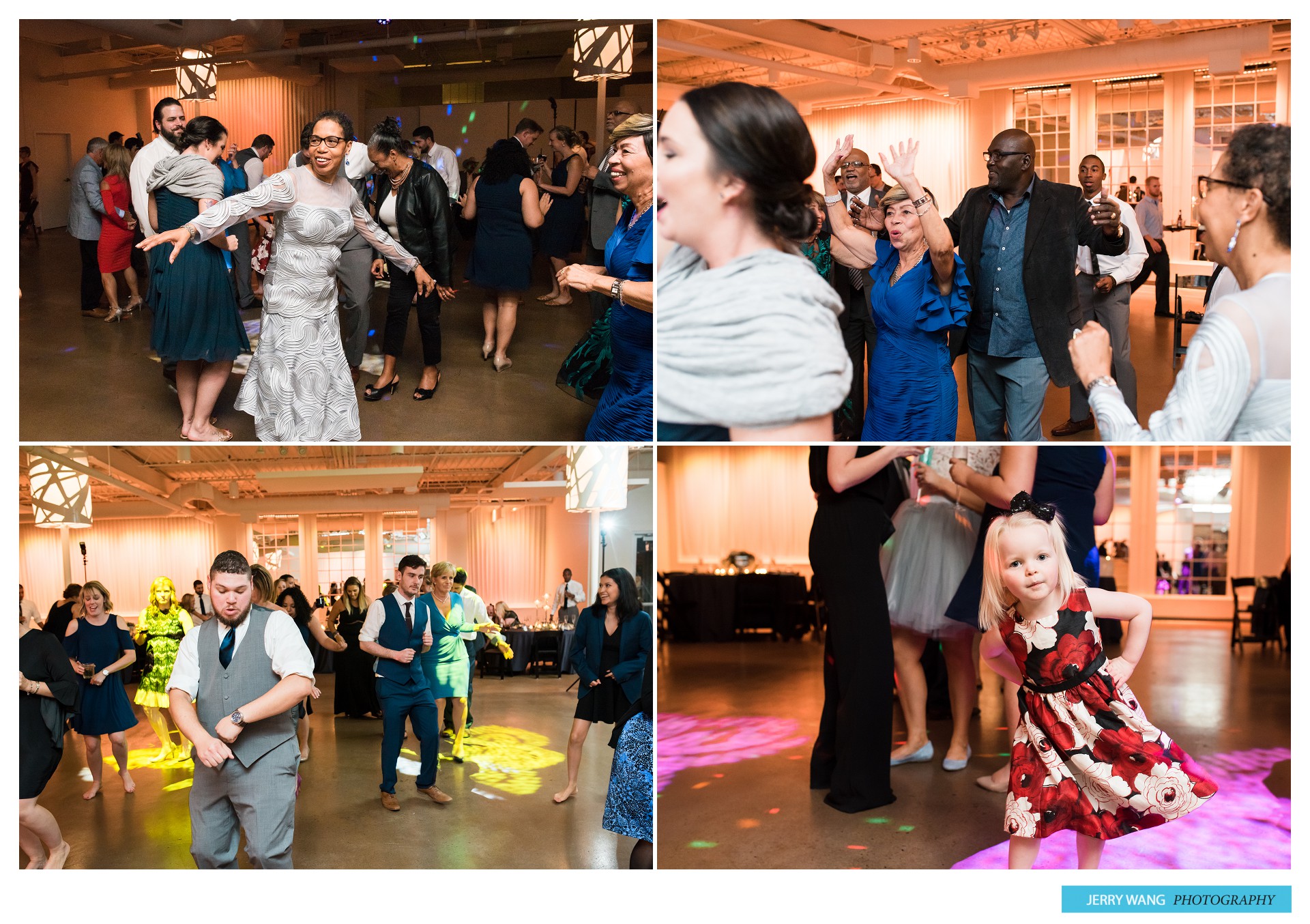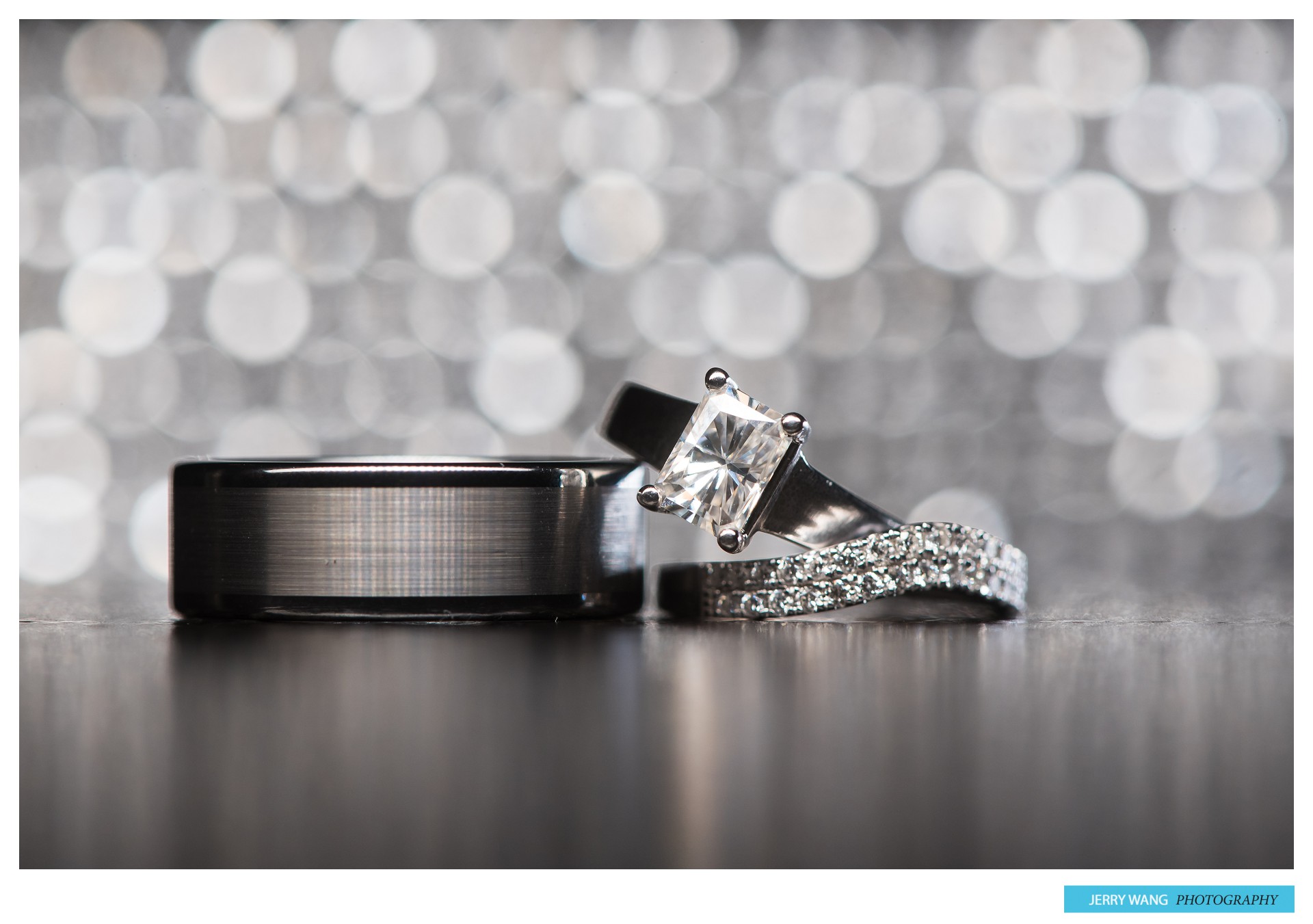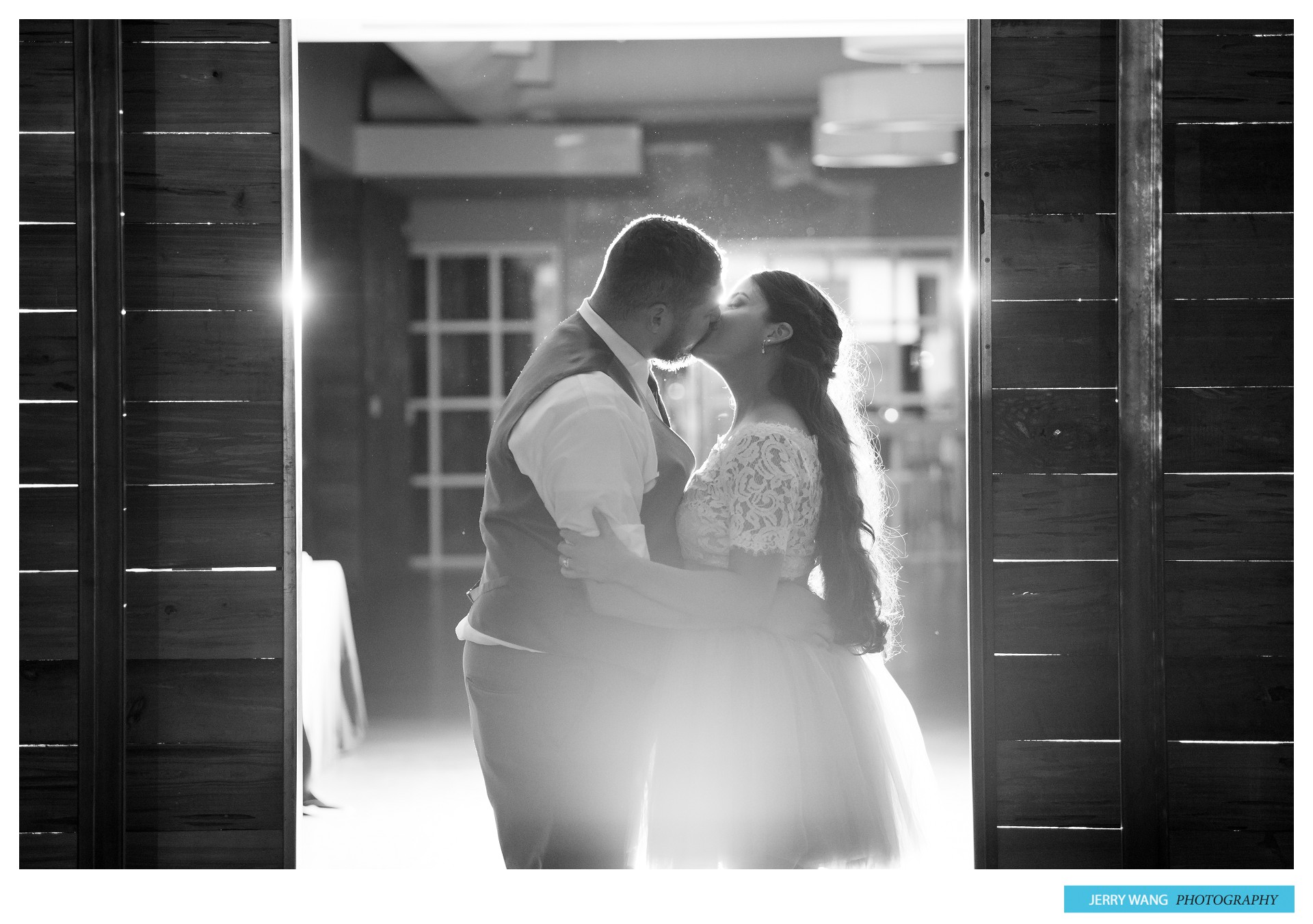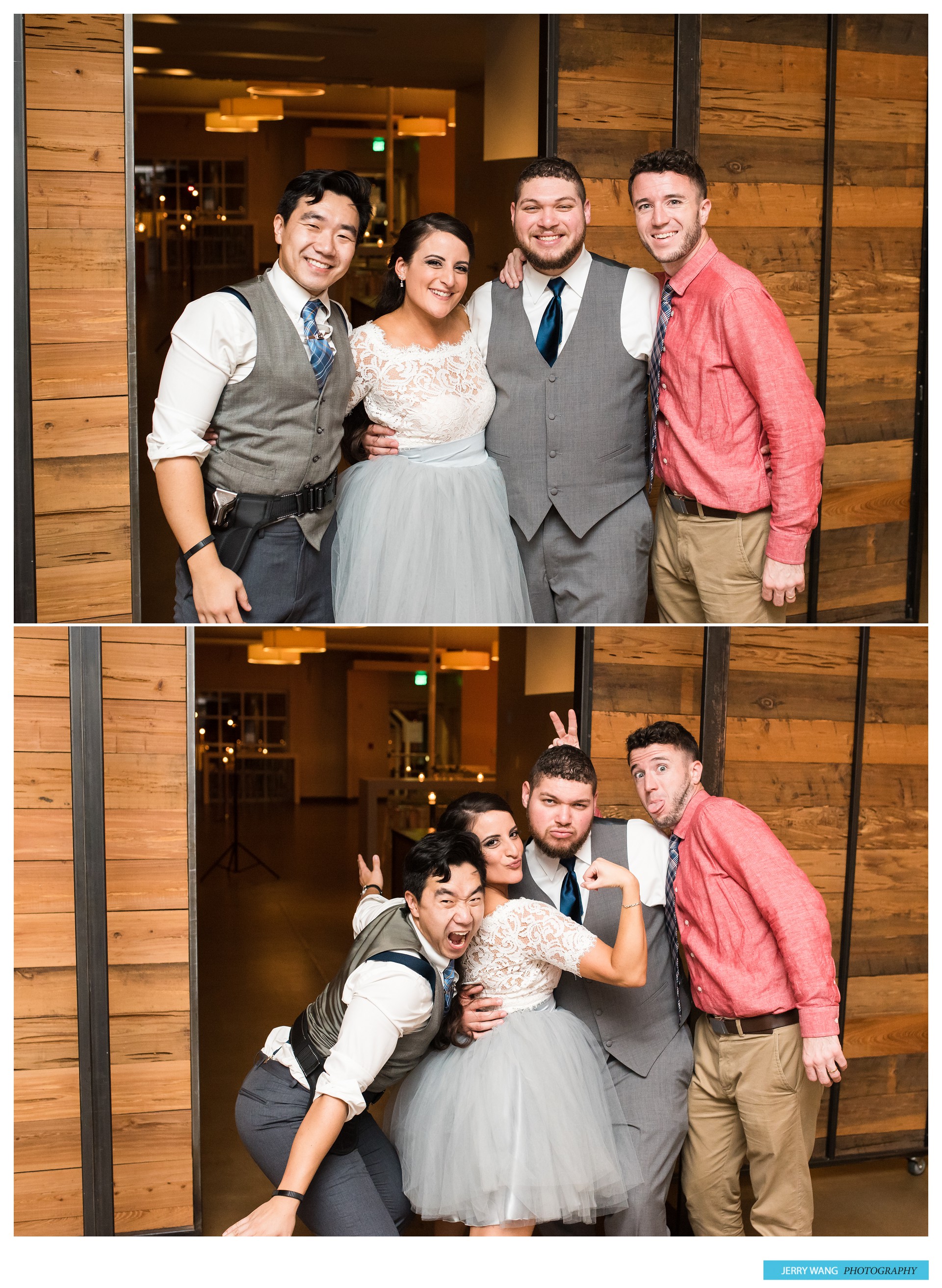 Comments
comments