Alex and Grace | Zelda Themed Wedding | Lawrence Kansas Wedding Photographer
Vendors:
Lawrence Wedding Photography: Jerry Wang Photography
Lawrence Wedding Videography: Jerry Wang Photography
Venue: Castle Tea Room
Caterer: Culinaria
Cake: BellaRoca Cakes
Officiant: White Dove Ceremonies – Rachel Forsberg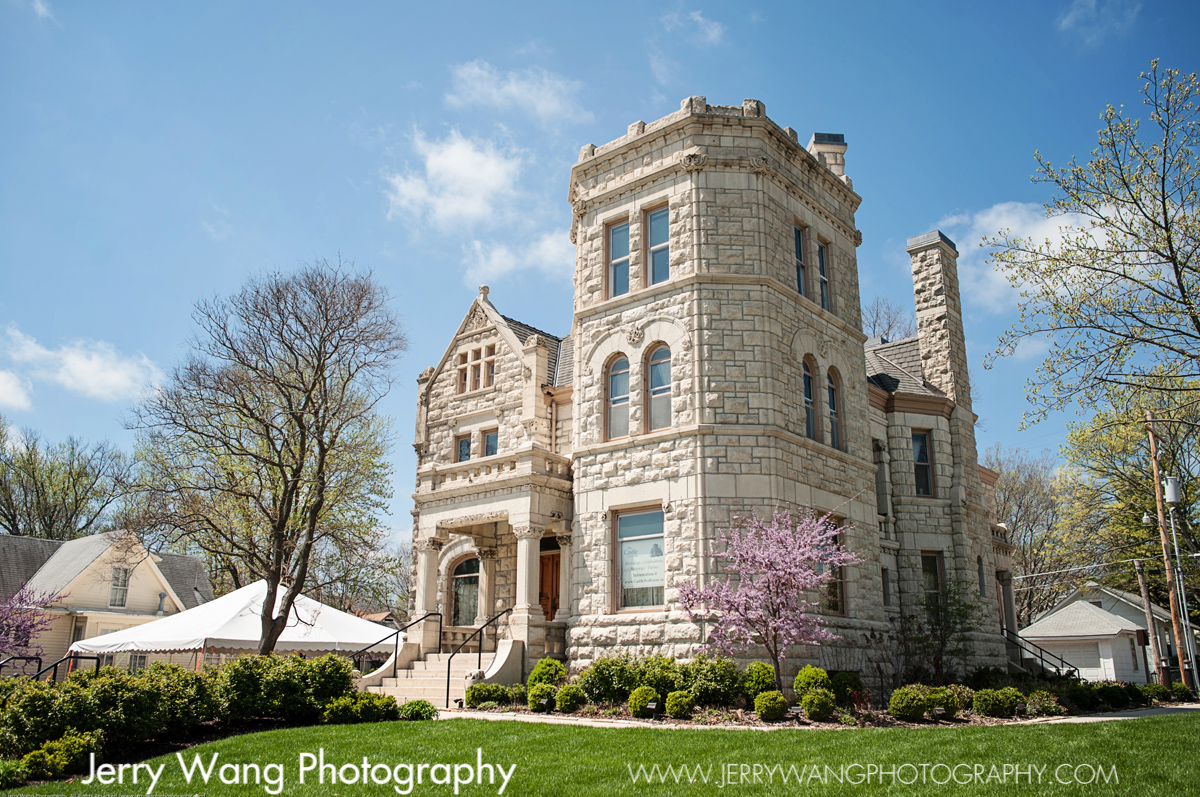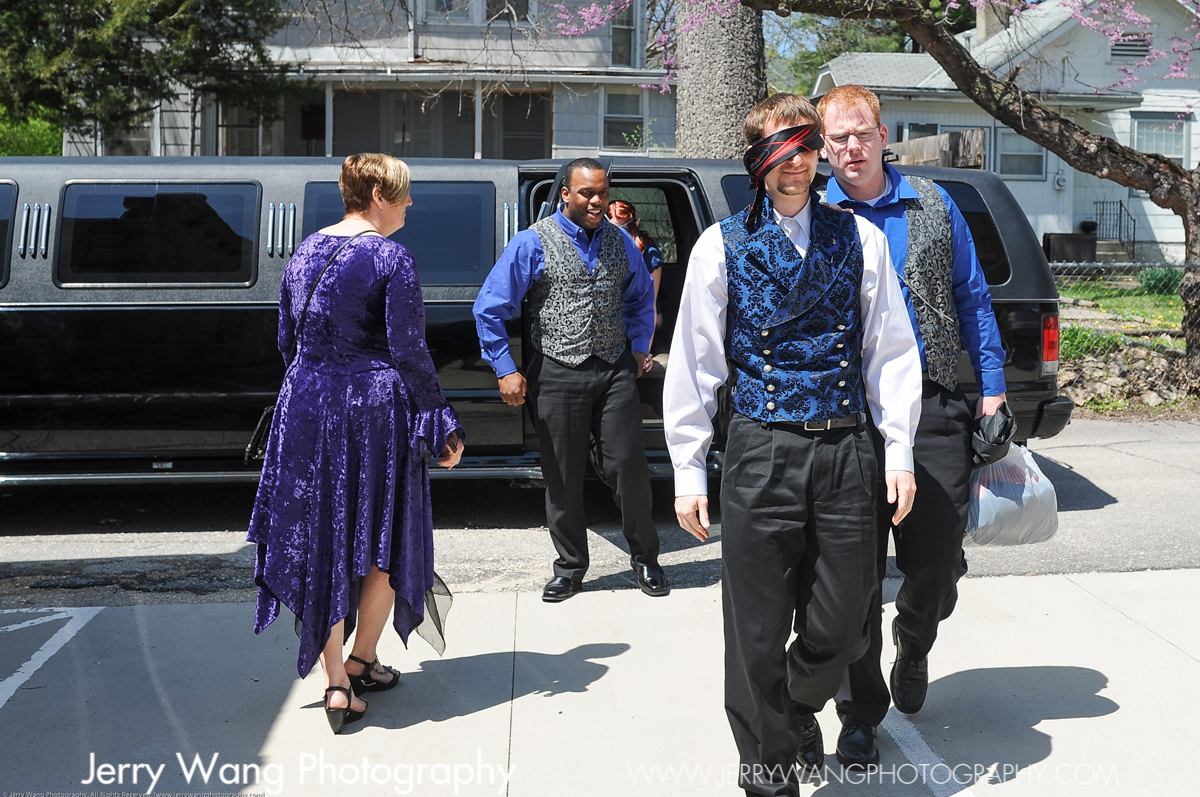 Tell us how you first met? Who what when where why? Give us the dirty details.
We first met through a mutual friend, and we both became a part of the gaming group that Alex hosted at his apartment weekly, playing Dungeons & Dragons and video games like Link's Crossbow Training and Tetris.  We lost touch when Alex moved away to Connecticut.  A couple years later, Alex posted an adorable picture of his Dad's dachshund 'driving' the car.  Grace commented on the picture, and we got back in touch.  After a few long late night conversations, we decided that we would try and make a long distance relationship work.
Tell us about the proposal (did you see it coming, how long was it in the planning? How did you feel? Nervous, excited, freaking out?)
We had already been talking about getting married for roughly a year. Right at the beginning of October, just after Alex had come to visit me to celebrate our 3rd dating anniversary, Alex's parents decided to move forward on their plans to relocate to Florida. We figured since I was unused to moving and Alex had moved back in with his parents for the time being, it might be easier for me to make the transition if we all moved to Florida as one big family and were all acclimating at the same time. The one catch to me moving in with Alex was that we'd have to be married first. It kind of escalated from there; we picked out my engagement ring together, he flew down over Christmas to visit me and meet my parents. I knew we were going to get engaged sometime during that week, but I had no idea which day, what time, or in what manner. The day before Christmas Eve, Alex told me he'd made plans for a special dinner date for us.  I thought that maybe he was going to propose after dinner, but he suggested a walk down Massachusetts Street and around South Park first.  He walked me over to the gazebo in the center, and when I mentioned that I had never been up to it before, he suggested we walk up. He pointed me to the view across the way, and when I turned around again, there he was on his knee, holding the beautiful ring we had picked out.
If you feel comfortable, share with us something silly or quirky the other person does
G) Alex has the most ADORABLE puppy dog pout ever. It makes it so hard to ever stay upset with him!

A) Grace takes ten minutes to open a single small gift, just so she can save the wrapping paper.
Besides getting married – what's the one thing you are looking forward to on your wedding day?
G) There were a bunch of little things that I was really excited for on my wedding day; I hadn't yet tried on my full bridal attire and I hadn't yet seen my bouquet in person. Probably the biggest thing I looked forward to besides the wedding itself was the reception; I couldn't wait to eat our delicious catering!

A) Seeing my bride walk down the aisle.  Not gonna lie, I teared up just a little bit.
What's your favorite trend for weddings right now?
We didn't intend to follow any particular trends, but one thing we did use in our wedding that we've seen in other weddings recently is the "unplugged ceremony"–turning off cell phones and other devices so that your guests are involved as witnesses and not paying attention to the world at large.
What inspired your décor or theme?
We are both huge fans of the Legend of Zelda video game series by Nintendo and our mutual love of the game has been a pretty strong point in our relationship. Alex and I both had seen quite a few articles about game-inspired weddings on websites like Kotaku and Offbeat Bride, and when we officially started planning our wedding, it seemed like a Zelda theme would reflect our love very well and be enormously fun to plan.
Tell us the one thing you love most about each other:
G) We've had more than our fair share of ups and downs across our three-and-a-half years of long-distance, but considering everything we've been through, Alex has persevered and fought for our relationship. Every time the downs had me doubting, Alex did what he could to remind me that he thought I was the most amazing person alive and that he would never stop loving me.

A) I love how Grace is so caring and compassionate, even for people she hasn't met.  I can tend to be very blunt, and am not always the easiest person to get along with.  She balances me out.
What's one thing you wish you would have known earlier in regards to planning?
I wish I would have known how important it was to have a wedding coordinator in advance, even if we didn't hire a wedding planner. In the interest of saving a little money, we decided to plan the wedding all on our own. I realized towards the end that having someone besides the bride and groom to remember our timeline and to-do list would have cut down on a LOT of stress.
Comments
comments